We take our first look at the XOLO Win Q900s Windows Phone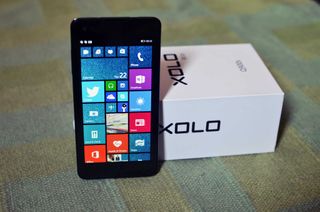 The XOLO Win Q900s is touted as the world's lightest Windows Phone device, and recently went on sale in India.
The company's maiden Windows Phone device is a budget smartphone and intends to compete in a crowded price segment with basic, yet decent, specifications and the Windows Phone 8.1 experience. I got my hands on one, and head past the break to check out the what's included in the box, and my first impressions of the device.
XOLO Win Q900s First Impressions
The Win Q900s comes in a rather heavy box compared to other budget Lumias which is ironic for the lightest Windows Phone device. It's a solid box, and can take in a little rough handling during shipping.
Once you open the box, you'll find the phone and the removable battery alongside. There's a pair of in-ear headsets, a USB sync and charge cable, and a USB power adapter to use with the cable.
XOLO also bundles a couple of useful accessories in the box. There's a pretty good leather-finish flip cover for the phone and a screen protector. The two can keep your phone safe from a little casual and rough handling. The flip cover sports a neat XOLO branding at the back. You need to take off the phone's back panel, and replace it with the plastic panel on the flip cover.
The Dual SIM smartphone is already up for sale in India, and competes with the budget Lumia devices as well as the Micromax Canvas Win W121 in the sub-$200 price segment.
I've been using the XOLO Win Q900s for a few days now, and will share a comprehensive review of the device soon. Do you like the first impressions of the device, and would want to pick one? Share your queries that you might have about the device in the comments, and we'll try to answer those in our review. Meanwhile, I'll leave you with this – It's really light!
XOLO Win Q900s Specifications
Display: 4.7-inch 720P display with 332 PPI
Processor: 1.2 GHz Qualcomm Snapdragon 200
RAM: 1 GB
Internal Storage: 8 GB
Camera: 8MP rear camera | 2MP front camera
Windows Central Newsletter
Get the best of Windows Central in in your inbox, every day!
Not too shabby specs for under 200

indeed... FFC too... My only worry is if the 200series CPU can keep up with the added strain of the 720p screen resolution...

The worry is not CPU, but actually SD200's GPU to handle 4.7 720 etc. See iPhone 5S' or in fact iPhone 6's CPU is still dual core clocked @ 1.2 GHz or so. What apple does with each iteration of A's chip is do more work on GPU that helps rendering, makes game play smoother or transition is so much better than highly clocked SD processors.

Do you have a source? I want to read more about Apple's core more.

Anandtech is a very good source to get Chip/CPU architecture details, example if you look at iPhone 5S review , from there you can drill down for each components http://www.anandtech.com/show/7335/the-iphone-5s-review/2 One more: http://www.anandtech.com/show/8514/analyzing-apples-a8-soc-gx6650-more

I would never think buying a WP than Lumia,not a fan boy but i only feel the WP experience on Lumia smartphones...

why don't you for a change, just try other WP devices other than Nokia? Devices like Samsung, Xolo, Blu, and all others that got wp device! :) Not arguing with your statement, that's your personal right, i was just suggesting a test :)

I'll be honest, I prefer the simple, slim designs of these other models (Xolo, BLU, etc.) over the chunky & heavy build of the Lumias. I'm tempted to buy one and use it as an MP3 player.

I'm not currently in the right budget for "testing"
I bought my L620 year and a half ago and still using it till now,
If I had the money a would test everything!!!!!

I understand you buddy, but since you can't test an OS on more than one device (the one you had) then don't make statements like you will never buy another phone than Lumias cuz you feel wp only on Lumias. You can make that statement if you tried WP on more phones than just Lumia. Or maybe i just understand you wrong, maybe you were saying that the only WP experience you had was one your Lumia 620. If that's the case, than i apologize :)

He told he was not a fanboy... Why should he buy more than one wp??!!! Haha

Hahaha....fanboy is someone who bought something,lets say iPhone,so he automatically hates EVERY ONE who doesn't have an iPhone, I simply dont like android nor apple,but my family has 3 Sammy's and 2 iPhones,no hate! Just dont like

do you guys change phones every now and then?

That's my point to these people,I'm happy with my L620,I know its old now but I don't care,it gets all updates and does the work,why should I upgrade something that does its job perfectly? Just to be *New?
That's not my type

+L620. I really need a good upgrade but I don't find any good option to change :(

Friend i would suggest you to go for the lumia 730.

An unboxing of the lightest windows phone and we don't know how light it actually is! Could you update the article please? (Edit: If it's in the video, sorry, am at work :P) Other than that, thanks! This is pretty cool!

I think it would have been much better if you posted this after 8 hours or 4 fours earlier.

What would happened??? Then ???

It was about time zone only. It's 3 am here in India.. Posted via Windows Phone Central App

As I assumed this is India specific device, and would have garnered instant large readership.. Slight chance of its going down the list with every new article.. Not much of difference.. But felt like suggesting.. Take it positively. Posted via Windows Phone Central App

A true WP Central fan reads every damn article first thing when they wake up. ;)

And that's what I'm doing now.

Start from where you last left off ;) yea you know

True WPC fan stay awake for any news.. Or wake up every two hours to check on if there is any news.. Lol.. At least I do one of this... Jk.. Posted via Windows Phone Central App

A true WPC fan must point out the subpar video of this article. I was expecting something with more quality, less shaky hands and a better ending.

Yes, Jak, I get it. I also got it when you tweeted. And like I replied there, I acknowledge and accept the feedback. I could do better, yes.

So far so good.. but it better have expandable storage with only 8gb

It does, it's on the video Posted via the Windows Phone Central App

Nice phone, but off the topic., where does Abhishek live? If the video was made moments then certainly not in India.

He covers pretty much all of the Indian news. Perhaps he is traveling at the moment since he says he's had the phone for a few days.

For some reason I like the look of this phone a lot. That case is also a nice little bonus with it. Kind of wish it were available here in the states as I've been going back and forth with myself between a Lumia 635 and Blue Win JR as a solid backup phone. With the specs it has though, it's not outlandish to say that if it's decently built, it could easily replace my aging Lumia 920.

There are quiet a few similar models that might be adding up to the list of Windows Phones. They are way too similar to be honest. You might want to check out Yezz Billy 4.7 or My Go from this post in WPcentral and there was another one which I can not remember. Although I'm not sure about their availability in the states. I doubt this phone can replace your 920 though. Apparently the phone's auto focus takes a wee bit of time to adjust & the photos shot in the low light have a yellowish tint. There's also a little lag when you run games with heavy graphics, which is probably expected given the specs. But that's just what I've gathered from the video reviews anyway. The Lumia phones have far better cameras in comparsion. I'll have the Q900s delivered tomorrow, gotta see how much of it is true. It is a pretty nice phone given it's pricing though. Plan to stick with this little guy until Threshold hits.

Cheaper than L730 but doubtful about the service.
Overall loved the specification..

Updated lumia 625 . Just saying

Is it any better than the Yeez 4.7 ?

I still ask my self y an 8mp camera was not put into 1320

You should as Microsoft why, not yourself, unless you were part of the design team...lol

Does anyone actually own any of these weird and wonderful new Windows Phones? I've saw pygmy off Nokia, HTC and even the odd Samsung Ativ user's posts, but never a Huawei, Billy, Xolo, Micromax or any of the other newbies, just wanted some info because I'm enjoying imagining using them :P

I have purchased this phone just two days before Abhishek got his one. I have seen quality Xolo android phones and hence gave Xolo a try. In my budget none of the lumias gave me front cam which tilted the decision in Xolos favor. My first preference is Lumia but they don't meet all check boxes.

Good price, decent specifications, 1GB ram, 2 cameras = tempting.

I'm afraid it wont run as smoothly as it could, s200 is underpowered for 1 GB ram as for the screen... maybe maybe not

Seems like a good device but the video is not really helpful.

The complete review is coming up soon. I hope that'll be more helpful.

Humm... Seems a good deal. Let's see.

Sony, please don't sink with Android join the windows juggernaut.

It has the same specs as the L735 and is cheaper!

Sweet more windows phones. We need some here in Canada. Everyone thinks there are only three type here, Crapple, Android and Blackberry. I don't mind Blackberry, their new phone is a beast and Canadian. Apple can rot as far as I am concerned. I just had to update my wife's phone and had to completely wipe it to free space.... Sheshhhhh!

Abhishek. At least try to see that the video ends smoothly.

That was a terrible review, I learned nothing

That wasn't a review. It's clearly stated! On the other hand, if the first look didn't give you anything, maybe, I could do better.

Need a review about the sound quality first

Dude!, you will be surprised to find out that WP doesn't have a good music player

That's outright wrong. If u don't like the default (I don't like it either) u can download a third party one.

I want to ask can it run heavy games which are there on storeand which will coming up in future..

it has 1 GB ram it will definitely.

I know Ashish it has one gb ram but i saw canvas win w121 review and high end games were not running smoothly xolo win also had same hardware so that's why I am asking it has gpu 302 which is quite old compare Lumia 520 gpu 305.

Looks good but specs wise it isn't impressing....

WOW! This is an instant buy for me! If only it comes to my country Greece..,

I'm surprised by the poor quality of the video. It does not match the standard of this site IMO

Definitely it is not HD resolution but also the hands are shaky, the voice is weak and there is an unexpected cut at the end.
I'm very dissapointed, I expected a little bit more from WPcentral.

I already own this phone and I can tell you that I am happy with everything else but the rear camera. May be I have higher expectations having used Lumia 925. The phone is decently specked and performs decent as well. There are rare events of touch lag while playing games like candy crush and subway surfer. Haven't tried heavy 3D games. The onboard storage is limited to 4 GB as rest is taken by OS. The OS is stock Win with no Xolo customization except for a Xolo app. The display is great, but I have a 1px layer at the bottom which flickers. I am worried about it and will have to take to service center.

I bought this one and I am extremely happy... must buy
Windows Central Newsletter
Thank you for signing up to Windows Central. You will receive a verification email shortly.
There was a problem. Please refresh the page and try again.