XP-Pen Artist 22 (2nd gen) PC drawing tablet review: Digital art made easy
The XP-Pen Artist 22 (Gen 2) is a great drawing tablet for beginners, hobbyists, and veterans.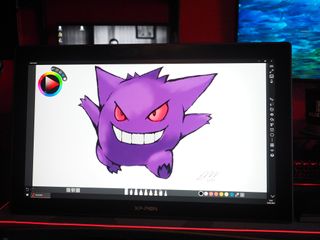 (Image credit: Windows Central)
To preface, I'm by no means a professional artist, but I've done plenty of dabbling over the years. In a past life, I had aspirations of being an animator, and occasionally still do projects in Adobe Animate and drawing apps like Sketchable. Historically, I've used Surface devices as my primary drawing tool, even if drawing on glass always felt a little off for someone used to paper. But like anything, it takes practice to adjust to a new hobby, and digital art is no exception.
That being said, I was surprised how easy it was to get to grips with my first ever dedicated drawing tablet, the XP-Pen Artist 22 (2nd Gen).
Here's a hobbyist's perspective on how XP-Pen makes digital art easy with this truly awesome product.
XP-Pen Artist 22 (2nd Gen)
$499Bottom line: The XP-Pen Artist 22 (2nd Gen) provides a great drawing experience for first-timers and veterans, with a tactile feel, easy-to-use software, and smooth pen action.
For
Line reproduction is great
Good pressure sensitivity
Simple, intuitive software
Functions well as a second monitor
Stylus feels tactile and pleasant
Against
Easy to misclick stylus function buttons
No touch response
Distance between digitizer and display feels quite large at certain angles
XP-Pen Artist 22 (2nd Gen) review: What I loved
Source: Windows Central
The XP-Pen Artist 22 is, like its name suggests, a pretty big boy. The display is 21.5 inches diagonally, with a 1080p resolution with a ≥90% Adobe RGB color accuracy rating. It requires its own power supply and connects to a Windows PC using USB-C, and works with HDMI on older laptops or PCs.
Swipe to scroll horizontally
| XP-Pen Artist 22 | Spec |
| --- | --- |
| Dimensions | 538 x 332 x 25.8 mm |
| Active Area | 476.064 x 267.786 mm |
| Resolution | 1920 x 1080 |
| Brightness | 250 cd/m2 |
| Color Gamut | 86% NTSC, Adobe® RGB ≥ 90%, sRGB ≥ 122% |
| Contrast Ratio | 800:1 |
| Response Time | 8ms |
| Pen Tilt | 60° |
| Pressure Sensitivity | 8192 |
| Adjustable Stand | 16–90° |
| In the box | USB-C, HDMI, and power cables, pen holder with alternative nibs, drawing pen with two buttons, drawing tablet, silk art glove |
| Compatibility | Windows 10, 8, 7, Mac OSX 10.10, Linux |
The display is large and bright, ideal for any home studio, although it might be too large if you're working in a confined space. XP Pen has smaller alternatives over on its website if you're shopping for something a little more svelte.
The tablet comes with a good range of accessories, including a silk wrist rest glove, reducing the friction between your hand and the display. The pen holder also bakes in a range of alternative nibs, rather than selling them separately. Speaking of which, right out of the box, the pen feels well-balanced and light, and the matte display has a textured feel, making for a far more natural drawing experience than what I experienced on the glass-based Surface devices. The pen has a rubberized edge, making it easy to grip.
Source: Windows Central
The XP Pen Artist 22 has very easy-to-use driver software, giving you easy access to adjusting pressure sensitivity depending on how heavy-handed you typically are. It also lets you swap between their own inking driver and Windows Ink. Some users find that the XP Pen driver is better than Windows Ink, but for me, the difference seemed negligible for the sort of basic stuff I was drawing. Line rendering, shading, and tilt control with the XP Pen tablet all felt great, with Windows Ink on or off, with minimal jitter or corruption in the smoothness of my lines.
The latency between the pen and display is good but perhaps not amazing. I feel like Surface devices may have an edge there. I also did get a bit of trailing after lifting the pen away from the display, which has a height registration of around 10mm, but that can be adjusted or accounted for with a bit of practice.
The inking experience generally superior to that of the Surface devices I've drawn with previously, with superior pressure sensitivity and feel owing to the display's texture. The software is simple and easy to understand, with customizations for pen usage and the two buttons situated on the pen for shortcuts and things like that.
Source: Windows Central
The tablet itself also feels well-constructed, with robust, high-quality materials and an impressive stand, which offers shallow angles from 16 degrees all the way up to 90 degrees. At 90 degrees, you could quite happily use this tablet as a second monitor, too, adding to its versatility as a desk companion. The matte display is also great at reducing glare from light sources you may have in your work area.
Your inking experience will also, of course, depend on the tools you're using. I use Sketchable thanks to its simplicity, but the app is clearly designed for touch-enabled displays. Using the Artist 22 tablet with apps like Photoshop, Adobe Animate, and Clip Studio Paint was a breeze, with accurate cursor mode touches and clicks via the pen, and smooth brush strokes, and tactile sketching. The brightness and RGB rating really make your colors and designs pop.
It wasn't too long after getting started that I simply forgot I was reviewing a tablet and got myself fully immersed in trying to draw some Pokemon.
XP-Pen Artist 22 (2nd Gen) review: What I didn't love
As good as this tablet is, there are a few things worth being aware of that I found a little irritating, although never deal-breaking.
The software drivers are good, giving you a wide range of control over what the buttons do and how the pen reacts to your action, but the buttons themselves on the pen are incredibly sensitive. More than once, I found myself accidentally brushing against them, activating them without permission. In the end, I just decided to turn off the pen buttons altogether.
XP-Pen says its 2nd gen version of the Artist 22 has better corner recognition than its predecessor. Having not used the previous version, I cannot attest to the improvements, but I will say that even on this version, I sometimes found it difficult to get apps to recognize my cursor mode taps without multiple attempts. There's also no touch support on this display, which naturally has trade-offs. There's no chance your finger or your palm will interfere with your work, but it also means there's no pinch to zoom in and stuff like that.
Source: Windows CentralA look at the software for the XP Pen Artist 22.
Depending on the apps you use, this may not be an issue for you, but in Sketchable, which is clearly designed for touch displays found on Surface devices, it did present a problem. Photoshop and others allow you to move menu items, though, so this will potentially be a minor gripe for any serious artist. On the plus side, brush strokes right up to the edge of the display didn't have any issues rendering; it was just cursor motion that seemed to present some minor problems.
Another couple of small gripes I had with the experience overall, at least when compared to Surface devices, is the distance between the digitizer and the display. While working flat, it's easy to determine where you're pen is, but at an angle, you can see quite a large amount of distance between the surface of the screen and the actual display, forcing you to reorient fairly frequently. This sensation can be improved with correct screen calibration, however.
The distance on Surface devices feels much smaller by comparison, with the added benefit of higher resolution. Although, those are also full computers, and far more expensive. I'm not sure if other drawing tablets present similar drawbacks and whether it's simply symptomatic of the format and physics, but it was fairly noticeable in practice, even if calibration did help offset the problem a decent amount.
Other than that, there's almost nothing bad to say about this tablet. It has great features; it's simple and intuitive to set up and should fit well into any artist's flow.
Should you buy the XP-Pen Artist 22 (2nd Gen)?
The XP-Pen Artist 22 is an awesome drawing tablet for artists of all shapes and sizes, whether you're a beginner or a hobbyist, or even someone diving deep into art as a profession. Some of the creations people have made (far better than me) are truly mind-blowing with this tablet and speak to its value proposition. Some of XP-Pen's primary competitors offer similar features at much, much higher prices, making this one of the better value options on the market right now.
As a hobbyist, I can't envision a time when I would think, "I need something better than this" after using this tablet. It required me to adjust my workflow a bit versus a Surface device or a tablet with inking like the Samsung Galaxy Tab S6 that I sometimes use. The trade-off is a much larger work area, a much nicer screen feel, with a more tactile stroke action, and even the capability to use it as a second monitor. This is a versatile product that is ideal for anyone looking to get started with this fun hobby.
Great value big-screen tablet
XP-Pen Artist 22 (2nd Gen)
Versatility.

The XP-Pen Artist 22 (2nd Gen) is a great drawing tablet for hobbyists and professionals alike, with good pen stroke action, decent response time, and nice color reproduction.
Get the Windows Central Newsletter
All the latest news, reviews, and guides for Windows and Xbox diehards.
Jez Corden a Managing Editor at Windows Central, focusing primarily on all things Xbox and gaming. Jez is known for breaking exclusive news and analysis as relates to the Microsoft ecosystem while being powered by caffeine. Follow on Twitter @JezCorden and listen to his Xbox Two podcast, all about, you guessed it, Xbox!