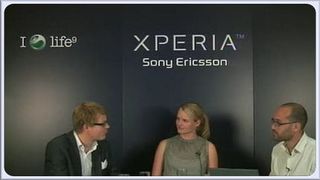 Had enough HTC Touch HD yet? Us neither, but it's time to point out that it's not the only news going on today. Sony Ericsson held a webcast earlier today to tout the X1's chops, the live webcast hasn't been archived yet for viewing, but you can catch a liveblog rundown of the event over at wmpoweruser.
What new info did we find out? Erm, not much beyond the possibility that Sony will leverage their giganto-corporate-syngergies to ship the phone with full length movies in some countries (Hi Spider-Man!). It's shipping on September 30th or later depending on carriers (read: AT&T is one of the "or later" carriers).
You can still follow the stylings of Johnny X in the future, the next episode is Sept 22nd. There's also an official, Sony-sponsored Xperia Blog, though visiting it makes you an 'xperiancer,' and we hear that it takes some pretty strong antibiotics to get rid of that.
Windows Central Newsletter
Get the best of Windows Central in your inbox, every day!