Xperia X1 said to hit Best Buy on Dec. 7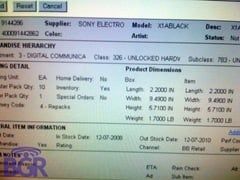 That ever-elusive Sony Xperia X1 appears to finally be getting closer to a U.S. release.
The Boy Genius Report has snagged an inventory sheet that has the X1(a) — that's the North American version — hitting Best Buy on Dec. 7. That's an "in-stock" date, which may or may not mean you can swing by and pick one up that day.
Still no official word on when AT&T may release the X1(a) along with the expected subsidy and rebates.
But the price you'll pay for the unlocked goodness? Try $800. Ouch. We're pretty sure we know what's going to be first on your holiday wish list.
Windows Central Newsletter
Get the best of Windows Central in your inbox, every day!