XPG Xenia 15 (2020) review: The first gaming laptop from ADATA is a good foundation on which to build a brand
XPG's first gaming laptop has some hiccups, but it balances well performance and price.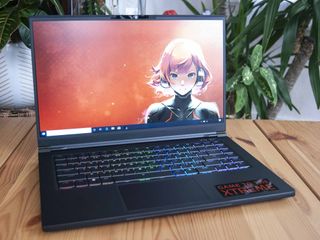 (Image credit: Windows Central)
ADATA has long been known for its popular storage and RAM, but the Taiwanese company has recently begun a foray into the gaming hardware world under the XPG brand. Our XPG Invader PC case review was my first experience with the new hardware, and I've since shifted my focus to the XPG Xenia 15, a mid-to-high-range gaming laptop with some tasty hardware and a fair price.
It's based on an Intel-TongFang QC7 reference design, so it might look similar if you've checked out our Maingear Vector review (which is actually a TongFang GK5 but still quite similar) or something like the CyberPowerPC Tracer III. There are myriad great gaming laptops sitting right in the middle of this price range; does the Xenia 15 do enough to set itself apart from the competition? This Xenia 15 review focuses on design, features, hardware, and performance to determine whether or not it's worth your money.
Bottom line: XPG's Xenia 15 has a solid, understated design with an attractive RGB keyboard inside, and it comes with the performance to handle modern games at high frame rates. The Prime app needs some work, and hardware could be better balanced to avoid throttling, but overall, this is a lot of laptop (including 32GB of RAM and a 1TB M.2 PCIe NVMe SSD) for the asking price.
For
Good value for what you're getting
Excellent display
Tons of RAM and storage, both upgradeable
No bloatware
IR camera, Wi-Fi 6, Thunderbolt 3
Against
Beta software (understandably) needs work
Runs hot and throttles under load
Audio is bad
Decent specs for the price
XPG Xenia 15 at a glance
ADATA supplied Windows Central with a Xenia 15 review model. It has inside a 9th Gen Intel Core i7-9750H processor (CPU), 32GB of DDR4-2666MHz RAM, a 1TB ADATA M.2 PCIe NVMe solid-state drive (SSD), and an NVIDIA RTX 2070 Max-Q dedicated GPU with 8GB of GDDR6 VRAM. For the asking price of about $1,400 for this exact model, that's some respectable performance hardware.
Models with a GTX 1660 Ti GPU and otherwise identical hardware cost only about $100 less, so it's no doubt worth getting all that extra RTX 2070 power if you can swing the relatively small price difference. All models also come with some fancy features, like Wi-Fi 6 and Bluetooth 5.1, an IR camera for Windows Hello, and per-key RGB lighting for the keyboard, and a secondary RGB light strip along the front edge of the laptop.
There is also now a refreshed version of the XPG Xenia 15 KC for 2021. I recently reviewed it and came away quite impressed with the upgrades to performance and features. A model with 11th Gen Intel Core i7-11800H CPU, 32GB of dual-channel RAM, 1TB PCIe 4.0 SSD, and NVIDIA RTX 3070 Laptop GPU costs about $2,400. Be sure to check it our first if you're considering one of these gaming laptops.
Here's a closer look at the exact specs found in the Xenia 15 model I'm reviewing.
Swipe to scroll horizontally
Category
Spec
OS
Windows 10 Home
Processor
9th Gen Intel
Core i7-9750H
Six cores
4.5GHz Turbo clock
RAM
32GB DDR4-2666MHz
Two 16GB modules
Upgradeable
Graphics
NVIDIA RTX 2070 Max-Q
8GB GDDR6 VRAM
Storage
1TB M.2 PCIe NVMe SSD
ADATA SX8200 Pro
Display
15.6 inches
1920x1080 (FHD)
144Hz refresh rate
3.8ms response time
IPS, non-touch
Ports
Thunderbolt 3
Two USB-A 3.2 (Gen 1)
USB-A 3.2 (Gen 2)
HDMI
RJ45 Ethernet
SD card reader
3.5mm audio/mic
Audio
Dual down-firing speakers
Connectivity
Intel Wi-Fi 6 AX200
Bluetooth 5.1
Camera
Front-facing 720p
Keyboard
Optical mechanical
Per-key RGB
Anti-ghosting
Touchpad
Precision
Glass
Security
IR camera for Windows Hello
Kensington lock slot
Battery
94Wh
Dimensions
14.03 x 9.2 x 0.81 inches
(356.4mm x 233.6mm x 20.5mm)
Weight
4.08 pounds (1.85kg)
Color
Black
Not exactly unique
XPG Xenia 15 design and features
ADATA didn't branch out too much with the design here, opting to partner up with Intel and use its TongFang QC7 reference design for the Xenia 15. It's relatively thin at 0.81 inches (20.5mm), and it sits in the average weight for gaming laptops this size. You might notice it when it's riding around in a backpack, but it's far from unportable. Just watch out for the mammoth AC adapter that comes with it.
The laptop has a matte black finish with a flat feel to it. I like the understated look, and there's not a whole lot of ornamentation here. The lid has a small glossy triangle with the XPG logo inside, and the front edge of the laptop has an RGB light bar that can be customized to light up even when the laptop is asleep. Otherwise, sitting closed, you might mistake the laptop for a standard, if chunky, productivity machine. The laptop is also quite rigid and well-balanced; at no time did I feel like durability was lacking.
On the left is a USB-A 3.2 port (Gen 2), along with a 3.5mm mic jack and a 3.5mm headphone jack. There's also a Kensington lock slot if you like to game in public. The right side has two more USB-A 3.2 ports (Gen 1) and an SD card reader for removable storage. I love a gaming laptop that moves some ports to the rear edge for easier cable management, so the Xenia 15 gets extra marks. There you'll find Thunderbolt 3 (a very nice addition if you want to add one of the best Thunderbolt 3 docks), HDMI, and RJ45 Ethernet. The barrel charging port also resides here, well out of the way.
It's great that you can connect a monitor, power, and internet and still have the laptop's sides clear for accessories. Rounding out the connectivity features are Wi-Fi 6 connectivity and Bluetooth 5.1, two additions that set you up nicely for the future.
Opening the lid, you're treated to the same matte black finish around the RGB keyboard. The flat feel is nice under your palms, but it does pick up oil from your hands. You'll want to keep a cleaning cloth close by if you hate a dirty device. The dual-hinge setup is firm but allows the lid to be opened with one hand, a nice added touch. The lid goes back to about 150 degrees.
Just above the keyboard in the top-right corner are two lighted buttons. One handles power, while the other handles preset power modes for quick switching without opening included management software (more on that later). Other than that, the laptop's interior is clean. Yes, you can remove the garish "Game to the Xtreme" sticker without leaving behind any sticky residue.
A wide camera array is embedded above the display. It has a glossy exterior, so it's quite noticeable, worsened by a gap in the lid gasket across the array. In any case, the payoff is an IR camera for Windows Hello facial recognition. It worked as it should in my testing, providing speedy logins without lifting a finger. It's paired with a regular 720p camera that's really not that bad. If you aim to stream, you'll still want to check out some of the best webcams for Windows PCs, but I've seen a lot worse in work meetings.
Two down-firing speakers are included, situated on either side of the laptop. Gaming laptops generally try to make you believe you're going to be blown away by the sound whether or not the claims are true, but XPG remains quiet in documentation. The speakers in the Xenia 15 work, and they seem to be tuned for voice. If you're not listening to someone talk — like if you're gaming or listening to music — you'll likely be unsatisfied. They're not particularly loud, and there's hardly any bass. You'll definitely want to connect one of the best gaming headset options.
A good look
XPG Xenia 15 display
The Xenia 15's display is more than I expected at this price, both in terms of specs and look. The bezel around the top and sides is thin, and even the chin is a lot thinner than plenty of other gaming laptops. It all adds to the understated look. The only option here is 1920x1080 (FHD), so you'll have to look at some of the other best gaming laptops for other options. No G-Sync, but it has a smooth 144Hz refresh rate and 3.8ms response time.
Testing with my Spyder X Pro colorimeter, the display managed 96% sRGB, 74% AdobeRGB, and 75% DCI-P3 color reproduction. That's a bit lower than the claimed 99% sRGB, but still an OK result. The matte finish helps reduce glare, and the display can reach up to 326 nits brightness. Games overall look great on the screen, and it'll serve you well if you're not connecting to an external monitor.
Love it or hate it
XPG Xenia 15 keyboard and touchpad
Image 1 of 2
Many gaming laptops in this price range will throw in a single-zone backlight with a few presets, but the Xenia 15 goes all-out with customizable per-key RGB, a backlight intensity slider, optical, mechanical switches, and anti-ghosting keys. It looks fantastic set into the matte black finish, and I definitely get Razer Blade vibes looking at it all lit up. The top row has Function keys for volume, key backlight, display brightness, touchpad toggle, and display projection.
Typing on the Xenia 15's keyboard is satisfying. Keys are raised quite high off the deck, which, combined with the thin keycaps, makes for a lot of travel. Presses are more on the mushy side of things, but you get an actuation feel and an audible click without the more traditional mechanical switch. Gaming with this keyboard poses no problem, and it'll work well for word processing.
Accompanying the keys is a sizable Precision touchpad with a glass top. It tracks well, it's smooth to touch, and there's only just a slight rattle when clicking the bottom-right corner. Otherwise, it's a great addition for when you don't have a mouse connected.
Handles modern titles
XPG Xenia 15 gaming
Image 1 of 3
The Xenia 15 uses an older 9th Gen Intel Core i7-9750H CPU here, but it's still a solid chip. And paired up with the NVIDIA RTX 2070 Max-Q GPU, some high-end gaming performance is expected.
Most gaming laptops include proprietary software that helps you deal with power management and RGB lighting, and indeed XPG has something here. The "Prime" app is some of the only added software — the laptop is otherwise free of bloatware — though it is still in a Beta state. You can choose between three power profiles, adjust keyboard and light bar RGB, and there's even a built-in system monitor to keep an eye on temperatures and system load. As we will see, the Beta version still has some kinks to work out.
With the laptop plugged in, I first ran a stress test using AIDA64 with the Xenia 15 set to its Performance power mode. Running the CPU and GPU together, the CPU hit about 90 degrees Celsius, pulling 52W at a clock speed of 3.4GHz. The GPU pulled about 65W and sat around 1.15GHz. Unfortunately, stress testing both pieces of hardware together resulted in 15% to 20% throttling. With fans cranked up to what I can only assume is maximum RPM, they run at about 49 decibels.
I let the system cool down and again ran the same stress test with XPG's Balanced power mode. Oddly enough, the first run caused the GPU to spike to 80W power draw with the same 1.15GHz clock, while the CPU sat at 50W with a clock hovering around 3.2GHz. Ultimately this caused thermal throttling to rise to between 20% and 30%. It's unclear what was going on here, but the next test didn't have the same massive GPU power spike. What is clear is that the XPG Prime app still needs some work before it leaves its Beta state.
Under load, this laptop's exterior gets hot. All gaming laptops suffer from some thermal issues due to all the hardware jammed inside, but you're really going to notice the keyboard and bottom panel heat up while gaming. And also in line with other gaming laptops is the difference between battery and AC power. The Core i7 and RTX 2070 require a lot of juice to run at their full potential. In Performance mode on battery power, the CPU pulled about 19W and sat at a 1.8GHz clock under full load, with the GPU pulling only 29W. That translates to a big drop in performance.
I ran some synthetic benchmarks to see how the CPU and GPU handle gaming.
Image 1 of 3
I also tested the laptop with some actual games to see how well they run at 1080p. I started first with Cyberpunk 2077 on a mix of High and Medium settings with ray tracing disabled, and DLSS set to Balanced. Playing for about 15 minutes with a mix of interiors and cityscapes, I got an average of 80 frames per second (FPS). Not bad at all, and the game looks great on the built-in display. After that, I turned to Red Dead Redemption 2 with High settings and maintained around 58FPS. Playing these intensive games had the fans going full tilt and made the laptop feel very hot on the underside.
The Xenia 15 can handle some heavy titles to a satisfying degree, and it will crush esports titles to the point that you'll see the 144Hz refresh rate display come in handy. If you opt for the NVIDIA GTX 1660 Ti instead, know that it is also a great GPU that will handle modern titles, if not with lowered in-game settings.
Average battery
XPG Xenia 15 performance and battery
Battery life is never great in a gaming laptop. Using the Balanced power plan, the Xenia 15 managed two hours and 18 minutes in PCMark's Gaming Rundown test. Adjusting to the Performance power plan would no doubt cut about an hour out of that time. Going about standard productivity tasks, you can expect that number to go up by an hour or two, but nowhere near the 10 hours of battery life, XPG claims. And if you're gaming, you'll want to keep the AC adapter with you anyway to avoid serious performance drops running on battery power.
As for upgradeability, the Xenia 15 has two easily accessible M.2 SSD slots and two SODIMM RAM slots. In this model, both RAM slots are used (two 16GB sticks), but only one SSD slot is used. I ran some further synthetic benchmarks to see how the laptop handles more traditional tasks on top of gaming—good results all around, with a speedy SSD coming from ADATA's own stock.
Image 1 of 3
Should you buy the XPG Xenia 15
Who it's for
Anyone who wants to spend $1,400 or less on a gaming laptop
Anyone who prefers a 1080p display with a 144Hz refresh rate
Anyone who likes an understated design with some RGB accents
Who it isn't for
Those who want a QHD or 4K display
Those who want configuration options, including the latest Intel or AMD hardware
Those who want a gaming laptop with more mature management software
There are many gaming laptops on the market today, but that doesn't mean a newcomer isn't welcome. And although the Xenia 15 is a bit rough in terms of power management and thermals, it's otherwise a well-built laptop packed with a ton of great features and some powerful hardware options. The IR camera and Kensington lock slot, for example, aren't often found in gaming laptops, and the keyboard's optical mechanical switches and per-key RGB lighting are a great addition. No bloatware in a competitively priced gaming laptop? That's what you get here.
Pair a solid, understated build with up to a Core i7-9750H CPU, RTX 2070 Max-Q GPU, 32GB of RAM, and a speedy 1TB M.2 SSD, and you might be expecting to pay a lot more than $1,400. Easy upgradeability, smart port layout, Wi-Fi 6, and Thunderbolt 3 are all welcome extras. This is a laptop that can easily fly under the radar in a professional environment — whether used for design or editing thanks to the dedicated GPU and beefy CPU — but it can also show off thanks to the customizable RGB highlights.
If ADATA and its XPG gaming brand can make some tweaks to the Prime app, thermals, and speakers, as well as get some newer (and more varied) hardware in the next generation of the Xenia 15 and still manage to keep the price in the same range, it should prove to be quite a popular option for those who want to game on the go. As it stands now, it's still a good option for anyone who has this level of performance in mind and who doesn't mind the noted shortcomings.
Good First Effort
The Xenia 15 has some issues with heat, and the speakers aren't great, but otherwise, this is a well-priced gaming laptop with excellent features and the performance to handle modern games.
Get the Windows Central Newsletter
All the latest news, reviews, and guides for Windows and Xbox diehards.
Senior Editor, Laptop Reviews
Cale Hunt is formerly a Senior Editor at Windows Central. He focuses mainly on laptop reviews, news, and accessory coverage. He's been reviewing laptops and accessories full-time since 2016, with hundreds of reviews published for Windows Central. He is an avid PC gamer and multi-platform user, and spends most of his time either tinkering with or writing about tech.