Yahoo! Go 3 Beta for Windows Mobile Released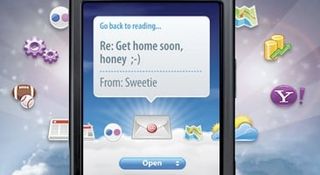 Looks like Yahoo Go development is continuing apace with the release of Yahoo Go 3 (Beta). You can grab a download here, but a perusal of the compatible devices list seems to indicate that it's only compatible with Windows Mobile Standard for now.
New features include:
An integrated at-a-glance Yahoo screen
Improved Yahoo oneSearch
Prettier design and navigation, complete with clouds -- because your data is stored, you know, in the Cloud. wink
Full-on widget support, with in-app widgets like MySpace and eBay
Interestingly, we haven't heard mum since Yahoo struck a deal with HTC over a year ago to pre-install the app on HTC devices. Perhaps, like ourselves, HTC was disappointed with Yahoo Go 2, which replaced the awesome Outlook integration with so-so in-app email. We're downloading Yahoo Go 3.0 now to see if that's changed, but not expecting it to. Now that the Yahoo Microsoft merger is not going to happen, Yahoo Go 3 is probably going to be your best bet for getting your Yahoo On for the foreseeable future.
Thanks to Amar for the tip!
going to the url on my mobile I wasn't allowed to download 3; only 2 was available. Is there a different way to download it?

Hi raaden -
Depends, what sort of device do you have. Looks like 3 is only available on certain devices, all smartphone / non-touchscreen edition

ya,,,,, like Dieter said windows standard = non-touchscreen phone
So the new Yahoo Go 3 beta would work on a dash, blackjack, Moto Q,,,,,,,

It works nicely on my Q9m. It's not a solution for all my needs but it still works nicely. I like how it works with Flikr and the E-mail is pretty slick and not so bad on speed. I wish it had built in Yahoo Chat.

whenever i wanted to download yahoo for my mobile(htc p3400i),i didn't work!i want a software of yahoo go or yahoo mobile to be installed in to my device,not that every time i have to type in m.yahoo.com each time i want to open yahoo on my mobile.isn't there no software based interface of yahoo for my mobile??

when i downloaded it, and then im ready to use it, and it says NO INTERNET CONNECTION but i do have a plan on tmobile, unlimited internet acess and i have a wifi connected to my internet at home, how come mine wont work?? i do have HTC HD2
Windows Central Newsletter
Get the best of Windows Central in in your inbox, every day!
Thank you for signing up to Windows Central. You will receive a verification email shortly.
There was a problem. Please refresh the page and try again.