Yahoo scoops up mobile analytics firm Flurry to strengthen their mobile products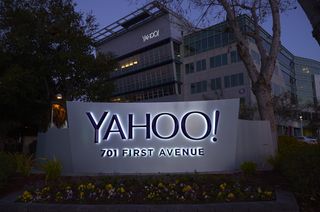 Yahoo has been on a mission to strengthen their mobile products for a while now and to push that envelope even further, the company has now announced they'll be acquiring mobile analytics firm Flurry after having reached a definitive agreement. Flurry, was started in 2008 and today has reached over 170,000 developers across 1.4 billion devices monthly with their services being offered to pretty much every mobile operating system out there one way or another.
At this point, no financial details of the deal have been announced however, the press release does note that the Flurry team will remain in their present locations, and Flurry's vision, mission, and focus will stay the same. Flurry's products will continue to operate and innovate with Yahoo's support and investment. If you're looking for the full details, we have the press release for you. Just read on.
Press Release
Yahoo to Acquire Flurry to Strengthen Mobile Products
SUNNYVALE, Calif. & SAN FRANCISCO--(BUSINESS WIRE)--Yahoo! Inc. (NASDAQ: YHOO) and Flurry, Inc. announced today that they have reached a definitive agreement for Yahoo to acquire Flurry.
Yahoo is on a mission to re-imagine users' daily habits, and mobile is at the center of everything we do. Our agreement to acquire Flurry is a meaningful step for the company and reinforces Yahoo's commitment to building and supporting useful, inspiring and beautiful mobile applications and monetization solutions. By joining Yahoo, Flurry will have resources to speed up the delivery of platforms that help developers build better apps, reach the right users, and explore new revenue opportunities. Together, the companies can make mobile experiences better through products that are more personalized and more inspiring.
Analytics are critical for all mobile developers to understand and optimize their applications. Yahoo and Flurry are reinvesting in developers and continuing to build great analytics products. The combined scale of the two companies will accelerate revenue growth for thousands of developers and publishers across the mobile ecosystem.
In addition, the joined offerings of Yahoo and Flurry will enable more effective mobile advertising solutions for brands seeking to reach their audiences and gain unique insights across desktop and mobile, and users will benefit from more personalized app experiences.
Flurry has been delivering the platform and insights to help developers optimize and personalize their apps since 2008. The Flurry stats speak to their success.
170,000 developers use Flurry Analytics
Flurry sees app activity from 1.4 billion devices monthly
Flurry sees 5.5 billion app sessions per day
Flurry Analytics is in 7 apps per device on average
8,000 publishers monetize with Flurry
Flurry works with mobile developers in 150 countries
As announced in Q2 earnings last week, Yahoo mobile usage is growing rapidly.
Yahoo's mobile display and search revenue each grew more than 100% year-over-year
More than half Yahoo's total monthly audience visits on a mobile device, and in Q2, over 450 million mobile monthly active users came to Yahoo, a 36% increase year-over-year
Time spent on mobile has grown 79% in the last year alone
The average Yahoo user now spends 86% of their time on smartphones in apps
Following the closing, the Flurry team will remain in their present locations, and Flurry's vision, mission, and focus will stay the same. Flurry's products will continue to operate and innovate with Yahoo's support and investment.
The transaction is subject to customary closing conditions.
About Flurry
Flurry is optimizing the mobile experience for developers, marketers and consumers. Flurry's market-leading analytics product sees activity from more than 540,000 smartphone and tablet apps on over 1.4 billion devices worldwide, giving the company the deepest understanding of mobile consumer behavior. Flurry has turned this knowledge into accelerated revenue and growth opportunities for app developers, and an effective, measurable advertising channel for marketers to engage their audiences on mobile devices. Flurry is venture backed and has offices in San Francisco, New York, London, Chicago and Mumbai. For more information, please visit www.flurry.com.
About Yahoo
Yahoo is focused on making the world's daily habits inspiring and entertaining. By creating highly personalized experiences for our users, we keep people connected to what matters most to them, across devices and around the world. In turn, we create value for advertisers by connecting them with the audiences that build their businesses. Yahoo is headquartered in Sunnyvale, California, and has offices located throughout the Americas, Asia Pacific (APAC) and the Europe, Middle East and Africa (EMEA) regions. For more information, visit the pressroom (pressroom.yahoo.net) or the Company's blog (yahoo.tumblr.com).
This press release contains forward-looking statements that involve risks and uncertainties concerning Yahoo's proposed acquisition of Flurry (including without limitation the statements contained in the quotations from management in this press release), as well as Yahoo's strategic and operational plans. Actual events or results may differ materially from those described in this press release due to a number of risks and uncertainties. The potential risks and uncertainties include, among others, the possibility that the transaction will not close or that the closing may be delayed; and that the anticipated benefits to Yahoo, including projected growth in audience and traffic, and benefits to users and advertisers may not be realized. More information about potential factors that could affect Yahoo's business and financial results is included under the captions, "Risk Factors" and "Management's Discussion and Analysis of Financial Condition and Results of Operations," in the Company's Annual Report on Form 10-K for the fiscal year ended December 31, 2012 and Quarterly Report on Form 10-Q for the quarter ended March 31, 2013, which are on file with the Securities and Exchange Commission ("SEC") and available at the SEC's website at www.sec.gov
Source: Business Wire
Windows Central Newsletter
Get the best of Windows Central in your inbox, every day!
People say that about Internet Explorer and other Microsoft services too. Just saying before you do that to others.

Internet Explorer still exists?

I think Yahoo can scoop up some of the Microsoft employees about to be laid off. Some of them have been working on Nokia if they want some mobile talent.
Posted via the WPC App for Android!
p.s. Don't give me flak for using Android I'm as much a Windows Phone fan (+920) and I switch phones often.

Yahoo is still one of the biggest internet companies in the world. They are still massive in Asia.

I have a yahoo email that I used to use when I played online games and I did random surveys and whatnot to get free credit for the game. It now has like.. A billion emails in it.

I still use Yahoo! Mail for my Facebook, Twitter, GoodReads, Slideshare.net, Wikipedia etc. but I use hotmail for personal emails.

Fuck yahoo.. N fuck marissa mayer.. Stupid woman

I don't think it's possible for you to have sex with Yahoo!

What did they do this time?

I had two yahoo email that i use since 2007 but now it can't be used because of some security question that i forget :( and can't be recovered

Since when does Yahoo = Microsoft? I know that Bing powers Yahoo searches....in other news Dogpile buys random tech firm.

It's general news. It is what wpcentral has been doing for months now haha. I just learned to ignore the irrelevance of it all haha

Maybe they used a 1020 to get that nice night time photo of Yahoo.

Acquired by....! Ask Nokia employees less than four months down the line.

Meh, yahoo has no love for WP8 all though I love their weather app on ios/android

I like yahoo as a company and their services but their lack of support for windows phone does irritate me

Agree. How does this news relates to Windows Phones?

I think Yahoo has no relation with WP users as they never release apps for us and their existing apps like Yahoo! Cricket are never updated. F**k you Yahoo!

yeah to me too i find very bad that can not count with the yahoo apps on windows phone, i had a yahoo mail since 2002 and is not other e mail that i use more than yahoo , they must realize that we as windows phone users we do not use outlook mail (hotmail) as mail and we have our own tastes in the mail and messaging system refers and just yahoo is loosing big part of their piece of cake by follow to google and their boycott to make apps for windows phone

I didn't know yahoo had mobile products. I thought people only used them for junk email anymore.

I'd be happy if Yahoo just made the mobile versions their websites work right.

That yahoo building looks a bit to the creepy side lol

Well, Nokia chat is powered by Yahoo. Waiting for an official Flickr app. Yahoo search is available for Chinese version.