Want a yellow Nokia Lumia 1520 for AT&T? It may be scarce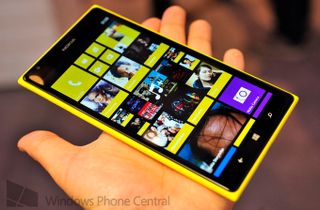 With the late night announcement from Nokia and AT&T about the pre-order for the Lumia 1520, due for release on Friday, November 22nd, "which color?" has become the hot topic.
The good news is if you pre-order through AT&T, you can nab yourself a yellow one. But if you want to get it through Microsoft via their Store, you'll have to look elsewhere. Indeed, we're hearing from a close source that yellow will be "scarce", hinting at a possible shortage of the color.
Microsoft Stores won't have the 1520 in Yellow
It's not clear if AT&T is grabbing all the yellow stock or if they will have enough supply for all who want that awesome color (yes, we're biased).
So if you were hedging on a decision, you may want to get that pre-order in early (opens in new tab) to make sure your yellow beast arrives on time. All we know is Microsoft Stores--both online and physical--won't be taking stock of the yellow hue.
Pre-orders from AT&T are due to ship on November 19, meaning there's a good chance many of you will have it early.
Daniel Rubino is the Editor-in-chief of Windows Central, head reviewer, podcast co-host, and analyst. He has been here covering Microsoft since 2007 when this site was called WMExperts (and later Windows Phone Central). His interests include Windows, Microsoft Surface, laptops, next-gen computing, and for some reason, watches. Before all this tech stuff, he worked on a Ph.D. in linguistics and ran the projectors at movie theaters, which has done absolutely nothing for his career.
Just as scarce as the yellow 920 when it came out. After three month, I gave up.

I remember wanting a Grey 920... But I also don't remember if they actually made one.

Countries in Asian Pacific have the Gray Lumia 920

I bought the gray nokia case for my 920. Love it!

ATT should carry grey in all Lumias offered,I dont understand them passing up on it.

To my surprise, i had all colors at my local official att store when 920 launched, so ill see with yellow 1520, even though black matt that I've played with today felt great

AT&T REALLY SUCKS WHEN IT COMES TO COLOR CHOICES THEY NEVER HAVE THEIR SHIT TOGETHER

...looks at Verizon, T-Mobile and Sprint. Um, you sure about that?

I dont care what Lumia comes to Verizon as long as there is a yellow I'm happy. Please! Make it happen!

TMO is ok. But Verizon has an obsession with black phones. Dark phones... Why...? I'm on TMO. Happy with my L925. Want the L1520 Yellow plz. Lol.

I got a yellow 920 the second week after launch. Got really lucky I think.

I got a red 920 the second week after launch. Got really lucky I think.

What are the colours Microsoft is getting?

Did you say AT&T, mmmm I really don't care. I don't want any business with them

I'd get a black one but red looks cool too.

With all the horribly sad rumors I saw about Stephen elop today and what he might do to Microsoft and also seeing his life story, it just made my whole day sad for some reason and now I can barely thing about Nokia because it just brings back the sadness, I just hope that when Microsoft buys Nokia that they can still use the Nokia name

The key world is rumors. There was no quote or comment from Stephen Elop just a bunch of stuff everyone has heard before. Bing and Xbox are too important to MS at this point to get rid of for a short term gain.


Crap I forgot to say that the only thing keeping me sorta happy is that these are just rumors
Ps his life right now is also bringing me down because of what he's going through with the divorce

I feel you too . Almost just turned my phone off just because these rumors . Been really grumpy over it .

It could be worse. If WP doesn't continue gaining traction or heaven forbid turn a profit (who knows if is or isn't) MS could throw in the towel.

I hope not! Not sure which of the two evils we'd be stuck with is lesser... Apple, I guess, for me. But I hope if never comes to that!

all that about ellop is .......
all that stuff is tabloid reporting, its garbage, don't listen to it

Nope i want a red one running giffgaff

I'm close to ordering a red one!

Can someone tell me why only At&t get red and yellow color options? Is it a deal that Nokia has with them exclusively or is it the carrier? I am on Verizon and the main reason I don't want a 929 is that it only comes in black or white just like the 928. I want something other than that. At least the 8x had red or blue. So frustrating...

Thank you. I have the 8x and I loved how there were colors! Blue and red, which is no longer available.
So why can't we have some color on Verizon?

Carriers control Nokia and what a great example with att 16 GB and no qi when everyone else gets the complete package Verizon will get the 929 and they want it square fat Droid and basic colors. Lets hope when nokiasoft begins they end all that carrier crap and go apple on them.

all that stuff is tablodiod reporting, its garbage, dont listen to it Im on tmobile, so my plan if it works out is to get a red 1520, and a red 2520 from verizion. But it depend on how it will work on tmobile lte

sorry evey time i hit edit it put in the same thing, anyway the only hting about the red is its glossy both the tablet and phablet

I do not. Not until I get both 32GB internal and built in Qi charging. No PMA bullshit I'm already invested in Qi.

AT&T: the Dr. Frankenstein of Nokia phones.

The Lumia 1020 only became available here in South Africa THIS MONTH! We will be getting this crazy monster Lumia only in Feb 2014! was seriously considering this phone as my contract is up for upgrade next month, and I am planning to get me that stunning yellow 1020 for Christmas :) (CANT WAIT!!) but that 20 megapixel just doesnt cut it on the 1520.. ONLY against the 1020... that is! I am a little worried that the CPU on the 1020 might be a bit too mediocre to stand up to what 2014 & 2015 might bring to the smartphone handset experience, but Hey... my Lumia 800 brought me this far with no major hiccups... exept for high end gaming that is.... sigh.. ANYHOW! I want the yellow Lumia 1020 and vodacom (my "carrier" for you Americans... we call it our network) seems to only stock the BLACK F73CK1N6 version.... WHHHYYY!!! WTF!!!!!!!!!!!!!!!!..... Sorry.... needed to get that off my chest... Im getting the black Nokia cover for some piece of mind coz I think the combination of the black on yellow looks sick!! If any of you fellow Nokian Windows Phone Microsoft junkies in here have a 1020 layout like that please show me some pics that I can drool over! :) Have a awesome Christmas season Windows Phone Central team and everyone reading this! cheeerz vir eers

Just saw this phone, its huge, pics to not really tell you how big it really is...not sure if I want it or not...

Where did you see the phone? I'm waiting to see it before deciding to get it or the 1020.

I saw at at the Sacramento att store on Sunrise. Im sorry but this phone is just too large and like the s4 mega looks ridiculous up to your ear as a phone. im gonna stay with the 1020 and get the 2520 tablet. Ill waitfor a 5" Lumia.

Windows Central Newsletter
Thank you for signing up to Windows Central. You will receive a verification email shortly.
There was a problem. Please refresh the page and try again.