Yezz Billy 4.7 smartphones reportedly receiving Windows Phone 8.1 Update 2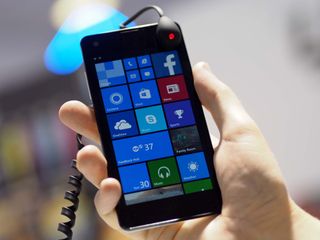 If you are an owner of the Yezz Billy 4.7 smartphone, you might want to check for a new over-the-air update. The budget device is reportedly the latest non-Microsoft Windows Phone device to get Windows Phone 8.1 Update 2.
The report comes from Windowsphoneapps.es. Windows Phone 8.1 Update 2 adds a few new minor features, including a revamp of the Settings hub, an All Apps button at the bottom of the Start screen, and MKV video support.
If you have a Yezz Billy 4.7 and have received this update, let us know in the comments.
Source: Windowsphoneapps.es
Get the Windows Central Newsletter
All the latest news, reviews, and guides for Windows and Xbox diehards.
the name alone makes me don't want to buy or recommend the phone to anyone

hi, Does it support Win10 (Yezz Billy 4.7) ?

And my Lumia 730 is still waiting :(

But i already got it via tecnical preview on lumia 630.

I am talking about the official public release

Blu and Yezz do hardly anything to customize their firmware, so they can just push out the OS update. Also, Blu and Yezz sell handsets directly to the public, so there's no carrier interference at all. Microsoft carefully crafts their firmware, and works with carriers who may also customize the firmware further, so it takes a *lot* longer to ready and test an update. There's a quiet strength about the way Blu and Yezz do business, truth be told.

The technical preview gave alot of devices the official public version. The Windows 10 servers gave access to update 2 before a second download gave them Windows 10.

Not to forget, the LAVA IRIS WIN1 got the WP8.1GDR2 update a few weeks back too...

My Lumia 1320 is waiting from India

I had the Lumia 735, no preview, i had it! Regret it tons though! God rid of my phone now.

Is it as finished as what we got in Lumia Cyan or Lumia Denim kind of update or Preview for developers kind if update

Same here waiting for my Lumia 720

Come on MS, this is BS. Give the update to the Lumia's too! Either through dev preview, or spin up the slow ring of the insider app to issue this update.

It is available through the Insider app ...

Yeah, that fucked my phone up, my Cortana was so pissed...

Yeah, but then you are constantly pestered to install the Windows 10 TP.

Reset you phone to remove that and don't reinstall the insider app

Doesn't work. You're still tied in.

You shouldn't be if you delete the insider app from your device.

Not for all devices. My 920 won't get it, goes straight to 10.

"What phone is that?"
"It's a yezz billy" "uh...." I would never own this brand, just due to the name!

Lol. I actually have it, we make Yezz Billy jokes. Very solid phone though, and the only Windows Phone that's not a thick brick.

Actually, I believe the device is hollow in places, not solid. ;-)

But it is good design wise

Every phone other than the lumias are receiving update 2 it seems :'(

Because Yezz and Blu sell directly to the public and don't customize their firmware a great deal, so they have no carrier interference and don't need to do much to push out the update.

I got my L930 directly from the electronics store, but no update.

Carrier-free is part of it. The other part is how heavily customized Lumia firmware is. Yezz and Blu, ironically, offer the "Microsoft Signature" experience without customizations. That means less can go wrong with each new OS revision as there are fewer firmware add-ons and changes to test against.

1st world problems. We'll live.

All other device's receiving windows 8.1 update 2 wht abt lumia phones.. Posted via the Windows Central App for Android

you seem to be using an android phone..why r u worried?

Maybe now Android can install update 2.

I am using both android and lumia 920 as in my profile pic.. Posted via the Windows Central App for Android

I am using both android and lumia 920 as in my profile pic.. Posted via the Windows Central App for Android

Wht u mean by cheater I bought android 1year back when Microsoft purchased Nokia.I am a big fan of nokia and this is my first android phone.. Posted via the Windows Central App for Android

Windows central is a paid app on windows phone and full free on android is there any problem for you using Windows central app on android and commenting here.. Posted via the Windows Central App for Android

No issues mate..i just didn't know that Windows Central is free on Android and you have a windows phone.

The trial app is essentially the same as on android. Just click on the try button, install the app, use it forever. If you need to remove ads, you can buy it. No pressure. Got mine as myappfree deal though.

I am using on lumia also while checking latest news on android device I saw this post so I just commented on it.. Posted via the Windows Central App for Android

Yezz and Blu sell directly to the public and have no carrier interference. It makes a difference. They also don't have all sorts of Lumia-specific customizations to test with each new firmware.

I think MS is just sending a message to the other OEMS that they are not bias towards Lumia phones but becoming an OEM for WP/Mobile means that you are a priority partner. To me its a good move. If other OEMs will follow then WP/Mobile will grow. Its a slow and painful process but MS has to go through it.

Nice... Waiting to have it in my Icon

The icon already got the denim update 2....

That's like the worst name ever for a phone

Some people would strongly disagree. :)

as bad as yezz names their phones, i do see the reasoning behind it. the windows phones are all billys, after bill gates, the android linup are andys.

How about kum & go for a gas station... No shit, think about it...

Why don't they release of to Lumia phones?

Blu and Yezz seek directly to the public, bypassing carrier interference. That's a big part of it. They also don't have many firmware customizations to test with each new version.

Because Microsoft focuses on W10...

Update 2 is a bug filled mess. I wish I could downgrade to GDR1 on my 640 LTE but I can't. I'll just have to deal with the notification sound issue, the in-app text and image rendering bug, the 7 second wait to multi-select photos and the multi-task view which just shows a row of black rectangles. It was the same on my 830 (insider GDR2 build) which I was able to downgrade to GDR1 thankfully.

This is something new. Are others also experiencing similar issues?

I can cope with everything apart from the text rendering bug. It makes using news reading apps (converge, nextgen, MSN...etc) a chore on my Lumia 640 as everything randomly looks like its being rendered for a QVGA screen, not a 720p screen. I have also tested it on a Lumia 930, and it had the exact same issue. Frustrating.

tried GDR2 on 635, 735 and lately 640.... It's horrible! Don't update. I confirm all those chancoouk says. On the 640 it's really bad, read my review of it over in the forums: http://forums.windowscentral.com/lumia-640/343966-lumia-640-user-reviews.html#post3095419

Ok! That is something that shouldn't have happened. I beleieved that Lumia 640 was a decent mid range phone. Though the software issues can be fixed I doubt about the camera.

I am also suffering the text rendering bug on the Blu Win Jr (not LTE). Anybody knows how to report this kind of bug to Microsoft?

Now I understand why many of the Lumia phones aren't getting the update!!!
MS already took a lot of time in releasing GDR1. They should have bundled both GDRs, should have tested the phones properly and then released it.

Ohh boy. Your device seems pretty much effed up. Try resetting. Rocking GDR2 on Lumia 640 LTE DS. haven't experienced anything significant wrong except 1. Every restart will reset the keyboards to default, as in I removed Chinese keyboards as I don't use them. But it keeps coming back after every restart. 2. Today morning my alarm didn't go off, I restarted the device when I woke up 45 mins after. Soon after restart alarm went off.

Yep. Not the most bug free of updates but its still worthy esp if you care about organized settings. Sometimes the notification sounds get muted and multiselect does lag.

Hmm...seems to run flawlessly on my 920 with none of those issues you mentioned. My phone has never ran better with Update 2.

Likewise on my 925. I got it through the Insider program though. Wonder if that makes a difference?

If u own lava iris then ur lucky..
Bcoz they too got GDR 2

I know! Need it bad. +830.

Looks like everyone's getting update 2 but Lumias. What's going on somewhere?

Yezz and Blu sell directly to the public so don't have any carrier inference to worry about, nor do they have many/any firmware customizations to test with each new version of the OS.

And my 730 doesn't have update two -____-

Its out though, but i cant recommend it! It messes up a few vital things. Such as photos app, camera and more...

I have Update 2 on my 920 and I am yet to see it mess anything.

Try take 5 photos, go into your photos folder and try and select multiple pictures at once. ;) Fx.

My lumia 535 is still waiting...

For those who want it on a Lumia, install the Windows insider app, sign in/up, choose the fast ring, and check for updates. You should see one. Download and install that. It's the WP Update 2. After installing, if you don't want the preview build, you can uninstall the insider app. No problems. So I'm now using a 730 with WP Update. No problems...

I tried this but it keeps giving me only wp10 as an option

Will I get it for my Lumia 620 by this process. I didn't try this because insist of GRD2, may I get Windows 10. And I don't want Windows 10 TP/IP at least now.

Carrier updates are the worst! Hopefully Microsoft isn't lying when they announced they'll be controlling the updates now!

Microsoft is in control of the unlocked country variant Lumia handsets. When update 1 was released most of the carrier locked variants received the update before the country variants. The update schedules for Lumia handsets will always be a big mess.

What about the lumias ffs!!

Lumias have heavily customized firmware that need to be tested against every new version of the OS. They're also generally sold through carriers who further customize and can slow update deployment. Yezz and Blu sell directly to the public which avoids carrier interference, their firmware is pretty basic, and the number of devices they need to test is pretty small, all of which speeds up testing.

I own an international version :/

Well That digusts me.. When I realize that My Lumia 730 Cant Change its name.. And have puzzled settings.. :(

You can change the name by connecting ur phone to PC.

Any reasons why it's not rolling out for Lumias.

Update 2 for LUMIA 730 PLEAAAAASE!!

Its out! But don't get it! You will regret it!

Not for Lumia's?? Everyone is getting the update excepts Lumia!!! Seems MS is encouraging other OEMs.

OEMs that hardly customize, and avoid carriers, can deploy much more quickly than Microsoft, Samsung, HTC, etc. Microsoft also has way more devices to test.

Just sucks that GDR2 is a bad apple. Every single phone ive tried has trouble with updating photos in the photos folder right after they're taken, and worst of all the "select" button takes 5 seconds to react when you wanna delete multiple photos.

Same here. The update is filled with bugs.

Bugs, yes. But its not like they are dealbreakers.

You guys are just repeating the same thing over and over. GDR2 on my 1520 doesn't have the bugs you speak of so don't go announcing things like you're an authoritative source.

Hahaha. I have test 4 separate phones. 1 Lumia 640 LTE, 2 Lumia 830's and 1 Lumia 930. The fact they they share the same bugs since installing GDR2 is no coincidence. Have you tried GDR2 on any if those phones? No? Then go away.

Same here. None of those bugs on my 920.

I tried GDR2 on 1520, it does indeed have the "wait 5-7 seconds" when selecting multiple pictures in photos.

They are trying to get us over on android or ios, that would also explain the UI overhall in many apps :(

yes i know very few have it. i just bought one for a trip overseas to use as a Nav device and a local SIM, given it is unlocked and has dual SIM slots. Anyway, checked for an update yesterday and to my surprise i had one. it is the 8.10.15137.148 version 8.1 update 2. I have not had time to check it out, but i do see the setting is new and more to my liking.

Wow..... Now every WP is getting this, except some old WP devices.

I don't mind waiting, but will it come to l520 and l735?

i am using lumia 1020,but my mobile is imported,(canada)i am using it in india,when can i update 8.1 2, please reply me.

When the hell for nokia phones!!!!!!?????

Why it is not coming in Lumia first after all Microsoft owns Lumia.

Now I see what Microsoft is doing to Lumia users. This update is not avalaible for Lumia 925 without having to pass through the insider app

Lumia 830?? MOVE YOUR ASS AT&T!!!!!!!

My 625 is also waiting here in India...plllzzz release the 8.1 update 2 officially and also waiting for windows 10 mobile software update...

Microsoft needs to start selling unlocked Lumias and update those just to show the carriers they suck.

They do in alot of Markets, and that's what I always buy. Their called country variant devices.

Non lumia users are getting but officials Lumia users are not getting this update.

Not bad. Hadn't thought they would ever see even one update!

Honestly I would never get a phone with that name, windows phones have ugly names other than lumias

you do not know that the Billy is named in honor of Bill Gates!

Lumia may be last to get update

man, all of these non-lumia smartphones are getting the good update and im here stuck on cyan on my lumia 635. BOOOOO

Who the hell buys a phone named Yezz Billy? Anyone lame enough to name a phone that is no one I would ever buy a phone from.

Fuck this Microsoft..coz of updates are fucking shit...never stable and never perfection in updates..beach.

Man...really non Lumia users r getting good updates...but here...no updates...Microsoft do something for us...we are also the users of official windows phone, don't make us disappointed.