You can chat with Mr. Spock on Skype as part of its new bot releases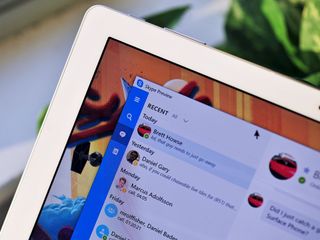 Microsoft has offered an update on its recently launched support for bots on its Skype messaging service. They offer everything from buying a ticket to a concert to even chatting with Mr. Spock of Star Trek.
Microsoft first started rolling out support for bots in Skype in late March as part of the company's overall push to develop and release better artificial intelligence products. In a blog post (opens in new tab), Microsoft stated that since that time over 30,000 developers have been working on Skype bots.
One of them is the recently-launched Spock bot, designed to help promote the recent movie Star Trek Beyond. Adding "Spock" to your Skype contact list will allow you to chat with the second-in-command of the U.S.S. Enterprise about the details of Vulcan logic.
Other bots offer more helpful tasks in the real world. Microsoft says:
Other Skype bots include Hipmunk, for help in getting the best hotel and flight prices for your next trip, and the IFTTT Bot, which sends out automated messages from your favorite apps, devices and websites. Microsoft recently hosted its first Skype Bot Hackathon in Palo Alto, California. Attendees create new bots designed to help choose a good place for dinner or to sign up for health insurance.
Windows Central Newsletter
Get the best of Windows Central in in your inbox, every day!
Chatting is the best thing to do when nothing to do...
Love bots, or robots, or whatever!

i want to chat with a woman bot, robot, whatever!

Am I the only one seeing the message about chaseable tiles? :)

To be fair, we know they've been working on it for a while now, it's just that it's not that easy to implement.

Oh, I know it's not. But I must have missed where they said they were working on it..

I want to chat with Chewbacca..

Awesome....great......its deadly to see what they have been working on instead of real features that the general public is waiting for. MS is a JOKE HEADSTONE 2....awesome!

Whatever you do, do NOT let the facts get in the way. Stay true to that rage, regardless of reality!

Now we have support for people who reached new level of being forever alone.

Honestly, I love the idea of interacting with/using services via bots and/or Cortana. Never been a big fan of installing apps I'll seldom use (e.g. SkyScanner or Uber). But, if I can use these services quickly without actually installing an app, that's all I need. I rarely even open the Uber app now, I just let Cortana handle everything (e.g. Book me an uber home, done). Yes, there is still a palce for more complex apps, like Excel, Facebook, or Skype (obviously), but service oriented apps like 1-800-flowers, dominos, and Uber can definitely be streamlined via bots. Also, Project Murphy is a fantastic way to get through the 2016 elections! :p

Yeah, except you have to use skype.

Which Spock? There's so many of them.

"its only logical that the MS development team is working on chatting with spock instead of pushing windows mobile forward." - Spock....2016....from beyond the grave.

I'd prefer that make Skype do video calls as well as it's competitors than have bots.

yes Rob, but Microsoft belives bots is it saving grace....so they will develop all kinds of crap like this instead of work on real features that peopl will use.

It's easy to do what everybody else are doing. Being innovative is the hard part. Trying to develop the thing that nobody knew they wanted.

Just like windows phone. Nobody knew they wanted it, and still dont.

I know I don't want it, this is completely pointless.

I don't quite understand the purpose of bots. Instead of having all these separate bots, why don't they focus on having Cortana be able to do all of this?

Maybe someday you'll be able to talk to the spirit of dead ol' Uncle Coip on Skype!

Eventually, some of these bots will most likely migrate to Cortana (just a guess). But, it definitely makes sense to keep them in Skype, because it's a chat centric app/service, where you can have multiple conversations running at once (e.g. lining up a flight through Hipmunk & dinner through OneTable). Not to mention that for some bots, like travel or events, you may want to run a group chat, which works better in an app like Skype.

But skype is terrible and I never use it, it would make infinitely more sense to have this stuff in Cortana (although I could do without this pointless bot), you know, the "supposed" go to Personal Assistant.

But Spock died Posted via the Windows Central App for Android

Ohhhhh underlying meanings again. So did windows phone/mobile.

I'm playing around with the IFTTT bot. It can do many useful, smaller life hacks as I see. ;)

Bots (and Bollywood emojis)!!! all what people wants!!!

I don't think anyone at Microsoft know what the word "priority" means.

Fascinating.
But highly illogical. FOCUS ON THE FREAKIN OS FIRST!!!

We should have a option to add bots on Cortana

I cannot even make normal telephone calls with the stupid Message and Skype app. Very retarded! Microsoft can just sell Skype for all I care.
Windows Central Newsletter
Thank you for signing up to Windows Central. You will receive a verification email shortly.
There was a problem. Please refresh the page and try again.