You can now download ISO files for the Windows 10 November update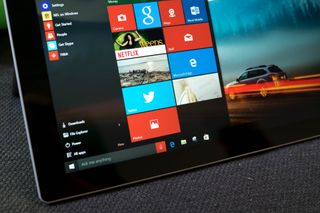 While most Windows 10 users will get the recently-released November update through the normal automatic process, many tech-savvy PC users prefer to get the ISO files so they can perform a clean install or reinstall of the OS. Paid MSDN subscribers can now download the official 10586 build via the ISO files, but it's also available for everyone else via the Windows 10 Software Download page.
The page offers a link to get the media creation tool, which can download the ISO files to a USB flash drive or DVD disc. Microsoft says:
How many of you plan to update to Windows 10 build 10586 via the ISO files? Let us know in the comments!
Source: Microsoft (opens in new tab); Via: Neowin; Richard Hay (Twitter)
Windows Central Newsletter
Get the best of Windows Central in your inbox, every day!
Is it like the older ISO, where you can install the update through Windows itself without rebooting until later?

it will install only the update ? will I lose any files and programs?

So I can update and not loosing anything ?

Yes, much like previous upgrades as long as you install using the upgrade method witihn the current OS; you will be given to keep everything, only profile data or nothing.

What about windows dvd player that I got from upgrading from 8.1 media center

Only if the regular process doesn't work well. Too many applications to reinstall.

You don't have to wipe the computer to use an ISO. It can just update the OS too.

Ah Daniel help me out here please. I got the update this morning and I started to install it and then it said there was an issue and stopped midway. I understood it was because I had less space on my C: drive and used disk cleanup to...well clean it up and by mistake also cleared up the system files including the update installation files. Now I cant see the update anymore. WIndows update just keeps saying no updates are available. But i can see the update in update history and it reads failed to install. Waht would you have me do mate?

Use the Media Creation Tool to update your PC. You can get it from the MS source link in this article.

Just wait for 24hrs.then again check for update. It will be there.

ISOs, still the best way to install windows.

Really? Because I haven't had any problem updating with Windows Update, and I first came from 8.1. Never had to use an ISO I can understand that in some scenarios, an ISO is needed, but if somebody's just updating, Windows Update works just fine.

Well for me it is, firstly I have dozens of updates pending from windows update like useless offices updates, so I set my networks to metered to prevent forced updates(really hate them). The W8.1 updater was the best, I could choose what I wanted, just like ISOs, I choose what I want not what Microsoft thinks its best for me

yeah right "useless" office updates, now I wonder if your office is even legal, since it seems you don't care about security updates. But then if you got some weird kind of security issue in your computer for not installing updates you would be complaining. Also you decided when you opened office if you wanted updates on windows updates, if not, don't click where it says about giving you updates on other Microsoft software. It seems you are a complainer and somehow a clueless person about how things can work on Windows (not even Windows 10), but on Windows 10 you can hide updates and stop updates and do many things, if you are on Pro, if not, I am sure you will not go Pro but still complain. But anway, updates bring security to Windows, so stop pretending like they are just stupid files to slow down your internet and don't add anything. like I said clueless person, but it's not my problem, I just wanted to point out how wrong you are, and if you think you are tech person, well your post shows you are not at all.

What we deem useful or useless is subjective and depends on what we use our pcs for. Ain't you a lil judgemental fella, ain't ya? FYI, i have never had security issues in any of my computers so i dont know what you are on about. To me they are useless, I hardly use office anyways, reason why I have so many pending office updates is because I did a fresh install smarty pants. And oh, Mr know it all, Mr tech person, how do you disable automatic updates apart from setting networks as metered? Would really appreciate your help

Can someone pls tell me the size of the ISO file & the size of automatic update?

Windows Update only downloads the iso (in an encrypted .esd file), not much different from downloading manually the media, except the latter you keep the setup 'disc'.

This is the link but, I don't know why can't I post a normal one as it is.. It will redirect you to download page. https://www.windowscentral.com/e?link=https2F%2Fclick.linksynergy.co...

What happens if I just click the "upgrade now" button instead of getting the tool? Would it install the newest version? It looks like it's running through the initial windows 10 update procedures.

https://www.microsoft.com/en-us/software-download/windows10?tduid=%282e8...

Thanks mate. Now I gotta see if I can just upgrade it using the tool

Same thing happened to me. Please tell me if you can upgrade your PC/ laptop using the tool.

I don't see the files on their page. I wonder why this is taking so long? I took off today for this.

There are no iso files, just use the media creation toolkit to create your iso or usb install disk. The tool download the files needed and ask you what to create a iso file or to put is on startup usb . Usb pen will be formatted before the creation.

"I took off today for this"

Keep checking my 10240 PC and saying no updates !

OTA update is over the next two days, too many people to do it in one day since this is not insiders only but everyone else as well Posted via the Windows Central App for Android from my GS6 Edge +

& this is why I use wsus instead of the regular servers(besides the occasional update they dont push to all)

Which one is Pro version?

I am not gonne do a clean install, that cost a lot of time. But mostly the iso files can do also a update process. I think it does not make anny differents what men use. I just wait for windows update. With the iso men can basically download the wrong language. And then it wil say you have to download again, this time the right one.

I just downloaded the iso via media creation tool but the freshly installed version is still build 10240!

I've never had to burn any ISO file, they just install when I click them.

LOL in each Picture there is some Google junk

Guys have they made the ISOs(via Media Creation Tool) AIO version?? I dont see the option to choose PRO, Home or Home Single Language, I am sure the option existed while downloading the 10240Build.

Yes, the ISOs contain both the Home and the Pro editions, all you have to choose is the architecture.

Anyone have success with Win10 Enterprise? The download page says to "see the Volume Licensing Service Center for more information" but all I see there are files dated 8/1/2015.

An error occurred while processing your request. Reference #218.2aa20017.1447357679.9a6363 im not lucky :3

Already done it via Update, but I'll probably download the ISO to burn and to my Windows 10 installation USB

Will I need my product key when installing via iso???

I have a question. Can I use this build to make a clean install on my surface 3? Now I have a w10 which I updated the end of July this year from w8.1, but I feel like it needs to be fully reset. I don't care about files or anything else. I want just to erase everything and start from scratch. If, in this case too, it Will still be painful slow, I will try to get rid of it. At the moment, i think surface 2 (rt) was still a better machine

Just realized that Windows 10 Education needs an own ISO from Dreamspark. FFFFUUUUUUUUUU

Why no link? I went here, and I see no mention of the November update. What page are you looking at?

It doesn't show the Home Single Language option!! If you have that OEM version don't use this to get the ISO!!

I used my old xp machine to goto msft website to download the iso . If I went to msft w10 download page via a win7/8/8.1/10 machine, it would prompt me to download the media creation tool. But I have low bandwidth and I prefer direct download links :) ~3.7GB for the ISO . Anyways I made the w10 I had, 'dirty'. So I'm doing fresh install. Otherwise also I would have downloaded the iso for updating because of my low bandwidth I do not prefer non resumable download methods for huge files :)

updated my PC, later tonight ill do Surface Book, SP3 and SP4 pro.. all with the new iso

Well I just managed to rebuild my laptop in a day and a half. From a clean install of build 10240 (using the Media Creation Tool) to build 10586 (through the update process). Not bad. And this solved "all" the problems I was experiencing through all the preview builds leading to build 10586.

Ugh why they don't just give the direct download link..

Hi Daniel Rubino,
Can we do clean installation Windows 10 in my laptop using the ISO provided by "Update Build 10586" link?

It installed Windows 10 Home on my Windows 10 Pro machine. The creation tool did not offer a choice as it did last time.

UPDATE/SOLUTION: Do not delete partitions in clean install if you upgraded to Pro in Windows 8. I ended up having to reinstall Windows 8.1 and upgrading to Pro with purchased key, and then upgrading to 10586 via ISO. This is a major change from 10240 which you were able to download a Pro version ISO.

where is the link in this article???

What can I do when windows update says Installation failed? Please help me.