You can now install GroupMe on your Windows 10 PC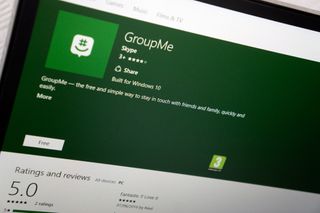 GroupMe has been made available for Windows 10 computers. It's a Universal app too so you'll get to enjoy all the features offered to Windows 10 Mobile users. Those who aren't familiar with GroupMe, it's Microsoft's central hub app that lets you keep in touch with groups of family, friends, colleagues and other acquaintances.
As well as being available for both Windows 10 PCs and Mobile, GroupMe can also be found on iOS and Android. Here are some highlight features from the Windows Store listing:
It's simple to add anyone to a group using their phone number or their email address.
View your groups right in the People app and you can reply to messages fast with interactive notifications. Share photos and links with your groups from other apps.
Choose when and what type of notifications you receive. @Mentions help you find messages specifically for you and you can mute or snooze a chat if it gets too noisy.
Go ahead and fall in love with our exclusive emoji, create meme images and find and share GIFs and videos — all directly from GroupMe.
Create and share events with your groups. See who's attending and who has liked your messages.
It doesn't matter if you're on a computer, at home or out and about — you can stay in touch easily on smartphone or tablet. Whether you're in a class or at the office, GroupMe lets you stay in touch with your favourite people and makes sure you never miss a thing.
Give the app a download on your PC and let us know in the comments how you get on.
Download GroupMe from Windows Store (opens in new tab)
Windows Central Newsletter
Get the best of Windows Central in your inbox, every day!
Rich Edmonds was formerly a Senior Editor of PC hardware at Windows Central, covering everything related to PC components and NAS. He's been involved in technology for more than a decade and knows a thing or two about the magic inside a PC chassis. You can follow him on Twitter at @RichEdmonds.
It is but still can't find anyone to use it. Too bad, love the app.

I love it too, but same problem, my friends don't use it.

Same here, should just start a group for Windows Central users who can't find anybody they already know to use it.

I would be interested in joining the group.

Hi guys, try this link https://app.groupme.com/join_group/22441302/hZTzzP

So funny how different social groups are. Everyone I start a group with using this app, ends up downloading the app and using it. Even people who ridicule me for using Microsoft products, use this app daily. Just hamfist it on people lol. Start a group and if they dont have the app, it comes to them as texts. They eventually realize they cant view videos/photos via the text option, so they download the app.

Well that, ofcourse, is US-only.

Same here, people just flat out refuse when I ask, even my wife! Posted from my Lumia 950

Sweet!!! Being that GoupMe is available on Windows Phone 8.1, I was already signed up using my Microsoft account. Downloaded the Windows 10 PC app and it automatically recognized me and signing in was simple. Haven't found any problems yet, seems to be working fine.

It's a nice chat app. However, I really don't know why MS has it. They better use the resources for the skype messenger. Oh well, what do I know....

I agree. Making group converstations is already possible in Skype and Skype is available on multiple platforms. So I wonder what the added perks of this app are?

Because this comes in as a text, doesn't need paid subscription to do so. As well even works for non app phones like flips etc.

I think it's a smaller team who develops this in the US, where as most of the main Skype dev is in London as far as I know. I think it's a good place for them to try out new experiences in a more agile way. Skype is a bit of a behemoth itself where as this app feels leaner with less users so they can try more interesting things out

Releasing multiple apps will make it confusing for people. Besides, Skype is already known amongst people, so it would make more sense to build further on Skype instead of making a new app.

Groupme was already around. Skype bought them, right before Microsoft bought Skype

Aha ok, did not know. Explains a lot.

Lol that's like saying they should merge business with regular Skype

This is great news, thanks. My family are on a mix of android, iPhones and w10m devices and not all are on Facebook (for messenger), so this Groupme is ideal for us. Now that we can use it from laptops, pc's etc as well as our phones, it's going to be even better. ☺

This is what I use it for as well. Talking to family who refuse to join Facebook because of reasons.

GroupMe is probably Microsoft's most underutilized app. I have no idea why they have not converted it into a proper Rooms replacement--that fantastic feature from Windows Phone 8 that they never promoted and coldly shut down that conveniently integrated chat via text messaging, OneNote sharing, Outlook calendar sharing, and photo and video sharing via OneDrive (that also had individual commenting features that made it Facebook-esque). It used to be our family's own, private space, and it seamlessly utilized a slew of Microsoft services. It would behoove them to bring it back and integrate it into GroupMe as a multiplatform version of the original vision.

Re: coip,
Yes. My family still uses Rooms on our WP8.1 phones, but GroupMe could be the replacement going forward, if Microsoft would add the features from Rooms.
.
(Geez, Microsoft is always breaking things, such as Rooms, ZUNE, and Media Center, before they have a full featured replacement! Good thing Microsoft doesn't make cars or we would be driving around in their new model without air-conditioning and other features we have become accustom to!)
.
GroupMe would be even better, with all the features from Rooms, since it is available on the other two phone platforms too.

There is no ability to delete contacts. We can only block them but they will still show up in the contacts list. And it does not ask for permission to access the address book the first time. Too bad.

It ask for permission to access the address book if you try to search for people.

Finally gooooooooood ❤ ms!!

Fantastic. My family loves this app.

Great! I'm going to try to migrate my Family from Whatsapp to GroupMe !


So many chat apps. Really I seldom stray far from using standard sms messaging. What does this one offer that is not already available by more established offerings?

This one isn't new. It's been around for a while. Allows group messaging across all platforms. It's fast and updated frequently and embeds many rich media even if pasted as links. Has its own internal calendar for planning of events -Vigor

The one thing I like about GroupMe is that you can also open it in a Web browser and chat from there--much more convenient than typing on a phone keyboard.

But who really uses it ? None of my friends use it, and most have never heard of it.

I think the issue with a lot of these chat apps (besides the fact that there are too many) is most don't have a good segway to convince ppl to try them out.

awesome! my friends use it. I use it. winWin

I have 3 student groups. They use it on IPhone.

I set up a GroupMe group for a study group.

Little step to the MS union

I use this app everyday. Too bad I can't get it to work on the PC because of this error, 0x80073cf6.

Still waiting for Group live tiles to update in W10M, as in WP 8.1. Yet another useful, differentiating feature ignored or abandoned by MS? Sooner or later if you keep shooting yourself in the foot, you run out of toes...