You can now pre-order the Dell Visor for Windows Mixed Reality
Now you too can look like a sad robot while enjoying Windows Mixed Reality.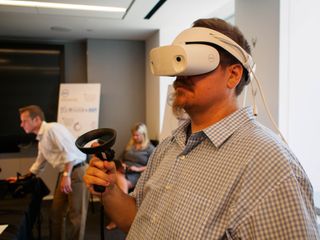 Of the many Windows Mixed Reality headsets Microsoft is helping its partners launch alongside the big Fall Update, the Dell Visor truly stands out in the crowd. It's the only headset that doesn't contain some shade of black or grey, and one of three faceplates that actually shows some personality. Sure, that personality happens to be Marvin from Hitchikers Guide, but it's got a solid look to it and that's not nothing.
The Dell Visor is also finally available for pre-order, for those who wish to guarantee they will have this headset in hand when Windows Mixed Reality is fully available in the Fall Update.
Check out our full hands-on with the Dell Visor to learn more!
Those eager to grab the Dell Visor first can head to the Dell site and pre-order today, and you'll have one of two options. You can get just the headset for $349 (opens in new tab), or you can grab up the headset and motion controller bundle for $449. If you're not sure you want the motion controllers, you'll be able to add them later for $99.
Pre-orders will start shipping from Dell on October 17th, when the headset and controllers will also show up on shelves at Best Buy and Microsoft stores. Overall there's a lot to like about this headset, so if the Dell Visor is the one for you this pre-order is the best way to ensure you have it ready to go on launch day!
See at Dell (opens in new tab)
Windows Central Newsletter
Get the best of Windows Central in in your inbox, every day!
Russell is a tech nerd who chases the best of everything, from phones to game consoles to laptops and everything glowing or beeping. He's the Managing Editor of gaming content for Mobile Nations and can be found contributing to all of the Mobile Nations sites. Reach out on Twitter!
here's hoping for global release

Getting the one made by HP. This looks way more weird

I hear this one is more comfy though. I would say Asus has the best looking with the polygonal textures on the outside.

Yes. But more costly & I don't want to wait longer as it will be launching later.
Windows Central Newsletter
Thank you for signing up to Windows Central. You will receive a verification email shortly.
There was a problem. Please refresh the page and try again.