You can now pre-order the HTC Vive
No more standing in line for a 15 minute demo of the future.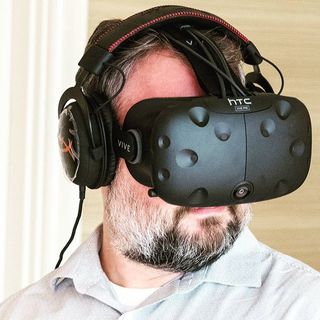 If you've been waiting for the right moment to get into VR, today is your day. HTC has opened up pre-orders for their Vive headset, and all of the accessories that make a full-room VR experience work. That includes a pair of wireless lightboxes, a pair of wireless controllers, and all the wires and boxes needed to plug your face into the back of your computer. You also get three games, one of which is Google's incredible 3D-painting Tilt Brush experience.
All you need now is a steady index finger for clicking and $800 if you're in the US. The HTC Vive pre-order system is now live.
HTC has opened up a special website for the order system, but as this is a collaboration with Valve you will also find pre-order information through the Steam app. Whichever choice you make, all you need to do now is shell out the cash and make sure your PC can handle the headset. If you haven't checked it yet, Valve has a Vive readiness test you can check out in Steam that will tell you what kind of experience you can expect from your current hardware.
Get the Windows Central Newsletter
All the latest news, reviews, and guides for Windows and Xbox diehards.
Russell is a tech nerd who chases the best of everything, from phones to game consoles to laptops and everything glowing or beeping. He's the Managing Editor of gaming content for Mobile Nations and can be found contributing to all of the Mobile Nations sites. Reach out on Twitter!