Xbox (beta) for Windows 10 is now ready for use [Update]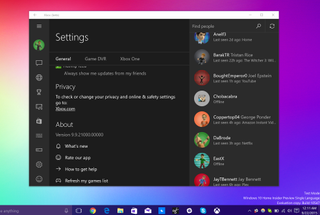 Update: Microsoft's Xbox Live programming head Larry "Major Nelson" Hryb has confirmed that the Xbox beta app for Windows 10 is now available, adding that it "includes real-time activity feed in friends list."
Original Story: After making its debut on the Windows 10 Store over the weekend, Xbox (beta) picked up an update that makes the app functional.
Although the app was available for download, it was continually crashing, and we found that the version number was older than that of the stable Xbox app. That's changed with the update, with Xbox (beta) now at 9.9.21000 while the stable build is at 9.9.16003.
Interestsed in taking a look? Hit up the link below to get started.
Download Xbox (beta) from the Windows Store (opens in new tab)
Cheers Jason!
Hmm what does this apps do if I had no Xbox console?

With Windows 10 you already have an Xbox, tons of games in store, with much more full Xbox games coming soon... Buy a controller and you're ready!!!!

Fable legends comes to windows 10 and Xbox one that's how!

you can play Xbox games for Windows 10, but thats about it, right now thats Minecraft and Fable Legends (closed beta) dont expect to be able to play Halo or anyother game like that.

But u don't have those games that u play up and play on Xbox like forza, sunset overdrive etc.

So buy an Xbox then I you want consol games..

Not necessarily true. Killer Instinct has so far been Xbox One exclusive but it's coming to Windows 10 PCs. Phil Spencer said that most current games won't get a port as they are built for Xbox hardware specifically but I'm sure they will sniff enough money to make bore their games on PC.

no, With Windows 10 you have games that have XBOX support (achievements, cross play coming soon) and can stream games from an XBOX One to your PC. it's NOT the same thing.

@ashram - yea it's crazy the way people are trying to confuse the situation, when there's no need for it. Are people going to start saying it's a ps4 because its getting games that are only on the ps4 also?
They make it sound like the app is an emulator

If only the Xbox 360 Emulator would come to this app...I have an Xbox One, but if they released the emulator as a feature on the PC App they could allow people to buy and play (Digital Only) Xbox 360 games through the PC. No idea what sort of architecture the emulator would run on, but the Xbox One is much closer to a PC than previous consoles, so it would be possible if they wanted to do it - It might remove some of the incentive for some users to buy an Xbox One though.

Why don't you have a Xbox One ?! I would drive crazy, if I didn't.

Because I have a PC. Having an Xbone would drive me crazy.

Who in the flying phuck doesn't have a PC these days? Congrats, you've probably got a sweet "rig". Don't forget your posting on an Xbox One webpage.

I have both and I am sane. They each of their pros and cons.

What does this "beta" app do that the regular one doesn't?

Beta, beta, BETAAAAAAAAA !!!

I started saying that in my head to the batman tv series theme music.

Hope it fixes mine, Minecraft achievements are all broken for me on the current one.

Aha do u get them in Spanish too???

Mine show up in Japanese, for some reason. I think it is confused if you have multiple languages/keyboards installed on your computer, even though it should use the language that is selected in the settings.

Yeah probably I do have spanish keyboard option on desktop that I switch to sometimes

No, none of them unlock any more, and there is an error in the xbox app when I click achievements within Minecraft. This beta does nothing, I cant even open it.

I'll use this or the other one.

1. why can't they change the hamburger menu icon to be consistent with other apps? 2. why does it still show the version number screen before showing the main xbox app screen? really annoying!

maybe because it's beta? for support reasons.

It shows the number before the main screen on thre regular app for Windows 10 as well so the "beta" theory is wrong in this instance.

LOL I read the Headline backwards.
I thought Windows 10 is now available for XBox(One.)

It is to some preview members

Sorry for the completely unrelated question, but I'm loving that background. Is it part of MS packs? :)

Is everyone already aware that this app runs on Windows 10 Mobile as well? On my mobile, the source link took me to the store to install it.

Almost every Windows 10 app is universal. It is the nature of the platform.

So,.....when do apps (especially those on the xbox) jump over to other windows platform..e.g. HBO go, Amazon instant video etc

Those ones were not written using the universal API but once win10 for Xbox comes out, developers will start writing applications that work on Xbox, windows and windows mobile together. So hopefully, those apps will be converted to universal.

i Hate that chrome logo befor Edge logo.....i'm web developer and i'm doing great with Edge + and IE for some oldwebsites.... maybe the alternative will be FF not chrome with that bad coding!!!

i cant get through with the download link. anyone who can help me with it Update: got through

Does Mike Nelson know (even though I reported it several times and received no response) that the Xbox App .. beta or stable, does not play nice with build 10547? Takes a minute for streaming to PC to start; when it does start, sometimes if you push B it dumps out of streaming, and you can see it manipulating the title bar (where you adjust quality, etc)

What exactly does this version do that the stable version doesn't right now? I know in the future it will get the beta features that people on the new Preview program can make use of (signed up for it, hoping to get selected!).

You know, I hadn't been to windowscentral in months, but I decided to give it another shot. Your URL to download this app is routing everyone through an advertising agency "tradedoubler". Is this even legal to do without the express consent of the reader? This is a pretty disgusting abuse of your userbase- I'm certain most people think that your URL actually goes straight to microsoft, a trusted party. This violation of privacy is a tactic reserved for scummy clickbait "news sites" of the least reputable status. I'm sorry to see that mobilenations is on that level.

Anybody is unable to create/join groups from the Xbox app? I've tried reboot, checked for updates but not working ... Thanks

This app doesn't even load for me, just a green screen with the logo. Useless.

Does anybody know if the Beta has the Game DVR fix for the bug that prevents Audio capture in Clips if your current sound device is set to 5.1 or 7.1 Surround? Going to test it myself when I get a chance, but curious to know
Windows Central Newsletter
Thank you for signing up to Windows Central. You will receive a verification email shortly.
There was a problem. Please refresh the page and try again.