You can now play Minecraft on Windows 10 with the Oculus Rift VR headset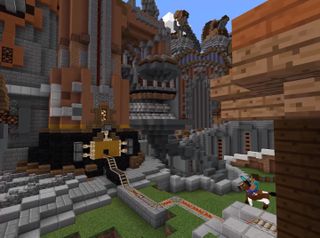 Developer Mojang is rolling out an update to the Windows 10 Beta version of its sandbox game Minecraft today, bringing support for playing the game with the Oculus Rift virtual reality headset.
In a blog post, Mojang stated the free update also needs a launcher download from the Oculus Store in order for the VR support to work. Here are some of Minecraft's features for owners of the Rift:
Innate keyboard and mouse support!
VR control options for immersive comfortable turning with the Xbox One controller!
Fancy-pants graphics stuff, like MSAA for crisp visuals, new render distance settings that will make use of powerful VR graphics cards, and optimized Windows 10 DX11 performance!
Even more granular customisation of VR settings, so you can mix-n-match for personalised comfort!
There's also a feature called the Virtual Livingroom, which allows players to zoom out of the first-person viewpoint and play Minecraft on a big-screen TV in a simulated room, similar to how most players in the real world play the game.
Download Minecraft Windows 10 Beta Edition from the Windows Store (opens in new tab) ($9.99)
Windows Central Newsletter
Get the best of Windows Central in in your inbox, every day!
Does this work the same way with the HoloLens?

Not at all. 2 different devices. Hololens augments the reality by projecting images on top of what exists in the area you are in. Rift is Virtual reality, meaning you're staring at screens and see what the rift wants you to see.

These are great news, probably Holograms were too much ahead of its time, and Microsoft is saving mixed augmented reality + game experience for next decade. In the 2nd part of 2010 decade (2015-2020) focus of game industry will be on a common goal: Virtual Reality, and Augmented Reality can be something planned for 2020-2025.

Any news on Vive support?
Windows Central Newsletter
Thank you for signing up to Windows Central. You will receive a verification email shortly.
There was a problem. Please refresh the page and try again.