You will be able to draw and doodle on Skype with new Windows Phone app update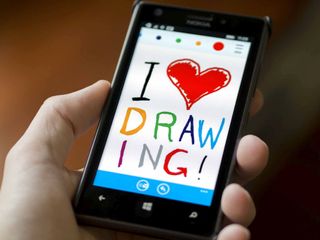 Update: The Skype update for Windows Phone is now live. Enjoy doodling.
Original story Microsoft's latest update for the Windows Phone Skype app will allow users to actually draw in the app itself, along with some other new improvements and features.
In a blog post, Microsoft says the new 2.24 app update will allow users to "get creative and draw on a canvas, add silly touches to a photo or draw the fastest route on a map and share it with your friends and family." The feature is enabled by clicking on the "+" icon during a chat. Users can then select "drawing" to draw a picture. They can also draw on a photo or on a Bing map.
Microsoft has also added in HD screen support for this Windows Phone Skype app update. It added:
Finally, the 2.24 update should offer users faster app resume times. Will you be using this Skype app update for drawing?
Source: Skype blog (opens in new tab)
Windows Central Newsletter
Get the best of Windows Central in your inbox, every day!
No. It's not. Pretty slow. It took 3 minutes to send a drawing.

Unless you using 3g WiFi took a second

Yeah, that was for you. Mine sent really quickly. I'm on WiFi. I'll have to check it on LTE in a bit.

You think MS would be developing something worth using, worth wild. Maybe like, 'Apple Pay'!
Sorry to get off subject, this just gripes the hell out of me. If I was 3 years this old this would be useful.

Skype needs serious UI redesign. It is ugly as...

Yeah that's what it needs... Not some doodling

MS trolling us again. Whole community is bashing skype for its slowness, UI and other major factors and they update us with some painting feature? Wow. Just wow.

Resuming is instant if the app is in the multitasking list/card view. Launching it still shows "loading...". Time for splash screen on startup?

Funny how apps like fantasia painter launch instantly with no splash screen, and it hasn't been updated in over a year while first party apps from Microsoft need splash screens. Even things like the calendar. I honestly don't get it.

I hear ya. My biggest complaint with 8.1 is loading/resuming. Drives me nuts. Even settings page shows loading. WTH!?

I've tested identical apps on Windows and Android. Windows will load faster but have the illusion of being slower because it will say 'loading...' while Android has a smoother animation that loads part of the screen while the other parts load. Getting rid of the 'loading...' text will make it appear faster even if it's not.

I've a similar feeling. Look at XBOX Music. It has splash screen but that's tolerable. I don't remember how Skype (for example) was handled in 8.0. Was it instant load or had a splash screen?

Current Skype on WP8.0 is INSTANT. It actually couldn't be faster.

You're right.. But, are you on the DP?

Yes. Do you think Cyan alone is better?

Indeed it is clear you do not get it. To clear things up, let me explain from a technical stand point why these cases happen: Both Skype and Fantasia are written in the older Silverlight app framework. These apps do not require a splashscreen. The calendar app is written in the newer WinRT framework which requires splashscreens. On higher end devices, the calendar apps loads so quickly that it's normally only visible for less than a second. On a good day, it's not even visible. I can imaging Fantasia not requiring that much to load up initially so cold start up time is predictably probably better than Skype's. Not having worked on Skype, I can only attribute it's longer cold start up time to proprietary libraries (for video/audio compression) and/or initial app processes (signing in, loading contacts list, server calls for data sync). Could this be further streamlined? Probably, but age has little to nothing to do with complexity or load time of an app. I hope this clears up a few things. I also think Skype should use a splashscreen. It's a better experience in my opinion. Too bad voip isn't supported in WinRT. I would really like it if Skype was rewritten in WinRT since it's faster.

Good explanation there. But isn't Skype on Windows 8.1 written using the WinRT framework? It sure is an .appx package.

The sad fact about MS is that they will take another year to update all the apps like Skype to work as a universal app. Remember what happened to Photosynth app from WP7 to WP8?

Skype for Windows, is WinJS. Actually, almost all apps from MS, is.

Thanks for taking time to explain. It's very likely that Skype is syncing with the cloud everytime it's loaded or resumed. Unlike other apps like WPC which resumes instantly where it left off. No cloud sync. Even now I see Skype shows resuming when you let it sit in the background for a while. Seems it has nothing to do with the phone specs - 1020 with 2 GB RAM here.

Thanks for the explanation. As for my reference to the age of Fantasia though, I'd like to clarify that I meant that most apps are have been updated with "bug fixes and performance improvements" or "faster loading times" time and time again and they still take a year and a half to launch yet something that hasn't seen those "faster loading times" updates in over a year can get it right. Ok I didn't know the technical details but that's not what the consumer wants. A consumer wants a satisfactory end product and no amount of technical explanation of why something loads slower makes up for it not being what the consumer expects.

Does Fantasia Painter also make video calls, instant messenger, phone calls, or integrate into the OS?

Does the calendar have over 60 effects+filters?

Better to optimize the startup rather than show a splash screen. Splash screens are an illusion.

It's getting to a point that it's tarnishing WP 8.1's image as slower than 8.0. I'd rather have it mask all the background syncing up to the point till cloud syncing is complete. I think that's a fairly reasonable expectation from a VoIP app. But I see improvements in this update -- clearly there was room for improvement. IDK if there is more.

Still, a better alternative is that the background syncing is deferred until after the UI is presented rather than 'hiding' it behind a splash screen.

I guess one problem with that is that Skype is not showing the correct status to send/receive messages yet. Contacts may appear online when they really are not, for example. But the user thinks otherwise. It also looks to be syncing messages/chats possibly sent through other devices. Maybe there is a middle ground.

Seriously. Can we have a user voice to tell Microsoft to take care of it?

Here you go: http://community.skype.com/t5/Windows-Phone/Add-splash-screen-for-Skype-on-Windows-phone/m-p/3692025 Let's voice our opinion. It is indeed pathetic to request these things when it should come from the desginers/testers.

It is. Very nice feature.

Funny because yesterday we had a big discussion on how MS supports other platforms first.
.............
Could this be a sign that MS hears our "bitching" and responding accordingly?... We know that MS has to support other platforms because of their larger market share than WP, but if they don't show faith in their own platform then how can we expect carriers, OEM's, and developers to?.... WP success starts with MS, and they are completely responsible for it...
............
Good job MS❗❗.... And, all we ask is that if you're going to support other platforms then at least support WP the same day...

recently they have been. or at least that is the perception

Its reality, not perception.

It seems like they are getting better.. I'll admit that.. Still work to be done..

honestly, I've been having email and phone correspondence with Kevin Turner and David Willis and a host of other high-ups in microsoft about various things I've seen in retail, cellular stores, and commented on and heard in this forum along with others. They have been very attentive to me, a peon who didn't think they'd pay me any attention to.....I was proved wrong.

Very good work on your part! Better to go straight to MS then just whine about the carriers, who obviously don't care... Good job❕

Maybe MSFT saw that discussion? ;)

They actually see our discussion here. Do remember that Microsoft is in a very critical position now. They need to take every steps carefully. Listening to their customers will greatly reduce the risk of making mistakes. UserVoice is an example. And I do believe they also keep their eyes on wpcentral here which is one of the top site for all Microsoft stuffs.

You're exactly right... MS is active in the WPC community.. We've actually had comments with team members, and Daniel has suggested, on more than one occasion, that they read our comments.

theu should be active here bcoz we all are wp lovers and want windows phone to excel in every aspect. i request if Joe Belfiore should also participate of he can remove time

Yeah you guys should complain and butch about every tiny thing even more now.

As long as they listen, we've no problem doing that LOL :P :P

If they were active they would give us gapless playback. Going to get an Android solely for the music experience. :D

On the other side,, just because you don't get immediate response to your feedback DOESN'T mean that they AREN'T listening.
...........
Things like gap less playback aren't simple cosmetic tweaks, and are dependent on the core of the service.. It's not something they can implement overnight... I have noticed some improvements in shortening of gaps between music though..
...........
Nevertheless, I do agree that the media experience is not very good on WP because of limited multitasking, a bad Music app, and poor API support for developers... You hear that MS❓

I just want to set defaults :(

Default music player, default video player, default web browser

Oh yeah! We definitely need that..

Not sure if sarcastic or serious, but Windows RT has had it since I first got my Surface RT..

"poor API support for developers... " I hear that cry a lot in Uservoice.com from some of the major WP developers...

Yes, lets just hope they keep doing this... I'm all for this new Microsoft and love the fact that they're listening to their consumers closely! Speaking of which, I guess, I too need to put some more suggestions in comments as these can turn real productive and helpful to 'em (~.^)

My sentiment exactly. MS should just allow users to be able to set one or two Apps to multitask.

Fwiw I'm a Microsoft employee and I read\ comment all the time. I try to raise things up internally where I can. Be aware the product groups are aware of sites like this and are watching. Edit: I am speaking on my own, please don't take any of my comments as "official Microsoft statements"

Exactly... That's all we can expect.

Sorry, but of all the important things bitched about, this doesn't strike me as being of much importance to anyone.

I don't disagree with you about other features that need to be improved, but this is actually pretty useful. Not for doodling, but for marking up documents and maps. That is a really nice feature for quickly annotating and sharing documents.

We're not talking about this, or any specific feature, at all.... We're talking about feedback on the entire platform as a whole... And, support for WP with the new Skype features first could be a sign that our feedback is reaching MS through more than Uservoice.. WPC is definitely a good place to voice your opinion about WP in hopes that MS is listening.

Yes. If you type windows phone on any search engine, social hubs, wpcentral will always be among firsts. Huge value. Speaking of it, I'm here since 2012... Lol. Little stakeholder! Lol!

Same day just isn't practical. Some apps need too much tweaking for their native platform to line everything up for a synchronised release. But MS are very much living their "cloud first, mobile first" motto atm; bringing their services to all platforms in a timely as possible manner.

So, you're saying that WP apps need more tweaking than apps for other platforms?? That it's harder for MS to develop apps for it's own platform than it's competitor's??.....
............
That's not good.... In fact, that's really bad if what you're suggesting is true....

No, I didn't say that; how do you even come to that conclusion??!?!?! All I said was it takes time to port from one OS to another. You can't write once, deploy everywhere. Something like Xamarin takes the sting out of developing for different OS's, but you still have to do some work, and for many apps it has to be all native and something like Xamarin isn't even an option. So you write an iOS app, then you have to re-write it for Android and for WP. Maybe the WP one will be quicker than the Android one, maybe not, but coming to that conclusion from what I said is very bizarre. So stop suggesting bad things when there's none.

That's why I was asking if that's what you meant,, because I wasn't sure.. I never came to a conclusion about anything.. I even worded it so that it wouldn't sound that way.. Did you really read my comment???
.........
Anyways, that's still no excuse because they can still develop a WP app at the same time.. And, I do not believe that MS ports WP apps from iOS.. Why do you believe that? ⬅⬅⬅ see! That's a question.. Don't get all defensive.. Lol!

You make me want to play Hungry Shark...

He makes me want to play slap the shark.

Wish you was the MS CEO :D Lol

We could all contribute a lot.. But, I guess we play our roles well here.

Im really surprise for the support of the xbox one. It is the first year and already have launched a lot exclusive. They may be not AAA exclusives but I see a lot work on the xbox divison. On windows phone on the other hand the OS is really realiable but I still missing my Tv cable app so I can record my show on the go (att uverse). Other than that Im happy with my microsoft products

I didn't noticed a lot of changes on HD Screens, Lumia 1520. Skype for iPhones still much better!
#SameMicrosoft

Is it really?.. What's different about the iPhone app❓

Skype for iPhone use different resolutions but for WP doesn't.
Look at http://tinypic.com/usermedia.php?uo=adkBqYNLltv6s66WMx2vxoh4l5k2TGxc

It would be nice if it got a new UI update, something like the preview for desktop!

It would be very nice if Skype Team includes some features like multi participants video conference and voice/video message. Not only for WP but also for Windows RT.

Picture and Name syncing with People Hub will be nice too!

Hehehe since windows got first I wonder how much time will android and IOS gets this!!!

A few hours later? Or days?

I wish these features never come to android and ios :P

I tried on my friends android it came as a link in which you have to go to browser to open that

With WP market share so low that would be devastating to MS services.....
..................
Now, if MS could get WP to 40% WWMS then pull all it's services from competing platforms, that would be hilarious... Lol❗❗❗

Is this feature available in IOS and android ?

Is it exclusive for us , or coming for them ?

lets hope they continue giving priority to their users and maybe other apps will follow with updates like instagram (ok probably not ) and twitter ( a small chance )

Yeah, the Instagram app being in beta with Zero updates is ridiculous.... The other day this hot ass girl at the airport said she hated her 1520 for two reasons... 1. The Instagram app sucks, and 2. She couldn't just point, shoot, and get a good picture everytime like with her iPhone. She complained about blurry pictures in motion.... This girl is exactly right❗❗❗❗

Next time just tell her to give that beautiful Lumia 1520 to me since she hates it that much! Waste in her hands most likely anyway...

Lol.. She said that Android sucked, and iPhones were terrible.. I think she's just super critical of everything... This is probably how she ended up with WP, which is kinda open minded of her.. She's definitely no follower, but WP just needs to be a little better for her.. Ran into another lady yesterday with another red 1520 who was still running WP8.0... She was amazed by WP8.1.1.2.
She said she couldn't do the update herself and she was going to take it back to the store for help.. It's a shame how some people just waste these smartphones because they refuse to try.

They have 1520 in RED!!!??????!!!

What???? Yes. Im holding one right now.

Rod, he doesn't know what he's missing. I have a red one too, and ooohhh, people look....don't know what they say, but they look

Exactly the phone I want next, from the current devices.

I got my Green Lumia 1520 (a.k.a THE HULK) Friday and loving it! Also purchased a fitbit over the weekend.....its cool, but I'm waiting for Microsoft's fitness band or watch to go with the HULK......just might be returning the fitbit already and just got it.

That's a nice looking phone!!!

Not sure why her pics are blurry other than maybe that beast is too big for her to keep steady like her lil iPhone. It does have OIS though, so still curious. I hope you advised her to use 6Tag for a superior Insta experience.

She's right.. Lumia devices have trouble with moving objects.. Im a pro at my camera and you have to adjust ISO to get a blurry free image, and that degrades picture quality.. This is something MS needs to work on.. Hopefully Denim address this... And, of course I suggested 6tag, but she made some excuse that I couldn't argue with for not using it... The girl really knew her shit.. Did I mention that she was an ultra hot flight attendant?... I mean super model hot!!! Nevertheless, Im never scared to talk to women, and I saw her device as a ice breaker... Didn't work once she started bitchin about not having some flight attendants organization app that she needs... Lol. That was a bad day for me.

I'm sure she has a practiced grip.....or, live images can be a pain.

Finally they have something that comes to WP before other platforms.

Nice! Is this (another) feature that has been available on other platforms for a long time now?

No. It's new and WP exclusively. For now anyway.

Just got the update. Lumia 1020

I just checked updates and I'm getting an 18mb update for Skype. Installing.... now.

For the haters!!! Nice!!!

Hopefully MS actually looked at the Skype reviews in the windows phone store and corrected a few of the thousands and thousands of issues that people have reported.

its live! check your updates!

on my phone i see skype version 2.22.0.110 on windows store but when i go to the PC with the browser on windows store it shows skype version 2.24.0.111 so how can i update this software -.- im using WP8.1.1 DP with cyan on Nokia L1020

Go to marketplace then settings. Press check for updates. Just downloaded it now

i already sis it then it shows there one update but when it tries to install it says "requires measures to install" (sry bad translate) then i klickked it and it doesnt install keep telling "requires..." im about to reboot my phone now hope it will work PS. it worked after reboot

This when Skype team starts to deliver not so useful features to the WP app. This is a moment to celebrate? This means that we already have a great app??

They made a lot of bug improvements and I noticed a performance improvement. This doodle is a "new" feature so it's getting more attention, plus it came to WP first. Why is that a problem? I find the doodle to be a nice touch, honestly. Different people like/use different things, so yes, some people are happy with this news.

I've one problem, I don't use Skype because I don't have anyone to talk to :'(

Just create another profile, and talk to yourself. Problem solved. And you are welcome.

Talk with their echo girl lol

Or create another imaginary account like me and have imaginary video calls.

Here, add me an we can talk (gerrard.azou) without parentheses.

Really like the possibility to sign in with your Skype name. I use for my family (3 persons) the same Microsoft account and now we al can use our own Skype.

I would like to stick with Fresh Paint

Not using until Photoshop is integrated in Skype.

I know that Microsoft is working hard on Skype, i was reading people's comments on skype related discussion, and many of them always blaming Microsoft for updating skype instead of waiting patiently, but i wait and now my Skype is updated with a huge update...

Yeheeey. .im so happy that microsoft listened to us guys

OK, so on my Windows Phone, i can draw on skype, but not in Onenote..............?

Yeah i have the same question... OneNote which is hugely promoted by MS is crap on WP. And i think OneNote can be updated as standalone app, its not tied to Office as some think. They should work harder on that shit. And of course i'm really glad that Skype got update, its faster and much better on HD displej like L930, so keep up with other apps too Microsoft.

OneNote isn't tied to Office, but it's tied to WP just like Mail or People. So it can't be updated as an standalone app.

Resuming time is so much faster now on my 720! I'm really happy :D

Now it resumes super fast. Nice update.

Yeah, I was about to the say the same thing. I'm more excited about that than the drawing.

seems like the app stays active in the background, when you go back you see your account is still online and nothing needs reloading, pressing the back key wont close the app now unless you manually kill it through the app switcher, its faster, but it might kill your battery too

That's cool and all, but they took that out of Messenger because lack of people using it, though it was really cool, especially for TabletPCs. Would be nice if they made it a universal so Surfaces with pens can take advantage of it and other features we're missing on that side.

Yeah, in messenger I was the only one of my friends using it since I had a Wacom stylus. Now with touch screens people are more likely to use it. Can't wait for it to be available on Windows 8. I want to use it with the stylus on my Surface Pro!!!

Resuming time is lot faster now.

Honestly. Animated emoticons, I need them!

I wish that the 1520 had the same stylus support as the Surface Pro 3... That would make this even better!

This is good news. Now only if they provided a way to delete history permanently

Is the doodling feature available in Android and IOS or is it a first for Windows phone?

Its a first for windows cause it will send you a message that your phone dosent support picture sharing but they will give you a link to go to a browser and see it

Holy shit the app opens instantly now. SEEMS FASTER should be the headline for the article. And this is all great but when are they going to update the backend? I still get message delays because of that old p2p system

The app crashes so much with me it doesn't open , shows loading for about 15 sec. And closes

That's because the app doesn't actually close when you use the back button so its always running. Still slow as molasses when opened after its been fully closed.

Mine just opened up significantly quicker from scratch.

I think you should do again. It works good....

It should have a separate chat screen which shows all the chats and not just recently contacted

The app crashes so much after the update it doesn't open !

Skype needs a to be rebuilt from the ground up. It's a bit dated it's making features at least give us an updated UI. Skype is starting to show its age.

Already happening. Skype Qik is the beginning of that.

It's about time they had Skype run persistently in the background (Skype Qik does it as well), glad to see it finally included. Now all I ask for is that they fix the file transfer issues and I'll be golden. With WP8.1 finally having a File Picker, I'm hoping that being able to send and receive any filetype is the next issue they're tackling.

Cool!
This is a feature coming from the dead Live Messenger.
I like it! I'm looking forward to see ported into Skype the same features it had (well, Facebook took part of it for it's messenger, like the animated stickers that were already in Live Messenger since eons, and they were also 10 times better).


Update is live already.....

They should add this to Skype Qik. Makes way more sense.

Yeah MS finally fixed Fast app resume for skype, Incredibly fast now on my ativ s!!! Keep Going MS, It's finally usable. Good update!

lol this is hilarious, we cant even send/receive files and yet they come up with this, wtf is wrong with this people, i cant even hit ENTER to send a message

As a frequent commenter on how Microsoft mis-steps with WP in favour of other platforms, this is welcome news for long suffering WP users. We need much more of this kind of pro-activity from Microsoft and since the stories sell themselves on sites like these, it costs them little to support their platform ahead of the rest. Until WP enjoys double-digit growth in the US, they need to continue in this direction, they need all the traction they can muster and kerb the number of own-goals.

Why is it still a .xap file?

Another pointless feature and still no voicemail what a waste

First on Windows Phone. April Fools?

This is not the update you are looking for.

I have one question fir Microsoft Corporation.
Why is Skype this behind on WP than on other platforms?

HD screen support? Cant see any difference in my Lumia 1520

Wow, this skype is damn fast and smooth. Eventually they made a descent skype. Ir just shows that 8.1 only apps are much better in performance.

I still want to know why Qik is a seperate app. Why isnt this integrated? Fragmentation is what I wanted to avoid with WP.

Because unfortunately it's a trend with various companies now (FB/Messenger/Instagram/Whatsapp), (Twitter/Vine), etc. The main difference with Qik is that it does not require you to have a Skype account. It's like Whatsapp where it uses your phone number instead.

It doesn't work on 3G :((
only using wifi, from the previous version

Skype on.android comes faster rather than windows phone if we are in multitasking view. When multitasking will be.improved like pc.and android. Posted via the Windows Phone Central App for Android

Installed. Still the same loading while opening..... Uninstalled

Seems Faster... truly, it's less slaggish.

Skype is an absolutely notoriously designed UI. It's because the Skype team was bought in they have focused on UI design on iOS and Android. It's okay that they do that but you would expect after this time Skype would be inherently built into the OS at a deep level. The design elements are very iOS and Android centric. Just look at the latest app Quik. It is designed as an iOS app and it performs like utter crap on the WP platform. It is embarrassing to me as I expect the experience to be superb on WP... it is by far not even remotely good. I have run into more issues with the Quik app than any app I ever used on the platform (ie Camera doesn't work, recommends a shut down of the OS to get the app working... I mean SERIOUSLY!?). The Skype app's UI is trash and offers very little capability that the iOS and Android versions have. I know resources are obviously limited and it is becoming increasingly important that Microsoft support other platforms, however, when the value proposition is not AT all for using the app on the company owned platform you have to ask what's the real value of Skype. They are having a hard time remaining relevant in this world of evolving quick chat. Quick is a Johnny come late product that does not offer anything truly evolutionary to the solutions that are already out on the market. Get it straight MSFT and do it right for Windows platform!

Cute update. Sometimes sending these new pics can be a bit slow, but its a nice feature to have... Although my friends on Android report that they still get a link to an image rather than an in-line thumbnail so as a platform its still quite inconsistent. And don't get me started on the mess my contacts are still in!

They added doodling?! And does my phone now ring before the caller will give up waiting, or is Microsoft still focusing on nice-to-haves?

I don't think the people that work on Skype app are the same people that make ringledinlerdooperlets

Not sure what you're talking about. My phone rings before my other devices ring.

Yes my phone rings at least 10 rings after my computer. Or not at all. Fix the live tile that does not show missed calls!

So true, ironically, because Skype takes forever before it "rings" (with non-changeable hardly-audible sound), this results in missed calls which are NOT reported on the live tile. Which makes Skype useless. Adding 'doodling' is like adding spoilers, sideskirts and stripes on a car that won't even start.

Finally Microsoft did something productive aftr such along time. Thumbs up.

Sweet now we're ALMOST on par with WLM features..
At least the mobile apps are..

WLM was ahead of it's time. They should have just rebranded WLM as Skype. Same with Zune and Xbox Music.

MSN was way ahead of it's time. It already had this ability but it was implemented nicer. Here it's sent as an attachment, which is kinda of annoying. Next up custom emoticons! :) Regarding this doodling, it's a nice feature and glad WP is getting it first. I hope they make the lines smoother, currently it looks very jaggedy when drawing.

I loved MSN and they're finally starting to catch up to before.

Now needed is WhatsApp up date.. If its also goes live today .. Just a dream...

Awesome! This is the kind of stuff I want to start my week.

I updated it but since then it hasn't worked on Lumia 925 :-(

A phone restart fixed my problem.

Needs a new UI, preferably something like the desktop's preview and battery improvements, it shows up TOP draining in a matter of moments. And yeah I'm happy with this update :)

Agree. Definely need splash screen and better battery improvements. UI should be corrected to but not too much. It's quite cool actualy. I like it.

I'm not saying this as part of the (very) long running joke. But this is actually quite a bit faster than Skype used to be.

sometimes it stays like "forever" to send.. but i don't know why.. if i send a "drawing" and stay in the chat it can last a lot to show me that has been sent... but if going out of the chat and going into the chat again it shows that it's already sent, don't knows if it's a little "big" bug that makes the chat don't refresh or sth?... Sorry for my bad english..

Why are windows phone users never satisfied?? Geez smh

Awesome update! Love it!
The app is now a lot faster than before

If you wanna log out you have to reinstall the Skype

Just open the overflow menu (3 dots) on any of the home screens (Recent, Favorites, People) and choose the option :-)

I want skype to have more features, like Xbox stickers, audio notes, and sending/receiving documents and saving of files on phone. :)

After listing to MS Indian Skype November closing news.. Already uninstalled Skype.

Nice!! It´s faster thats for sure!

OMG! After all these years, they finally eliminated the super annoying delay when switching back to Skype on WP. This is amazing. I can't believe it. Am I dreaming? Now, to see if it kills the battery...

It's still there on my L920. Still annoying..

Sounds cool and all but what Windows Phone has ANY capabilities to use a digitizer/stylus? I haven't heard of one. So either this is pointless or this is a feature for some upcoming device? A Windows Phone version of a Galaxy Note perhaps?

I just want voice mail support. I cannot be that hard. I only use skype on WP and W8.1. Surely it can say feature not available instead of allowing people to leave messages which I cannot retrieve.

That's what I am talking about MS.. Good job! Hopefully file sending is next.

Still waiting on them to give us the same FOUR status options they have in just about every other version of their own software. Sheesh guys.

Damn I remember I used to use this option on good ol' windows live messenger before microsoft killed it.

And the crying never ends. smdh

Can't update error code 80073cf9

I updated but the app just keeps crashing and the same with Skype Qik, these apps are unusable.

Seems faster, I'm not trolling.

Great. But 1520s have no stylus pen!

And still no transparent live tile. Meh.

The video call always slow compare to LINE or other apps are able to video call, so disappointed