What's on your Windows Phone Start screen, Rich Edmonds?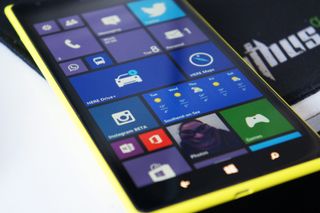 The Start Screen is a unique way to personalize your Windows Phone. Not only do consumers have access to (and can customize) app launches, but there's the possibility to pin Live Tiles that update with relevant information for apps. Part of the Start Screen layout series from Windows Phone Central staff, it's now my turn to share what I have pinned to my Start Screen and how I've configured the layout to suit my needs.
Much like our Daniel Rubino, I'm also guilty at having butt-ugly layouts on the Start Screen. I simply do not have the creativity to get stuck in and have everything arranged in an effective manner – if an app needs to be pinned, I'll pin it for future use without too much thought on positioning. The more frequently used apps are near the top, but I enjoy scrolling down to see which other apps have content to show me.
What's on my Start screen – April 2014
Page One
Settings (small) – Quite the obvious pinned tile. This shortcut enables me to quickly access the areas where I can configure and personalize my Windows Phone.
People Hub (small) – The hub of all social hubs. I use this frequently to not only remain in contact with folk, but to stalk see what they've been up to.
Mesaging Hub (medium) – I receive a few messages through SMS, but no where near as much as I used to. This is down to email and the evolution of the Interwebz. Still, it's nice to have pinned.
Twitter (medium) – My main source of social media and essentially a window into the world to see what's happening. Also a super app to upload humorous images and publish short rants. [More coverage, Store link]
Phone (medium) – This is a must-have for any Windows Phone owner. To not only check who called you, but for convenient access to actually use the mobile phone for calls.
WhatsApp (small) – WhatsApp is my SMS replacement. Simply put: I use this, alongside Kik and even Telegram, depending on who I'm communicating with (this tile may change to either app). [More coverage, Store link]
HERE Transit (small) – I absolutely worship this app from Nokia. It's a beast for public transport in my area (and beyond). Super reliable, highly recommend it. [More coverage, Store link]
Calendar (medium) – Since I mix work and play (I know it's not recommended), there are times when I need to set reminders and the like. This is where the calender comes into play.
Personal Email (medium) – Relying heavily on email, this tile is pinned so I'm kept in the loop with everything that's happening, both at Windows Phone Central and beyond.
HERE Drive+ (wide) – I'm still learning to drive (note: still, never needed a car with previous work), but already I'm enjoying HERE Drive+, making it simple to get to destinations. [More coverage, Store link]
HERE Maps (medium) – Much like Drive and HERE Transit, HERE Maps is a solid app for those who venture out the front door. I use this mapping solution a lot. [More coverage, Store link]
Instagram Beta (medium) – Sometimes I like to see what incredible photos people have published. Other times I like to see who's interacting with me (hint: "RichsEdmonds") [More coverage, Store link]
Bing Weather (wide) – Before heading out, checking the weather is a must – especially here in the UK. This is where my wide Bing Weather tile and lockscreen support comes in. [More coverage, Store link]
OneNote (small) – I take notes fairly frequently and love OneNote simply because it syncs to all my other Windows devices and is a solid app/service.
Microsoft Office (small) – For those odd times when I need to fire up the Office suite and check through expenses or to update some documentation.
Photos Hub (medium) – Sporting Lumia Windows Phones, hundreds and hundreds of photos are captured. This convenient tile provides a shortcut to my albums.
Games Hub (medium) – Much like albums in the Photos Hub, the Games Hub Live Tile provides quick access to my gaming content, as well as showing off my Xbox Live avatar.
Page Two
Store (medium) – The Store is a fairly important tile to have pinned to the Start Screen. Being able to see how many apps have been updated is invaluable.
Facebook (small) – The odd times that I use Facebook, this shortcut provides easy access to friends, family, stupid Flash game invitations and other social content. [More coverage, Store link]
Internet Explorer (small) – The native web browser and my personal favorite. Internet Explorer is a great portal to the internet in general, especially on a 1080p screen.
4th & Mayor (medium) – Traveling to new places is an awesome feeling, but sometimes I wish to share where I'm at with others. This is when I load up 4th & Mayor. [More coverage, Store link]
Skype (medium) – I utilize Skype for both work and personal use, be it chatting away with colleagues on that awesome story we recently covered or with friends who reside in other countries. [More coverage, Store link]
Music + Videos (medium) – This Live Tile is medium-sized due to the frequency of use. I listen to Xbox Music a lot when out and about and thoroughly make use of my subscription.
Phonly (small) – Feedly is where I head to for all my news. When not wasting hours on Reddit, I enjoy going through headlines covering numerous topics when I have some seconds to kill. [More coverage, Store link]
Trellow (small) – For work. Planning stuff and fulfilling tasks on Windows Phone Central.
3 UK (small) – My network of choice, which means I'd like to have their app pinned to my Start Screen. While the app itself could do with more features, it's a start. [More coverage, Store link]
Xbox One SmartGlass (small) – Owning a Xbox One console, it's a fantastic feeling to be able to walk in the house, turn on the Xbox with voice commands and use my Windows Phone to control the UI. [More coverage, Store link]
Readit (small) – As noted above, I use Reddit a fair bit. When not going through my news sources, Reddit is where I get both my daily kicks and incredible random information. Readit is a beautiful app. [More coverage, Store link]
Bing Sports (small) – This tile is for those times when I feel like checking up on some sport. [More coverage, Store link]
Windows Phone Central (wide) – Do I need to explain why this awesome app is pinned to my Start Screen? [Store link]
One thing you may notice about my setup is that I don't utlize a lot of real estate on the Start Screen. While I have a total of 30 apps pinned to the Start Screen, it's a fairly compact layout. Still, it does the job and keeps me connected to all the apps (and games) I enjoy on my Windows Phone.
As is the case here at Windows Phone Central, we use many phones and my Start Screens on other devices are different with other apps included.
Windows Central Newsletter
Get the best of Windows Central in your inbox, every day!
Rich Edmonds was formerly a Senior Editor of PC hardware at Windows Central, covering everything related to PC components and NAS. He's been involved in technology for more than a decade and knows a thing or two about the magic inside a PC chassis. You can follow him on Twitter at @RichEdmonds.
Another tip - I keep 'Alarm' tile Medium rather than small because it shows the next alarm time on the tile which is very useful to me.


I didn't that, thanks.
I usually keep it small.

Which phone is that? 1520?

It is indeed! :-) Need to decide on the getting the green one or not!

I love my 1520 for the sheer number of apps I can see on page one! 31 apps on my first page! I have the red, would love if they came out with one in dark blue...

Cool setup Rich.
I have 43 tiles in my 8X (3 wides ones, 10 medium ones & 30 small ones scattered around in packs)

This is what's on my screen Nokia Lumia 1520 https://twitter.com/bizzy419/status/453985417839144960

Am I the only one using light background??

I switch from light to dark from time to time

+1 I also switch when I switch the theme color.

Nah I use it every now and then. Depends on the accent color I'm sporting.


I like to use light in day time and dark at night times..

Funnily enough, I've been using the light background for the last week or so. Now going back to black seems horrible!

I've used it 3 minutes since I purchased my Lumia back in August 2013.

I am with you on that, I hate the dark backgound. Whiteboards >> blackboards.

The AMOLED on 925 makes me prefer the dark theme.

Topics like these wish we are able to embed images instead of just links to images...

Rich, I'm quite the opposite. What I love about WP is the beauty of the start screen experience and live tile functionality. My "Page 1" has the Photo Hub predominantly posted as a wide tile at the top with all my favorite photos scrolling by constantly. The others are Medium sized, People Hub, Me tile, X-Box Music/Video, and Calendar. I use all of those frequently and like to have the quick access to them while I'm in the car. The rest on page 1 are small tiles for Phone, Email, Messaging and my Wife's Profile Hub. I use those quite a bit as well, but in the car, I use MS Sync hands free to control all of my phone and messaging control. I commonly get comments from folks when I set my phone down on a table like "What's all that on your phone?" or "What is your phone doing?" That leads me into my WP sales pitch. Other pages are a mixture of medium and small tiles all in specific locations that they have resided in for about a year now. Some of the Sports apps move on and off my start screens as seasons progress. Currently EPL and Everton football tiles reside where NFL and Cardinal football tiles live in winter months.

None of you make use of Nokia's App Folder? Sheesh

I would if the folder would have a live tile of the apps live tiles inside it.

Yo dawg I heard you like live tiles, so imma make an app with a live tile that lively shows your live tiles . . .

Metrotube, flixster, shazaam, all Bing apps, Xbox music

The refusal of MSFT to support folders, groups or any sort of mechanism to organize the complete mess of a start screen they created is sad. Reminds me a lot of the Apps view of windows 8 which can scroll for miles making you want to use less live tiles which totally defeats their purpose.

Actually, there is support for grouping apps within a folder, it's an app called "App Folder"

well except off course that the shortcomings of an "app shortcut manager" or what he calls folders are such that isn't really the same.

the problem with this lame approach is that it isn't native to the OS and an app must launch and must be used to manage said feature. So you cannot claim there is support for this as all it really amounts to is an application behaving like a shortcut manager. You will not get the live tile updates rendered properly as the app has no access to the app tile mechanism and the apps have no way to communitcate to the folder app. so while it is a cute workaround, utlimately falls short of what shoudl really happen: an OS level implementation.

The main idea of a "folder" are two things: to save space on the start screen and to group various apps into one area (which can be deployed when selected), which in this case, it does deliver. However, I do get your point that the folder support should be native and not with a third party application. The concept is there, yet it's not implemented as in other mobile OS (like iOS for example)

correct. There is also another implementation which isn't possible with apps, and that is grouping or paging. Windows 8 has this and allows a section of the screen to be labeled and separated from the rest without having to "drill down" and you can zoom out to jump to particular groups. The nice thing about this approach as seen in other platforms is that you can keep the live tiles/widgets up in the front but you're able to organize things by pages/groups meaning it would be possible to have a lot more apps surface their tiles without the current problem: if you like the live tile you must use medium or large, but if you want that for a lot of apps, your start screen will scroll down to china. worse is that there is no fast way to move up and down the list if you have a lot of big tiles. The small tile they added in 8.1 basically kills the live tile and didn't solve the problem. Funny thing is, the solution has been in other platform for years yet, seems MSFT is stuck in one of those windows 8-like moments where it refuses to admit its design has a major flaw.

I keep reading your name as "Richard Hammond" #dyslexia Anywho, back to the original topic, I've my tiles are in the following order: Phone (Medium) People (Medium) Countdown marker (4 days till Dev. Preview 8.1!) (Medium) Calender (Medium) SMS, FB Chat, Skype & Telegram (Small) Whatsapp (Large) FB, Instagram, Linkled & Twitter (Small) One Shot (Small) Photos (Medium) Phototastic (Medium) Camera (Small) Photo App Folder (Small) Office, Office Lenses, One Note, Outlook Mail (Small) CNN & WPC (Medium) Google, Gmail, Internet Explorer & Store (Small) Nokia Mix Radio (Large) Games (Medium) Nexto to Shazam, TuneUp, Music + Videos & Youtube (Small) Weather Flow (Large) Bing Weather & Weather Channel (Medium) Pull up Pro (Small) Runtastic Pro (Medium) Squats Pro (Small) Push up Pro (Small) Fitbit Tracker (Small) Foursquare, Waze, Here + Maps & Nokia Car (Small) Battery Meter (Medium) Alarm, World Clock, Status Tiles & Settings (Small)

Cool! Can you share a screenshot?

Aye, sorry for the delay mate (busy week) anywho, here's the screenshot: http://forums.wpcentral.com/windows-phone-8/201935-94.htm#post2454564

The weather app is KEY in the UK... Good to see that get some decent screen coverage. Seriously, it's a difference between boiling, freezing, or getting drenched. Getting drenched being the most frequent consequence.

There is a mess on the table. Looks terrible...

Where abouts is this mess?

How do you have all those columns if you have a lumia 1020?

Wp8.1 buddy it supports high density tile mode(3 column tile size)

Yup but Rich doesn't have the update yet since he's using a Lumia 1520. Rich, I'm afraid you have to update your profile bro. Thought you were using a l1020 jejeje.

I think information titles like a weather or battery should be set up on the top. This way you shouldnt put your finger on the uncomfortable zove on the top of the screen. On the other hand, the hottest apps like a phone are supposed to set in the middle in order to run them once you have unlocked the screen.

Now that WP8.1 is coming, I'm paying more attention to pin and arrange apps with default (transparent) tiles so that I can make use of the new background image feature.
Full tile: for apps with more info that I want to read like calendar, weather and wpcentral.
Small tile: for apps without live tile info. They just display a counter.
Medium tile: for everything in between.

Here is mine - I change it around depending on where I am, too - like I was on a trip last week and had evernote on there b/c I had travel info in it that I wanted to access quickly.

I feel like I'm the only one that actually puts an effort into tile layout that is efficient and fits on screen.

Since everyone uses their phone in a different way, what is efficient for you may be completely inefficient for others...it's really very personal.

For example, I only use the smallest tile unless I absolutely need a live tile, like for battery and weather.

I am with you on this starbane. Some people are just better at organizing and analyzing, whether its your phone tiles or your. life. Its not about its usefulness being irrelevant to others. Its about thinking things through and organizing things while getting the best out of the live tiles info and battery management.

Instagram BETA is so slow. Maybe not on the 1520 but still...

So apparently I'm an obsessive compulsive. I never dare to just "pin" an app to the Start Screen. I need to have everything properly organized and esthetically pleasing to the eye. The mess of tiles you folks at WPCentral so far have would drive me insane lol =P

Agree, I don't use large tiles unless it has extra useful information. Reminds me of people who have a clutter of desktop icons.

True. I hate clutters and like to have things planned and use my creativity.
may be...just may be that's how I live my life too.

I use large tiles to seperate groups of apps unless the group has a unifying color. For example, I choose one News app and make it large to visually seperate the news group from the Camera lenses that are differenciated by the color purple... So sometimes, I find myself using large tiles, even without them providing much info most the times (ex: pandora which is only shows useful info when I'm using it)

It makes sense. I have done that with large news tile. Wide tiles can be used as separator.

The apps with best live tiles? Anybody can recommend??

I want to upload an image of my start screenshot from my Windows phone into my comment without going through Twitter...how do I do this?

This is my L925 start screen https://twitter.com/CheyTacLLC/status/454025555323527168

I can live with your start screen. Richmond not so much. Lol.

Do we do this every month or so?

My start screen hasn't changed a whole lot since I've had my 1020, but once I'm able to add a third colum with 8.1 it'll be the start of a new era!

I don't think start screen have pages.

i use app folder with large tile, that way you dont forget some apps

Need 3 live tile column in 4.5 screen plz for my all collegue & friends have Nokia lumia 920,925,1020.These are the higher price or resoulution phone.Three live tile column should be in these phones according to higher phones rules(glance,double tap,equaliser etc.) otherwise nobody buy higher phones of windows.

Can't wait for that extra row of tiles on my 920. I think smaller tile sizes would look nicer on a 4.5" screen anyway

I would put the people hub in medium tile size, just love those transitions!! :D

Agreed Manish. Also use it often to look up contact info.