What's on your Windows Phone Start screen, Daniel Rubino?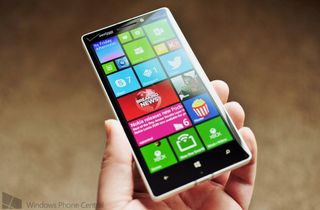 With news winding down this week, I figured I would kick off a new segment on our site. The idea was brought up in our forums and it's a simple idea that I like: What apps are on the WPCentral's staff Start screen?
It's an interesting question, as it gives you a peek into what apps we use the most, what apps we consider essential and overall layout/design choices. Granted, many of you have probably taken notice when I do videos of what's on my screen, but today I figured I'd actually list out what's there and why.
Later on, we'll have our other site writers chime in and share their screens too, in the hopes to facilitate discussion and maybe you'll learn about a new app! How often we do this will depend on how often we change things on our displays, so that's up in the air. Let's dive in!
What's on my Start screen – March 2014
*Tile sizes denoted in parentheses
Page One
Phone (Medium) – Obvious, since I have to make calls or see when I miss them
Bing Weather (Medium) – I actually use a few weather apps (Weather Hound, 4castr, MoWeather, Vieather), but this week I'm using Bing Weather just because. [More coverage, Store Link]
6tag (Smal) – While I do like the official Instagram app, 6tag just has more features that I enjoy using. [More coverage, Store Link]
Internet Explorer (Small) – I don't use browsers much, but when I do there's IE where I need it. I do often swap this spot though with Maxthon, which I enjoy for its speed
People Hub (Small) – If I need to find a contact, this is where I go
Store (Small) – I download a lot of apps, and in turn have a lot of app updates. Need this app near the top at all times
Cal (Wide) – Like most people, I have things due here and there. Simple Calendar and Cal are my favorite apps, and I often switch between them depending on how I feel. [More coverage, Store Link]
Me Tile (Medium) – Mostly used to check Tweets from people to me, or to occasionally post a status update
Songza (Medium) – Hands down, my favorite mix music app. Songza has some amazing playlists and it's where I discover new music. The ability to choose music based off of my mood is impressive. And the company has a sense of humor. [More coverage, Store Link]
Messaging (Small) – I barely ever use SMS. Too expensive. Too limited. But still, if I get one, I don't want to miss it. (Note: on my AT&T phone, this is replaced by WhatsApp).
Settings (Small) – I like to tinker. I also like to change my theme and lockscreen stuff around, so I need quick access to Settings
Photos (Small) – I take a lot of pics but I keep this Tile small because I don't like having my photos cycle through on the Start screen (I wish it could be disabled). The reason for that is that I've noticed I keep missing the app due to it looking different each time. Weird, I know.
Shazam Encore (Small) – But Bing has music ID built in! I know. And I find Shazam is often faster and more accurate. Plus I like the one-touch button to ID. [More coverage, Store Link]
Outlook (Medium) – My personal email for friends, family and life
WPCentral (Medium) – My work email, main box
Wikipedia with Search shortcut (Small) – I'm a knowledge nut, so I use this app to quickly look up people, places and things. [More coverage, Store Link]
Klout Board (Small) – I'm vain and I'm on the internets. I like to keep track of my Klout score (www.klout.com), plus I like the Live Tile. [Store Link]
Skype (Medium) – We use Skype all day at work, so I need access to it even when I'm out at dinner. While Skype still needs work, the last few updates make me want to use it more. [More coverage, Store Link]
Foursquare (Medium) – Foursquare is…kind of dumb. Still, I like checking into places and becoming the Mayor of something. I dunno. And yes, it's also good for finding good spots near you. [More coverage, Store Link]
Twitter (Medium) – I use a few Twitter apps too, including Tweet It! and MeTweets, with the latter the one I'm switching back to (it had another update this week). Like calendar and weather apps, I rotate through them, depending on how I feel that week. [More coverage, Store Link]
Breaking News (Wide) – I told you why I really like this app a few days ago, so no surprise why it's here. [Store Link]
Bing News (Medium) – When I want more in depth news that's not breaking, there's not much better. [More coverage, Store Link]
Page Two
Poki (Medium) – I started using the Pocket service lately and Poki is a pretty gorgeous looking app to keep those stories for later reading. [More coverage, Store Link]
Weave (Medium) – I don't do specific RSS feeds, because there are no other Windows Phone sites I follow (sorry!), but I do like browsing general tech, US/World news and movie gossip. Weave delivers that in a beautiful Modern layout. [More coverage, Store Link]
WPCentral (Wide) – Although 95% of the time I know what is being posted, even I take time off and I like to check out the site. Plus I need to read – and respond to – comments, while getting those download links directly on my phone. [More coverage, Store Link]
Flixster (Medium) – While you can buy tickets through Fandango directly, Flixster just has a nicer app. I'm a huge movie fan, so I need this to check times, reviews, locations and what's coming next. Same with their Windows 8 app. [More coverage, Store Link]
Games (Medium) – I don't game too often any more (no time), but I still like to see what I have installed just in case.
Xbox One SmartGlass (Medium) – I use my Xbox One all the time, mostly for media, and using the SmartGlass app can be fun, especially with the new notifications ability. [More coverage, Store Link]
Music + Videos (Medium) – When not using Songza I like to list to my own music
Queue (Medium) – Part of the WPCentral email, this for work and articles
Tips (Medium) – We get a lot of email tips. Here's what I read those. Even respond on occasion.
Warp Photo Booth (Medium) – This app is just hilarious to use, great when bored. [More coverage, Store Link]
RemberReel (Medium) – I mentioned how I'm a movie fan. I use this app to keep track of everything I've watched. While I wish the app had more development, I have hundreds of entries that are synced to my OneDrive and I use to tell friends about things I've watched. Great for remembering that documentary by that obscure German director who did that thing a few years ago that was really cool… [More coverage, Store Link]
SysApp Pusher (Wide) – I need to know when apps get updated. While I can rely on the Store or even your tips, sometimes I like to force-check it. Look no further than SysApp Pusher. [More coverage, Store Link]
Latté Locator (Wide) – I actually don't like Starbucks coffee very much, but I've been testing and playing with this app lately, hence why it's here [More coverage, Store Link]
Subway Surfers (Medium) – If there's one game I like playing quickly, it's this game. [More coverage, Store Link]
Page Three
Office Lens (Medium) – I actually have not even used this yet, but I've been meaning to. [More coverage, Store Link]
MetroTalk (Medium) – I actually hate Google Talk, but I need the service since I have so many phones. This app gets the job done (most of the time). [More coverage, Store Link]
Untappd – Although it's a PhoneGap app and not native code, I do like to document, rate and share my lager imbibing with my friends. There's nothing else besides Untappd (RIP Tapped). [More coverage, Store Link]
Navigon USA (Wide) – I'm always driving around and I just moved. Navigon is my go to app for navigation. Lane assist, great traffic re-routing, Street view, which side my destination is on, and more make this app my choice. While I don't think it's very pretty, it just works. I have the FreshMaps XL and Panorama View 3D add-ons I like it so much. [More coverage, Store Link]
Navigon Home (Medium) – Out for the night and I need to drive home? Just tap that button and Navigon will map me automatically
I'll be honest, I don't put too much thought into creative design of my layout. It's mostly based on priority of usage combined with how the Live Tile looks. I would like to get a little more imaginative with my Tiles, but I need to basically copy someone else's layout, as I'm not very artistic.
Anyway, there are probably a few apps missing here as I have many phones. I use primarily the Lumia 1520 (AT&T) and Lumia Icon (Verizon) for my daily devices, with the Icon detailed here.
Any surprises? Any recommendations? Sound off in comments!
Windows Central Newsletter
Get the best of Windows Central in in your inbox, every day!
Daniel Rubino is the Editor-in-chief of Windows Central, head reviewer, podcast co-host, and analyst. He has been covering Microsoft since 2007 when this site was called WMExperts (and later Windows Phone Central). His interests include Windows, laptops, next-gen computing, and for some reason, watches. Before all this tech stuff, he worked on a Ph.D. in linguistics, watched people sleep (for medical purposes!), and ran the projectors at movie theaters because it was fun.
You can disable The photos cycling through lol, you just have to choose one photo to display

I was going to point this out also.

I leave mine to cycle, but you do need to be careful leaving it lying around, you never know when a massive close up of my cock might pop up :D

Haha i had to remove mine completely due to the fact i had a few images of a particular apendage from someone i am seeing kept appearing on the screen and it's not good if ur looking at your phone in a queue lol

set some favourite photos. Then only your favourites will cycle through the live tile. :)

Had no idea that was possible. How do you disable photos from cycling?

Just go to The photos hub, press The 3dots, configs, you'll see there :)

You can just click chose background in the photos hub menu and it will never change

Good lord, you have a lot. My 1520 just has the one screen full. I never have to scroll.

Dude, I've seen people with a lot more. Mine is clocking in at 17 pages, that's around more or less 120+/- apps.....that you can see on my screen. :D Yeah, I go trough a lot of apps.

I don't really like to have too much off apps on my start screen. Sometimes I forget where they are and it's just easier to search for the app in the applist. I came acros some case as well, when I'm deleting some apps and it leaves some space on my start screen blank, and I can't even remember what app was there :)

Lol me too :) sometimes I forget that I deleted something and then can't rem the missing app from the empty space lol

At first I also thought not to have many apps, but of course I have to have an app for certain occasion, so now I have to group them in categories. I've also found that I've done the same thing and was like, ummmmm what the hell did I remove? then I have to figure out what to place in that empty slot.

Are you able to use all your 120 apps?

I do at one point or another. I'll give you an example, I have my most used app all groupped together for quick access, then I have my news media like cnn, NY times, USA Today, ESPN, ABC news, Wall st. Journal, TED. Then I have webpages for gaming like Kotaku, EGMnow, Destructoid, Popsci, Device, and so forth. Then I have diffenrent Photo apps that I use because each one has different features, then video like crunchy roll, vimeo, netflix, crackle, break and so on. Then music, because naot all music apps play every category of music for free. So at one point or another, I have an app for the occasion.

I feel honored. Haha glad you guys liked the idea!

It was an excellent idea!

I'm also interested in the apps he's NOT showing us. You know, the one's they can't talk about yet.

" take a lot of pics but I keep this Tile small because I don't like having my photos cycle through on the Start screen (I wish it could be disabled)." It can be disabled. You can chose just one photo to have fixed on the tiles photo. It doesn't have to shuffle through them ;) (And if you want an accent colour, just put a photo of the colour as the background.) That said...I couldn't deal with the amount of colourfulness in your start screen. Though, I guess, you like yellow phones so I bet you don't get bothered by it. As far as I go, Skinery Themes is an essential app for me. I need my start streen as monochromatic as possible. I know where everything is already and so I don't need colours to make the tiles that different.
That said, I prefer to use individual pictures on each tile. And to me, Skinery is the ultimate customizor (while still being restricted by the OS...at least until 8.1, hopefully).

When using skynery we won't get tile notifications..

i wish i had the option to put more tiles horizontally on my 720...here's hoping wp8.1 gives me such an option...

That's far than imaginative ! ;)

love the idea; i am suprised there isn't more order to it. i keep my organized based on the type of app (social, sports, games, etc)

also, try Office Lens. It works really well! the only feature i want is the ability to save it to a specific spot in OneNote instead of a new not altogether

Its great, I downloaded it a few days ago and now I use OneNote without touching word since.

Yes! My one request too!.... well, and the option to export to other formats like PDF (like CamScanner).

Don't feel like typing all that out lol, but my home start screen is made up of all small tiles, but when I scroll down its a mix of medium and large. Wish I could post a ss on the comments section.

Screen shot save to onedrive and share the link to the pic. It only shares that pic.

Excellent start screen Daniel! Now for your computer and tablets?

man my layout is so dull compared to dan's start screen :P

I notice the Skype tile has notifications on it. Mine never does. Is it photoshopped?

How you liking that icon? I'm loving mine, the size, build quality and HD screen is sick.....just holding out hope for a surface phone or surface phone disguised as some Lumia device once Microsoft purchases Nokia

Nope. My Skype Live tile works perfect.

I actually don't get notifications for missed calls but only for new messages. Is that what you are talking about, Sam?

You have to understand that notifications are two way streets, some providers actually limit push notifications for their users (as it is operator dependent) specially when data limits are broken, Android and IPhone are probably prioritized in push notification over anything else as WP is a relatively new OS. (The above mentrioned is a mix of both facts and speculations, I've noticed that out of my two Lumias one operator doesn't miss a notification while the other has a hit and miss ratio, I noticed that app updates show up faster on Data instead of wifi, actually the whole OS operates better when on Cellular for some reason!)


You guys should enable posting of images to the forum. Would make it alot more interesting. I've included an html render of my start screen, but for whatever reason it doesn't appear in the feed even though your policies allow "<a>".

good lord, the amount of meme's that will bring to this site.

Im currently at a party and were having so fun with Warp Photo Booth, so simple, yet so great.

have you tried Strange Camera? It's pretty neat!

Why is SMS messaging too expensive if you're on ATT? unlimited messages are bundled in

No, it's $20 extra month for unlimited

I get unlimited talk and text with att its included. we only pay for data and to have the line for $10. You need to get a new plane daniel

Yeah, I pay $99 for 10GB mobile share, then $15 per phone for unlimited talk/text. Sounds like Daniel hasn't visited his friendly local ATT corporate store lately. Everytime I walk in the place, it seems like my bill goes down. lol

Here maps is missing in this list
Any reason behind that?

I have it, I just don't use all that often. If I'm driving, it's Navigon.

Damn huge diss on Nokia drive lol

Is Navigon $50 better than HERE Drive+? Too bad they don't have a trial option.

You don't have whatsapp, migram, line, or Facebook messenger? Or you are prolly using those on your other device!? I like migram & FB messenger alot because I'm able to use them on multiple phones at the same time!

Wow, no offense Dan but this must be a slow news week... :/

They cant just wave their magic wands and contrive news... At least you get interesting articles in the meantime.

I know, not a complaint, just an observation.

Build is coming up so Yea news slows down before such events. It will pick up though believe it.

I only need one screen on the 1520. Any more screens and it becomes more cumbersome. Plus I can get to everything else that I was from the apps list. http://1drv.ms/1oGPcSV

Since we're sharing screen shots...
http://1drv.ms/1f2D6wQ

Nery nice! Nice and clean and uncluttered

Thanks. BTW, what is the calendar app you're using in the top corner? I'm going to need that when the 920 gets its 3rd column...

It's called Chronos calendar and it has tons of themes for Live Tiles

Its a social network middle man of some sort that helps you rate your social performance on Facebook twitter and few more, It provides an ever changing score of your influence on others, it was bought recently and added a feature called Schedualed publishing where you can post tweets at the times your target audience are active. You could've just binged it you know. :D

The reason for the score is that if you are a person that gets many likes and comments on facebook, or twitter, etc, the higher your score, the more chanes of you receiving special deals. It's weird, I'm on it and it's been a long time since I last read how it works.

Stop trying to make "binged" happen. "Binged" isn't happening. Even when you're on Bing, you're "googling" something. lol j/k

I have it set like this medium tile four small next to it then a wide a do that for three pages. (please note that I switch the position to the medium tile to the right so I don't have a bunch a small tiles to the right)

Ninja, plz. :P sorry...
I just couldn't resist! :D

Hmm SMS is almost the reason I have a phone...

My LUMIA 1520 START SCREEN PAGE 1 LARGE TILES --- .Photos, TV Show, NBC News, WEAVE & WeatherFlow MEDIUM TILES --- WP Central SMALL TILES --- Amazon Mobile, Ebay, NBC Sports LIVE Extra, Xbox One Smartglass, Slacker Radio, XBox Games, XBox Music, Twitter, Facebook, Instagram Beta, WhatsApp, Hotmail, Settings, Message, Phone. PAGE 2 LARGE TILES --- Super Calendar, Hulu+, Here Drive+, My Account (T-Mobile). MEDIUM TILES --- Netflix, Chase, OneNote. SMALL TILES --- Nokia Camera.Cinemagraph.Creative Studio.Beamer, Explorer, Here Maps, Here Transit, USA, SyFy, Pizza Hut, Alarm Clock, People.

NBC NEWS is a pretty good app. The best news app IMHO. I have tried them all. Unless USA TODAY updates their app, this will be my news app.

Pretty much why its my News App of choice right now.

I'm using Bing News. But I'll check out NBC too.

This post needs to be folowed by an article titled, "What's NOT on your Windows Phone Start screen, Daniel Rubino?" Such a busy start screen, what could possibly be left over??

as in what apps are you NOT showing us Daniel Rubino? THAT is what we all want to know. We won't tell anyone you told us. Promiss!

Maybe he had to unpin his Untappd, Cocktail Flow, sex position app, and multi-tile Pamela Anderson picture before submitting this article. We will never know.

I have a pretty good feeling he's hiding all the good stuff from us. You hear that Daniel? You're getting called out! lolol

I actually like this post and find it interesting. I learned of a new app from it as well. And Dan why do you have breaking news and bing news next to each other, redundant! Just kidding :) The white Icon is actually a good looking phone.

So Mr Rubino doesn't know how to use WP properly. That photo tip is day 1 of 'How to use WP'.
Come on Daniel... Get a grip, mate!!! LOL....

Ohhhhjj Daniel, you do have a plenty of apps installed!!!

What's the difference between Nokia mix radio and songza?

They both create mixes, but songza primarily does it through time of day/mood and is curated mixes. Nokia mix radio creates mixes based on groups of artists you pick. NMR is more like Pandora in that sense. I really like and use both, along with the radio function of Xbox music and Pandora. Music is what brought me to windows phones, from Zune. Before that, I used rhapsody.

Do they use a lot of data? I wouldn't like to spend five hours listening to music and use all my data plan up on one day!

Dang! You gotta find a wifi connection brotha!

Or get an Xbox Misic Pass so you can download all your tunes over wifi, no need to stream?

The problem with that is that Xbox music won't work in my country, don't know why.

Actually I did it and Nokia mix radio worked after that but Xbox music hasn't!

Wow I had forgotten about MeTweets. Bought it long ago when I just switched to the new 920. It was okay, but there was a UX bug that really hindered the usability for me. Example, when I tap on the tweet, it sometimes detects and go into another tweet (say, tap one tweet #4, app interacts with tweet #1). Left the app for the official Twitter and Mehdoh instead. Now that I am kinda bored with Mehdoh, Imma go back and try MeTweets again. Hopefully they would have sorted out the bug. (It was there for quite a long time and it didn't get fixed.)

Nice article idea! Looking forward to future ones, maybe even ask a WPcentral subscriber to share??? :)

Can anyone tell me how to create multiple pages? I didn't realise that was possible.

Its just sections of the start screen as he scrolls down, not actual separate pages.

What, no to-do list? How do you remember all the things you need to do that aren't calendar appointments? Check out "Sooner Or Later". It has a great Live Tile and a system that lets you have an empty to-do list at the end of every day! Satisfying, and oh so effective!

I'm terrible at to do lists. I just try to remember.

Isn't it funny that smartphones, which are indispensible for remembering calendar events, are so bad at remembering to-do items that even a tech journalist won't use them? Trying to remember all that stuff adds unnecessary stress to your life, as you're always wondering what you're forgetting! Of course, an endlessly growing to-do list just adds even more stress, which is why most people won't use a to-do list for very long before giving up. All of this changes with Sooner Or Later. You can read more about the research behind it and the Context-Focus system at http://hotchaipro.com. Try it! I bet it changes your life!

This is something i like :) To know what apps u have on your homescreens and why.It really helps. People to get ideas how to organize their own homescreen.pär,Sweden, proud owner of a yellow 920..

Daniel, you have quite a few tiles on there. It seems when I come even remotely close to that number, mine stop updating because of inefficiencies in the background agents in WP. Do you ever encounter this, especially with Bing Weather?

To enable/disable Bluetooth, WiFi, etc. you go to settings? why not any shortcuts?

I rarely, if ever, turn them off.

yeah people don't realize how better the S800 is at handling radio standby, my Lumia 1520 never failed me yet. :)

I use Quick Settings for that. It's great, even tells you the percentage of battery remaining.

Surprised that a lot of apps are common on my start screen too from the list & also their sizes.

Mine has links to my favourite pornstars that i pinned after positioning the girls just right (just makes my phone sexier), and links to mobile banking websites that are yet to have dedicated apps, also Daniel doesn't seem to be utilizing the folder facilities by our Nokia gods :P

Where is HERE Maps & HERE Drive???

Changing the subject a little bit. Why windows phone central for android is kinda better than the windows phone one!

I think you mean worse?
Not efficient to use at all. It doesn't even have a search option!

It does have a search engine, it shows the avatars plus it's easier to use !!! I can mention more things I've noticed!

Downside is, you need to be am Android user to benefit haha

Hahahah you got one point right there!

Thanks for sharing, great idea!

Nokia pocket magnifier is worth adding

Thank you, Daniel. This is a fantastic idea for an article. Lots of people will disciver a few new essential apps this way!

Here's mine.
https://onedrive.live.com/redir?resid=91B6E00704FFDA35!26490&authkey=!AO...,

I find it interesting that you have Nokia Mix Radio at the bottom. Don't listen to music that much?

I do listen to it. I have over 3000 songs but only when connected to my home theatre. Its just one swipe down.

Interesting...never knew of Nokia TV. Looking it up now...

Of course its not a tv in a strict sense of the word. Just a Nokia youtube collection

LOL. Yeah I saw that. But I also found that Nokia does have a tv app, but it's only available to Lumia's in Finland. A very nice looking one I might add...

There is a tile in the photo on top of this post. It indicates that Its Friday Afternoon. I want to ask if anybody knows the app for that tile?

What I'd like to know is what apps are located on the "first" page of the start screen. I wonder if that's an indication of the apps people think are most important or most frequently used. I'm sure that's not the case in all situations but just curious.

For me, it's the apps I use the most.

For me it's a combination of most used with a sense of aesthetic for what I want to see first once the lock screen lifts up. Here's a screen shot: http://1drv.ms/1f2LL2n

Great article. And WP constantly gets ripped for not being customizable..

Anyone else ever notice that a block of 4 small tiles is actually a hair smaller than a single medium tile? If you are scrolling up and have the two side by side you can see just a single line of pixels remaining on the whole tile after the block if 4 disappears off the top if your screen. No biggie of course, just kind of surprising they are not balanced.

I tried shazam and bing, bing is definitively faster

MetroTalk... thanks for the tip, though it's being removed from the store in April :( Which other Google Talk clients are recommended by you good people?

And for all you notification center haters: Daniel's start screen is a perfect example of why we need a notification center. Look at that thing!

http://www.windowsphone.com/en-in/store/app/subway-surfers/5d8106fb-b0c3... subway surfers for lumia 520 and im loving it... it doesnt haave any prblm... try this:)

http://www.windowsphone.com/en-in/store/app/lock-screen/f93c89f3-2136-46... ur screen with a TAP :) ]

And each time i come on wpcentral, i feel like an even bigger noob. My start screen is pretty decent but i have no idea what half the apps both Daniel and u guys are talking about

Great feature of WP is the start screen and customised possibilities. There are many apps I don't need or use, sometimes the function is available in the hubs anyway. But love the choices available and from the comments there is lots to discover, noob or not.

Tnx 2tomtom...i guess i wouldn't even be able to use some of them even if i had them & if i wanted too. Data services are too expensive round these parts

Please support my idea here. http://windowsphone.uservoice.com/forums/101801-feature-suggestions/suggestions/5668907-please-let-us-share-videos-from-video-hub-via-blu

Wow, just goes to show how everyone uses their startscreen differently. I Personally like order, and Daniel's demo of his startscreen may have some logic to it, but it's too chaotic for me. For me it's the things you need at your fingertips immediately that are on the startscreen. Thus commuincation such as phone and sms and or social media directly at the top. This is followed by peoples hub and friend tiles. Then email, then onenote, settings and news, and at the botten a couple of large tiles for links to here drive locations. 2,5 pages roughly.

Why don't you all try tylist? #mgtl

No WhatsApp?! That's very strange!

Personally, I enjoy having the photos cycle. I normally move any pictures I take on my phone onto my computer as soon as I can and only leave the ones I really like. I don't have too many pictures kept on my phone so I've never had the problem of not recognizing the app (although I assume keeping the app in the same spot since I've had my phone has something to do with it).
Windows Central Newsletter
Thank you for signing up to Windows Central. You will receive a verification email shortly.
There was a problem. Please refresh the page and try again.