Manage your Three UK account with the new official Windows Phone app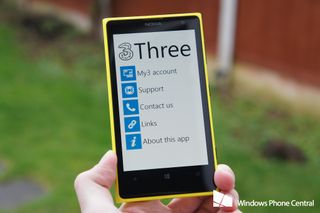 UK mobile operator Three has been supporting Windows Phone since the beginning. The Samsung Omnia 7 was the first Windows Phone the operator stocked back in 2010 and both the platform and inventory have come a long way since then. However, the Three UK app available in the Nokia Collection on the Windows Phone hasn't been updated since 2011. Finally, Three UK has released its own official Windows Phone app, available to all customers.
Now, before we kick off, it's worth remembering that this isn't an update to the app already available in the Nokia Collection. This is version 1 of a brand, spanking new offering from the mobile operator itself. That all said, should you download and utilise this new app over the old solution? Most definitely, simply because it's no longer a requirement to use Internet Explorer to view account information.
But that's not all. The development team have done a solid job packaging everything together into a simple, yet efficient offering. You've got access to your Three account (via web browser or within the app itself – depending on whether you're on Wi-Fi or not), as well as some useful links for support and more.
Viewing Account Details.
The most useful feature of the new Three UK app is the ability to view and manage your account within the app itself (and not having to go through Internet Explorer, unless desired to do so). This keeps all content in the fluid Modern UI. As noted above, you need to ensure you have no Wi-Fi connection before launching the app, otherwise the only choice is IE.
What can you view in the app? Your allotted allowance, what you've recently spent (above and outside your contracted plan), bill summary for the current month, as well as recent bills on this account. For good measure, Three has thrown in some handy links, just in case you wish to purchase new add-ons, alter account security, phone settings and get more from My3.
Getting Support.
When you're using the Three network, there's the odd chance you may encounter an issue with your phone or the network itself. That, or you may just wish to find out more information about upgrading, bills and contracts or even roaming abroad. The Three website is a solid resource for finding all this out on your own, but to make things easier when on the move, the Three app has knowledge base articles ready to go.
Split into numerous categories, it's simple to browse through and select which topic you wish to read up on. But if the KB simply can't help you out, there's always the option to contact Three directly, whether you require the customer services team, sales enquiries or other departments.
For version 1, we're happy with what's available in this initial release (though we're experiencing issues with allowance readings). That said, this is 2014, more than three years after the platform launched. There's no excuse for lack of support in the form of official apps for account management. If you're on the Three network and aren't pleased with the Three Hub from Nokia, give this app a go and see what you think.
We imagine the app team at Three will add more features to the app in the future, including Live tile support, but for now we'll take what's on offer. Ready to download? Pop on over to the Windows Phone Store and grab the Three app for free.
Get the Windows Central Newsletter
All the latest news, reviews, and guides for Windows and Xbox diehards.
Rich Edmonds was formerly a Senior Editor of PC hardware at Windows Central, covering everything related to PC components and NAS. He's been involved in technology for more than a decade and knows a thing or two about the magic inside a PC chassis. You can follow him on Twitter at @RichEdmonds.
One, two, three!! Downloading it now!

OMG that is so weird! I just had the txt saying my bill was ready, and when i was reading it I remembered showing my dad how to use the iphone app to check his three bill. I thought to myself, i wish they had a windows phone app, but thatll never happen... I closed the message, saw an update on the WPC app and it was this article! Awesome!!

Forget this app for now, its not feature rich (or reliable)... Just use the old my3 app instead, much better ;) http://www.windowsphone.com/en-gb/store/app/my3/6678feaf-4331-4cd7-9f41-...

Works perfectly for me and does everything I want it to without the slowness which comes from using IE

Make more wishes, pretty please.

Wish O2 had an app this nice!

O2 supposedly had something in the works. Not sure what is taking them so long.

Too busy trying to sell Iphones, had a store assistant try so hard not to sell me a Lumia the other day

Odd normly they push android or iphone on people

I wonder if it's as good as the 'unofficial' My3 app... These official apps rarely are, but I'll give it a go :)

Well, installed quick enough (worrying) and then found its just the same as using the website, but with a metro interface. So nothing really impressive... But!!! No live tile (as with the unofficial app) and it says I'm on the One Plan (correct) but it also says I don't have any allowance left (I've got 1618 x-net mins left, 4817 3-3 mins left, 4726 sms left and obvs unlimited data), so its wrong on that front, by a mile. In conclusion, nice try three, but my advice is to continue using the unofficial my3 app instead... Three would do themselves a favour by licensing this app instead of coding their own lol!!

Exactly the same here! Boo!

Woot! The original app that came with my Omnia 7 back in the beginning from them was really basic but I have to say that I wasn't expecting this at all. Thanks for the article Rich. :)

Yep, I also got an Omnia7 from 3 back in the day. Got a Lumia 925 now on a different carrier.

Redirects me to the browser when I try to view my balance over Wi-Fi. Redirects me to the browser on 3G when I try to top up. Pointless app when I can just load the browser bookmark and save app clutter and not have to change my data connection settings to use it. =/

At least here in India we have all major operators with an official windows phone app each. Though I hardly use it but they are well made apps with true metro interface.

Finally! It took them only ages to build it :D

Great just need vod virgin o2 etc now for those who are on said networks

Looks better than what EE gave us ;)

I agree, the EE app is a disgrace. Also no EE WiFi app for WP.

Well the problem is that EE is just the crapiest phone company around. Shame i have a EE exclusive NL920. Cant wait till I get a new phone soon.

I've had no problems whatsoever with my 4GEE 920. Coverage is brilliant and their customer service is great. Just a shame about their app selection for WP.

Ill agree with 2 of the 4 points you made. I too have no issues with my 920 and i agree the app is rubbish but i don't know where u live as i have the worse signal i have ever had in my mobile life and im in London. The EE customer service needs work too. Not great experiences with them after 1 1/2 years.

The myThree app rocks! Its like Datasense times 10! Don't know what this is. :p

I wrote the unofficial my3 app early last year, due to the lack of anything official. It had a huge number of downloads, and on the whole seemed to work well. I did reach out to three a while back, as I could never get all of the different tarrif types they offer to play nicely with the app. The didn't even reply to the request, so reluctantly I stopped development and hid it from the store. It's nice to see that they've spent some time developing this official one, I just hope they continue developing it and offer a live tile and the ability to use the app over wifi as my one did..

Your app is vastly superior. Is there any chance you will consider continuing development? I'd be happy to pay to disable adverts and I'm sure others feel the same.

I'd consider it for sure.. Problem is I no longer have a Three account to test against. Back when I was developing the app the biggest issue was testing against all of the account options that Three offer. I guess if a good selection of volunteers came forward to help test the update(s) against their accounts in a private beta then further development would be possible..

Hi Ian, I am indeed a user of your app, and I have many friends who also use it. Even though the loading cell annoys me (prefer the old, but tbh its not actually a bug/problem), the app itself works wonders and I wouldn't be without it. So I'd be prepared to offer my help towards any BETA, I'm contract however, and on the One Plan! I know you've hidden the app but I'm glad you didn't remove it, I had it on my 710 (in fact it still is on it) and had it on my 620, when I got my 920 I couldn't find it, but though, I'll Bing it and there it was :D. Anyway, if you want me to send you my email address let me know, perhaps you could reach out to members on the forums, with permission from wpcentral, to help you gather a good mix of Three account testers? Above all, thank you for creating the app, people like yourself are wonderful for the platform, and you really do put these devs working for the likes of threw, who I bet are on serious money, to shame!!

Thank you for the praise there, as a dev it's always heart warming to know that the many many hours coding are appreciated! What I propose is this.... I'll resurrect the 'my3' app and place it in a new private beta in the Store.. With the help of WPCentral readers, and anyone else who'd like to contribute, let's make this a community based app. You guys tell me what you want from the app and I'll make it happen (to a point! ;) ) As I said before, I will be flying blind to a certain extent, but with a little patience and good error reporting we can make this happen.... Comments, thoughts?

That sounds a wonderful idea Ian! Amazing how people like yourself (I notice you've made a few apps including a very nice looking giffgaff app) and others (such as Rudy the crator of 6tag and 6snap etc) contribute so much to the community without many people even noticing. Perhaps you could drop Daniel Rubino, or Rich Edmonds a message to see if they can allow you to run a my3 community development forum within the apps sections where you can publically gauge opinion and feedback? It would be really fantastic to have the app back in development, to be honest it does pretty much all it needs to do as it stands, with just a little refinement (only my opinion though) it would be complete. I think my 710 still runs version 1, which in some respects was better, but overall I love version 2 as well, the best thing is the live tile, really sets it apart from other similar apps in the market, and something three could do well to take notice of. I'm not a dev so I've no idea how complicated it is to create a live tile from a coding POV, but its amazing how such a simple thing can make such a difference.

Id be willing to help with development. Your app is very useful and it would be great if you could improve it further.

Excerlent app Ian, I've just uninstalled the official one (it was only on my phone for ten minutes) and installed yours. Fantastic design compared to the official app.

Hopefully Vodafone get their finger out and actually port their app over to WP. Absolutely ridiculous that they are not supporting phones that they are selling

I hate Vodafone for reasons FAR too long to go into here but involving my Windows Phone and unlocking.

It's a bit crap tbh. The my3 app by Ian Morland is much better.

It's version 1, give the team some time :-)

It's been over an hour and no improvements ;)

Seriously? It just seems like a wrapper for the mobile website... Nice to look at granted, but no more than that. And it doesn't even work properly. Basically, another half-arsed solution because its not iOS or droid.

That's pretty nice, it follows the design code for WP unlike ATT...

The turn off your wifi screen when you try to access you account is a an epic design LOL.

Absolutely dreadfull app. It only sends you to the three web page. Just bookmark the site on your browser. How can anyone like this pointless app!!!!! I assume that users have not seen the android and IOS versions?

You have to disable wifi in order to see your account data in the app. If you have already disabled wifi, you need to restart the app and it should no longer redirect you to the website. However, I wouldn't waste your time as it's a bit crap. Download my3 by Ian Morland.

Have restarted the app. Still only takes my to three web page. Really bad app. Just quickly made up and pushed out

Go Team Three! Trailblazing as usual...

My bank and my mobile network in one week. This has been a good WP week for me.