Zello for Windows Phone 8 going into beta, sign up today!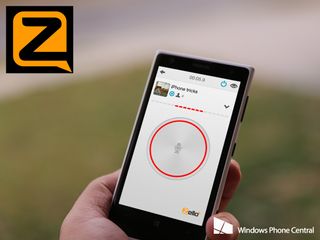 We really like when new apps come to Windows Phone. So we're pretty stoked to hear that Zello is closer than ever to hitting the Windows Phone Store. We first reported that the push-to-talk service was coming to Windows Phone back in June of last year. Interested in the app? We've got a beta sign up link below for you to click. Let's go!
Zello, originally called Loudtalks, launched in 2007. It has since grown and now has apps on all major mobile platforms. Windows Phone is next and we're joining the beta. The private beta is expected to launch sometime this month. You'll need to click the link below and drop in the email address associated with your Microsoft Account and other info like device model and which mobile network you're on.
Anyone looking forward to Zello coming to Windows Phone?
Zello for Windows Phone 8 beta signup
Thanks for the tip A Adam!
Windows Central Newsletter
Get the best of Windows Central in your inbox, every day!
These type apps need to be integrated into an already existing/successful app to be worthwhile. I don't want to go to another communications app to contact ppl. I want to simply continue use groupme but with the added ability to send them a push to talk message or a shared calendar. I have ambitious ideas for groupme and I hope the dev team is listening!

What's the difference between Zello and, lets say, WhatsApps push to talk communication feature? Genuine question, knowing many people already have WhatsApp, what would lure them to install Zello?

I'm with you. Whatsapp, viber, voxer, and now zello. How many ptt apps are there? And I don't know anyone that actually uses any of them

WeChat is the best one IMO

As a user I have to say that, my primary gole is to just have as few IM apps as possible to use. That's why the sms hub on Windows Phone was so great. A good IM agregation app does the trick though, but still, too many services stifles the very intent they had, making it easy for people to communicate with each other.

I don't understand, what does Zello do? Anyone?

Lets you speak on the phone,isn't it great ! We all know that mobile phones are use less without these fantastic apps !! :))

PTT is stupid and useless.

I'll have an ole crack at it !

My wife and daughter got me to try voxer. its stupid if you have time to talk... call, if you dont text... dont want to type? use speech to text...

What you don't want to talk to text?

You are missing the point of ptt. Its meant to replace texting not calling, to be uses for quick messages not for having conversations. Speech to does not work nearly as well.

I think push to talk is brilliant faster than texting and lets people hear messages on their time without being interrupted plus you can push to talk to a whole group of people

I miss my Nextel walkie talkie.

Seems WP is the platform for clones of everything !

I bought my son some nice walkie talkies for Christmas and they work great! As far as Zello goes, I will install it because I like to have as many apps running in the background as possible so that my phone becomes a snarled mess that can only be fixed by a factory reset.

That's an android problem.

Wechat is good, used it for years......

Yeah,to bad it's been out only 18 months!

I posted about the sign up in the forums back on December 19th. My car club uses Zello when we go on cruises. Will be nice to have this for my WP by spring.

WhatsApp is the best i guess

Sweet! I think this is the one app that was missing that made my dad not give up his old Galaxy Nexus. His friends over in China use Zello a lot, along with WeChat.