Restaurant finder Zomato gets another update to make your feed more useful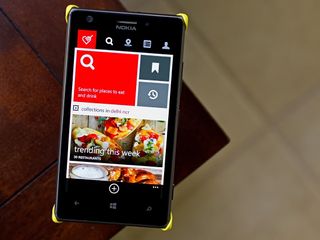 Zomato is a popular restaurant finder Windows Phone app that gives you recommendations for restaurants in your area and lets you look at menus, pictures, contact info, and directions.
Available in 41 cities across the United Kingdom, India, Brazil, the UAE, New Zealand, South Africa, Indonesia, Turkey, Portugal, the Philippines, Qatar, and Sri Lanka, the Windows Phone app has just been updated to version 6.2.0.0.
The latest update is just in time for the festive season and includes Christmas and New Year events to allow you to start planning for the season. While a previous update brought Instagram photo uploads to Zomato app, you can now connect the two accounts to have your delicious food pictures on Instagram available on Zomato as well.
In the latest version, your feed highlights experts in the neighborhood and displays details of promotions and special menus of restaurants you've bookmarked.
Zomato is one of my favorite apps not just for its utility and user experience, but also for the fact that the app continues to get unfailing developer love with an update every other week. It's a great app if you eat out or order in often, and a definite pin to your Start screen. Give it a whirl, and let us know how you like it.
Get the Windows Central Newsletter
All the latest news, reviews, and guides for Windows and Xbox diehards.
......we say Zomato. Everyone say Zomato!

Love it. Cheers to the developers :)

Woah how did I not know about this?

I LOVE Zomato! The app is very well done as well :)

zomato should integrate with Bing search. it will be amazing

Zomato and Flipkart--these both apps get updated regularly and are at par with their counterparts on other operating systems.

Fantastic app, with regular updates from developers. Wish all the apps get the same kind of attention on WP

No mention of used in Australia

Love the fact they keep updating the app. Plus the navigation to any restaurant. Amazing

Love that there's a lot of choices of restos in Metro Manila, Philippines. Now, where's next?

Any reason to use this over Foursquare? I mean besides the aesthetics...

Both the apps are really well done and fully functional but the zomato app really looks more beautiful than the foursquare app

I'm using foursquare/swarm in the middle east since there's no zomato here. I'm using zomato while I'm in Manila, Philippines.

The developers of Zomato should be lauded for regularly updating and supporting the app...thats what is actually called customer satisfaction...Yes we are looking at you Twitter, Instagram and Google

Not interested when we have Cortana!

Zomato said there are only two types of people in this world. One ios and one Android. They disrespect Windows.

If what you say is true ..then y d hell they are updating this app regularly for WP with almost all features from desktop version n best part is they are spending sometime for writing d change log itself instead of simply mentioning d changes.

I guess they start to notice that windows phone user base is starting to become larger and they can't afford to ignore us anymore. Just Bing "zomato two types of people" you will get what you are looking for

Zomato app is very fluid it is a delight using it. Also, I like the fact that menus are almost always up-to-date.