10 great fitness accessories in 2 minutes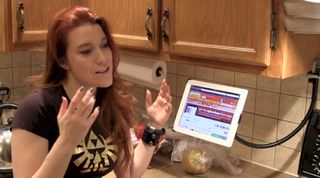 February is Fitness Month here at Mobile Nations, and thanks to our Android, BlackBerry, iOS, webOS, and Windows Phones and tablets, we have a host of new options for getting in shape and staying healthy.
Regardless of your platform of choice, or whether you stick to one type of device or many, there are a ton of great options to choose from now. Georgia is spearheading Fitness Month for us this year, and she's going to show you just 10 of her favorites, and she's going to do it in just 2 minutes.
Most of these will work for a variety of different phone and tablet sizes, running a variety of different operating systems and versions. I couldn't find alternatives for all of them, however, so if you know of some, tell us about them!
iStabilizer Flex Smartphone Flexible Leg Tripod

(opens in new tab)

Overboard Waterproof Case

(opens in new tab)

(Watch us torture test them in car washes and dishwashers if you aren't convinced!)
Headphones for the above!
Nike Fuelband

(opens in new tab)

Withings Wireless Scale WS-30

(opens in new tab)

iHealth Blood Pressure Monitoring System for iPod Touch, iPhone, and iPad

(opens in new tab)

(Anyone know a good one for Android, BlackBerry, or Windows Phone?)
Xbox 360 4GB Console< Kinect Nike+ Bundle/a>

(opens in new tab)

Wii and Wii Sports. Sadly, Nintendo has replaced this with the Wii U, but if you get Wii controllers and the Wii Sports game, hopefully it still works?! Nintendo Wii U Console - 32GB Black Deluxe Set

(opens in new tab)

Twelve South 12-1215 HoverBar Version 2 Adjustable Arm for iPad 2 and iPad 3

(opens in new tab)

(Is there a good alternative for smaller tablets like the Nexus 7, PlayBook, and iPad mini, or different size tablets like the Microsoft Surface?)
Omega J8004 Nutrition Center Commercial Masticating Juicer, White

(opens in new tab)
If we missed any of your favorites, add them to comments below and tell us why you like them. And don't forget, we have a lot of great contests running this week, and throughout February, so hit the Fitness Month tag below and enter them all!
Windows Central Newsletter
Get the best of Windows Central in in your inbox, every day!
Is February fitness month because it is the shortest month? Or...?

Alliteration, most likely.

The Withings Blood Pressure Monitor is really cool, still only for iDevices but really cool.

I saw one of those in target the other day. If all these devices could all use the same data and push it to the cloud, a doctor could have such a better picture of your body.

http://i.imgur.com/7RWOtU4.jpg

That gurl is realy cute and beautiful

Her trollface is the cutest ever

Just love your spelling mistakes lol...

Do want a hoverbar type device for Surface devices!

Am I the only one that noticed the triforce shirt? love it btw...

When will the Nike and FitBit programs have an app for WP8?

This was INCREDIBLY half assed and lame

Notice this is for windows phones yet she's promoting crapple apple xp
Windows Central Newsletter
Thank you for signing up to Windows Central. You will receive a verification email shortly.
There was a problem. Please refresh the page and try again.