10tons' Sparkle Epic brings Zuma-style fun to Windows 8.1 and Windows Phone 8.1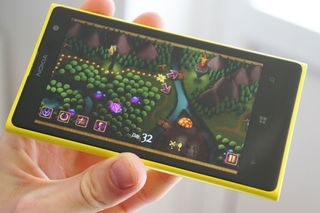 Finnish game studio 10tons has launched its latest title in the Sparkle series, dubbed Sparkle Epic. The orb-smashing game — available as a universal app — features great graphics, an immersive soundtrack, in-game powerups and a variety of orbs to choose from. Encompassing over 300 levels, Sparkle Epic promises to deliver hours of enjoyable gameplay, and unlike the earlier titles in the series, is free to play.
Here's what you get with the game:
Experiment with several kinds of orbs such as boulders and bombs
Master different kinds of level goals
Admire state of the art special effects
Conquer more than 300 challenging levels
Supercharge your Orb Slinger with Boosters and Powerups
Enjoy the soundtrack by the award-winning composer Jonathan Geer
Interested? Head to the links below to download Sparkle Epic.
My father will love this game!

Is it legal to copy zuma?

Maybe it's inspired by Zuma, but Zuma isn't original either. Zuma is inspired by an arcade game called Puzzle Loop.

Why is this free? They usually charge for all their games.

Maybe there's IAP in the game.

I've played the previous versions and they are great. But being free worries me. I HATE it when they say a game is "free" but make the game so bloody frustrating or impossible to finish without buying IAPs. It's like the real challenge in gaming is gone, and its simply the guy who throws the most money at the game performs the best.

For this reason, I quit playing all of Disney's Free Fall games.

i'm on new years eve levels and i haven't spend a dime on Frozen Free Fall.


Love it, but lazy to download, hehe

Wow, one swipe and three taps to download. You would burn 0.0000000000000001 calories doing that. You ARE the laziest person on earth lol

Took more energy to post that he's too lazy to download! :P

Cool.... About downloading

Loved Zuma and love this game as well. This version is much smoother and the graphics are much better than Zuma. Great time waster.

What a coincidence, I just bought the first Sparkle game last week.

What's different with the paid one?

Buy Spotify for crying outloud. If you want to go big, go big.

Gonna download it as soon as the store bug gets swashed

The one, the store will require a WiFi connection just to download an app with just 21mb app size

I want Tumble bugs for windows phone.

What for free? Thanks 10Tons. Anytime you want to add levels to King Oddball, let me know. :)

Zuma, what? :) This one is great! Game I would pay for.

Amazing game 100% download recommended
Windows Central Newsletter
Thank you for signing up to Windows Central. You will receive a verification email shortly.
There was a problem. Please refresh the page and try again.