Prepare for Microsoft Ignite 2016 with the official Windows Phone app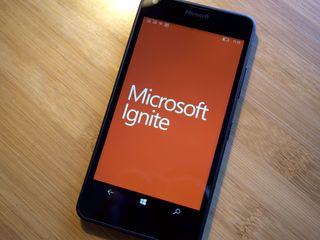 The 2016 edition of the Microsoft Ignite conference will get underway in Atlanta on September 26, and attendees can get ready by downloading its official Windows Phone app.
This is the second year for the Microsoft Ignite conference, which focuses on enterprise and IT professionals, and it is already sold out. Attendees who have the proper info can go ahead and download the Ignite app from the Windows Store to check out the following features:
My Schedule: Access and modify the list of sessions, speakers, and exhibitors that you have added as favorites in the app or on the conference website
Schedule Builder: View and search the full conference session list. Select a session to favorite it, view details, submit session evaluations, and take notes.
Exhibitors: Find sponsors & exhibitors you want to meet.
On-site Guide: Find important event information and read about key event highlights to enhance your on-site experience.
Maps: Find your way around the venue.
Social & News: Read current news and follow and join the conversation through our social channels.
Even though Microsoft Ignite 2016 is sold out, the company is planning to live stream the conference's keynote event on Monday, September 26 beginning at 9 a.m. Eastern time.
Download Microsoft Ignite from the Windows Store (opens in new tab)
Windows Central Newsletter
Get the best of Windows Central in your inbox, every day!
About time..see you guys there!!!

The app doesn't seem to do anything unless you're registered for the show. Anyway, is this the event where they unveiled the surface book and lumia 950 last year?


Any signs of surface phone in this event?

So what, most apps dont work.
Uber app stays on the welcome screen for 15 minutes and then exits
Same with oficial instagram
Same with lot other apps
Also every app that recieves an update requires a reinstall, this even happened with the windows central app for windows 10 mobile, i'm now using the app for 8.1
And the whole iphone apps being ported. Well just try using the oficial facebok and facebok messenger apps, and just do anything other than scroll around, and the app will simply exit, not to mention the 8.1 app for Facebook is now not supported. Also Why in the world is the facebok App 90 mb in size, and it feels So bloated on the 730 that i feel it is running in an emulator.
There was already app gap and now combine that with crap apps Btw this is the stock anniversary update and I did a hard reset and fresh install. Dont get me started on the way microsoft simply removes features, i mean why remove child mode and fm radio, you had a decent run with entry level devices in emerging market and streaming music service aren't exactly popular there,majority aren't even supported So fm radio is still used by people there
Why kill of mix radio, instead of making its subscription option available in more countries.

(probably announcing the cancellation of Lumia and layoffs of remaining former-Nokia workers. "Ignite into 2017"! is the slogan)

He's actually telling the truth, there have been reports about the cancellation of the Lumia line since February this year.

I said Lumia would get cancelled even before the Lumia 950/950XL came out and people were calling me crazy. It's just common sense since it is not a brand associated with MS and will always have that tainted Nokia story behind it.

Not at this event though, eh.

That's why he is a weak troll. The end of the Lumia line is well know as well as there will be a replacement. To what effect? That's not know.

Exactly. The kid is obviously trying to troll, but can't come up with anything worth while. Though, judging by the name I wouldn't doubt if it was DCJBS on another account.

I was praying for Lumia cancellation, so we can have a Surface Phone. We cannot get rid of Nokia trail till Lumia name gets replaced.

Seems people don't like change. :/

And along with it dies the service support
Way to go microsoft, you have decided to become fiat of mobile world

That was actually pretty funny and made me laugh.

Ignite is more like burn it at stake

Thought this would be for android and ios

Your nickname 99% describes the percentage of smartphone users not using Windows mobile.

See? If app releases continue at this pace we'll soon see Windows phones sweeping those other brands aside. Who's laughing now, doubters?

True life. Coming soon ™ from Microsoft!

Honestly, it is nice they remembered WP users. Maybe its built with Xamarin.

We should have a Windows Central meet up. I'll be there as a vendor and attendee, anyone else?

I'm excited to be attending my first Ignite conference next week in Atlanta. Will Windows Central have a presence there?

I don't know if anyone else will be there, but if you install the app, you should find me in the networking list. Just add me. Maybe others reading this thread will as well. I will be listed as Jonathan Blackwell.

Hmm. I see the Android losers have stepped in to take a peek. Miserable sheep indeed.

Heehee the "Android Losers" have new phones and apps.

I get the apps part, but not the phones part. Are you saying we don't have any new phones? *hp elite*

WOW !! what a great app from Microsoft !! All the greatest and best productive apps from Microsoft along with MS garage apps are being launched on either iOS or Android or both and WP users are getting new apps like this. What an irony for W10M from Microsoft !!

You should stay with iOS. Not everyone has the guts to like an OS for it's design, and not because of when SnapChat will launch on it. And as for "productive" apps, I find W10M plenty productive. I did/do have a Galaxy (6 Edge Plus)device as well, but I fail to do anything more than games on it. Especially the browser/chrome. Resets the device, or exits numerous times. 950XL in contrast is a workhorse.

Well you chose another Os which is totally cool but did select the wrong phone Brand *ouch* The day isn't long when there are conspiracies of Samsung's involvement in suicide bombing. If Microsoft kills windows10Mobile or even their hardware lineup and only provide os updates or even not,It would be a day of Peace for all the Lumia users or windowsphone users in general.

Well what about all the MS garage apps? aren't they more productive? Kaizala, Sprightly, Cache, Word flow keyboard, Hub Keyboard, Keyboard for Excel or the usability of Arrow launcher or Next Lock screen to name a few. OR camera apps, the Microsoft Pix (MS research) or Microsoft Selfie. Even MS is powering Swiftkey by neural network on android.
I dont install a single game on my mobile. I dont count them as a game. But I need the productive apps on the go for mobile. I really love W10M. But for at least now I will shift to android as there is no good mid range W10M here.

Mid range even high ends aren't worth using Top of the line Lumia950xl great camera but nothing nothing from the software side no pause option in recording & many options itself in the camera app & let alone the no apps for such powerful phone one would get fed up of such a beast just only because of the software.

I'm just saying as now mid range phones are selling more than the high end.
Yes without apps W10M is totally useless except great camera or live tiles UI.

MS is actually putting out a Windows Phone app for a Windows product/event? Wow, that's almost i heard of now. I thought we were the ******* stepchildren. I'm sure the other variants have better features. =P

It's raining apps!!! Hail Nutella!

Coming to your nearest store now,Order while apps last.

Im always at school when they have a event

that's why they do it ;-)

Just wait a few years. You'll soon be out and free :)

Interestingly, Microsoft still uses the term "Microsoft Lumia", at least for Ingite.