4castr 2.0 for Windows Phone adds rain alerts, moon phase data and more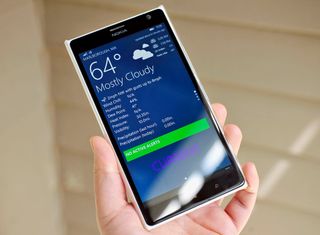 4castr, the already great weather app for Windows Phone, has been updated to version 2.0, with a bunch of new features in tow. Some of them include putting in rain alerts, a way to check out moon phase data and more.
Here's the long list of new additions, improvements and bug fixes in 4castr 2.0:
Added rain alerts
Added quiet hours for rain & government alerts (postpones notifications until a specified time)
Added moon phase data to current panel
Added "As of (time)" for when there are no government alerts in cached data
Added pressure hourly forecast graph
Added setting to change live tile radar zoom level
Added setting to change minimum probability trigger for rain alerts
Added precipitation type announcements for rain alerts, recorded by voice actress Redd Horrocks
Added unsupported country warning prompts when a feature is not available in a user's country
Added localization recruitment prompt for users speaking non-English languages
Increased live tile timestamp size
Reduced app size by converting custom sounds to .mp3 from .wav
Changed default live tile radar zoom level
Simplified toast notification custom sounds to reduce confusion
Simplified error messages for upcoming localization
Improved data processing time
Improved background agent stability
Improved background agent abortion notifications
Fixed over three dozen individual bugs
Keep in mind that while 4castr is free to download (opens in new tab) and use, there are also optional in-app purchases that unlock some additional features.
Download 4castr from the Windows Store (Free with in-app purchases)
Windows Central Newsletter
Get the best of Windows Central in in your inbox, every day!
Why there is no link showing in WC app?

Still version 1.9 in win 10 app store.....

This is a bug with the new store that still needs to be ironed out. If you search for the app on the phone, you should see 2.0. Sorry about that!

Rain alert works outside us?

Yes, rain alerts work regardless of your location. Government alerts are still limited to the U.S., Canada, and some European countries since other countries do not issue government alerts.

Rain alerts working superbly, even in the nightly app.

Still only the 1.9 V via phone in 10 store

Link works here? It's a great app, well worth paying a few quid to unlock the features.

What are the features that are not available in the free version ?

4castr Pro includes the following: -Transparent live tile with dozens of custom styles -Store up to five locations -Customizable weather icons -Weather alert toast notifications (8.0 Update 3+) -Lock screen quick status temperature -Sixteen additional app themes

No live tile and the biggest size tile is medium. I was hoping for WeatherFlow replacement since I've been having trouble with weatherflow pro for a while. It always shows a crescent moon and stars icon rather than the actual icon according to the weather (ie, partly cloudy, sunny etc ) ​and at the time of this posting, it's 9:45AM. The temperatures/forcast are correct but when I actually open the app (rare need since livetile temps are correct) there is no weather info. I regret uninstalling it though since I only just now found out why it was not working well, and removed from the store.

4castr does have a live tile, but it's actually pinnable only through within the app. Please view this KB for more information: http://4castr.uservoice.com/knowledgebase/articles/435694-pinning-a-live... If you have any questions, please feel free to reach out: support@baileystein.com

Is the live tile only available with the pro version? Can't see the option in the free version. Ed: I guess I've answered my own question by hitting the pro trial button.

It's not only a live tile but customizable. Great app if you ask me.

Indeed, one of the best weather apps, worth paing for features. It would be nice if tile is more filled at the right side (wide tile). But, as for the design of the app concerns, perfect! Thanks to developer!

Would be cool if we could tell Cortana to use this app instead of MSN Weather for forecast

Great app and I'm surprised that is working flawless even in wp10. For me is not updated to 2.0 but will check again tomorrow. Thanks dev!

Great to hear, Lucian! Microsoft is running an investigation as to why the app still appears as V1.9 in the Windows 10 store (despite V2.0 being available on WP 8 & 8.1 Store) and should have the issue resolved soon. Thanks for using 4castr!

Any word on getting it in the Windows 10 store yet?

Does it use forecast.io? Most reliable for me. The MS Weather app is nice but inaccurate.

Hi Chris, 4castr uses the Weather Underground API for the most accurate and comprehensive data possible. Not only does it leverage various weather sources, but it's also backed by a worldwide network of personal weather stations. If you have any questions, please feel free to reach out: support@baileystein.com

Thanks, Bailey. I'm giving it a go now but I can't find a live tile options as per my comment above.

Which weather api does it use? Looking for a forecast.io app that is not blue skies or appy weather

Weather Underground...but you should still give it a try. I'm confident that you'll like it. :)

Thanks for the response, I will try it ofcourse, but weather underground does not work well in my country. I bought both weather flow and amazing weather hd and tested them out real thoroughly.
In my place, accuweather and forecast.io gives most accurate weather forecast. I am currently using both accuweather (horrible ui) and blue skies (beautiful but live tile gets stuck often) and they both give accurate predictions.

Likewise, forecast.io is spot on here in the UK.

Hey, You can try Ambient Weather. I'm the dev and use forecast.io as the backend data source.

It's a weather dev fight. Who will win?

Does this app pull it's data from forecast.io?

Nope, 4castr uses the Weather Underground API for the most accurate and comprehensive data possible. The same API that powers Weather Flow and Amazing Weather HD.

Does it work anywhere in the world?,I had a problem with weatherflow which couldn't recognize other South African Cities except Johannesburg and Cape Town.

Please add weather info to the lockscreen like Amazing Weather HD and I'd consider buying it! Thanks :)

With such features of precipitation data, accuracy becomes a relevant argument over which app is the best. Would be nice if windows central could do an editorial review of which apps are recommended the best when it comes to weather data accuracy both nationally but also internationally. Perhaps a hidden gems episode?

With this update this is now the best weather app in the store. Its fully comprehensive and is the only app that has a live radar as a live tile for those outside of the US.
Windows Central Newsletter
Thank you for signing up to Windows Central. You will receive a verification email shortly.
There was a problem. Please refresh the page and try again.