4K is so passé: Dell announces 8K display among slew of new monitors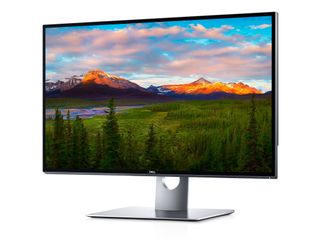 The world may just now be starting to adopt 4K displays in number, but Dell is already pushing forward to the next frontier with a new 8K monitor. The Dell UP3218K packs a whopping 33.2 million pixels into its 32-inch display, making for a pixel density of 280 ppi. All told, the number of pixels alone should make for an incredibly sharp picture with the right content.
In addition to its 8K display, the UP3218K can display a total of 1.07 billion colors, the company says. That's all thanks to Dell's PremierColor tech, which should make the UP3218K incredibly accurate. Unfortunately, this display is likely far out of the price range of most consumers, coming in at a whopping $5,000. Still, if you have the dough, the UP3218K will be available starting March 31.
If the UP3218K is a little too rich for your blood, Dell has also outed a whole new lineup of monitors in its S family that thankfully carry a much lower price tag alongside some pretty nifty features. All told, the new S family displays include 4 new models, ranging from 22 to 27 inches and packing 1080p resolutions. Here's a look at each model and its price:
S2218H - $199.99
S2318HX - $219.99
S2418HX - $289.99
S2718HX - $379.99
While the 22 and 23-inch models offer up a basic set of good features that you'd expect for the price, the 24 and 27-inch monitors are where things get interesting. Both pack in support for High Dynamic Range content via the HDR10 standard, meaning you'll be able to see improved contrast and picture quality in content that supports it. Meanwhile, both displays also feature support for AMD's FreeSync technology, which should keep games that support it running buttery smooth. On the aesthetic side of things, both monitors sport Dell's InfinityEdge, which essentially means the bezels around the display are almost non-existent.
Interested? The new S family of monitors will be available to buy starting on February 23.
Windows Central Newsletter
Get the best of Windows Central in your inbox, every day!
Dan Thorp-Lancaster is the former Editor-in-Chief of Windows Central. He began working with Windows Central, Android Central, and iMore as a news writer in 2014 and is obsessed with tech of all sorts. You can follow Dan on Twitter @DthorpL and Instagram @heyitsdtl.
Where's the 8K content again? I imagine this is great for artists?

At $5K it's not really a consumer device, but aimed at photographers and video pros.

But does it make sense to create hi-def 8K content that the masses will view at 1080p?

I was going to say, 8k display would be fantastic for photographers :). But Dan beat me to it :).

8K is great for anyone using a PC. It's a monitor, not a TV.

Not for gamers. Unless you spend $1000 on video cards ;).

if you don't, you're not a gamer! ;)

Just $1000? For a decent 8k gaming you would need to spend at least $2500 on a sli setup.

No video cards for consumers coming even this year will run last years games at 8K. They need more memory bandwidth as well. Not just power.

Here's a topic for Windows Central when they have the time: Why does a 4K monitor cost more than a 55" 4KTV?

Yeah, it's an interesting question. My guess is some of the miniaturization of the components but will look into it. To be fair, at $5K this is an 8K display, which is also super expensive for TVs now too.

Fair enough. This article just reminded me of the question above I keep asking myself when I walk into Wal-Mart and see how much they are charging for 4K TVs.

The first issue is Wal-mart. It's not always the same piece of equipment between Wal-Mart and electronics stores. Other than that my guess is the panel itself and things like color and refresh rate which seem to be lacking in a lot of 4k tvs

Panel quality, display input/output, business support and a whole host of other hidden fees for standards and features that's included in a monitor that's not in a TV. Plus for these colour gamut is paramount, something that takes second fiddle on TVs. I'm struggling to find a TV at present that can be colour calibrated with any semblance of colour accuracy.

I think input lag might have something to do with it? Also I agree with Dan that it seems monitors have a bit more miniaturization involved. And perhaps the availbility of certain types of ports more applicable to computers.

This is because the monitor has fewer inches, meaning that the pixels needs to be a lot more dense than the 55 inch TV, in order to be 4K. 55 inches is more space, so the pixels are more spread out. (You see the article talk about PPI, which stands for Pixels Per Inch).
I believe that high density LCD panels are probably a lot more expensive.

Still enjoying full high definition.

the name "full high definition" sounds strange since we have all this ultra HD, 4K, 8K... displays.

What video card(s) support 8k? That is like 8x 1080?

Wow, Dell's on some serious fire here!

I know photographers would want this, but for anyone else, 8k is beyond overkill. Most networks still only broadcast in 720p, and gaming maxes out at 4k. You would need a lot of money to burn and still wait for technology to catch up to fully use it. 1 2-hour 8k movie=500GB lol.

Similar arguments were made at 4k at the time. 8k will become common eventually but for now let the wealthy and the needy (pros) drive the technology forward in the market! Thanks to whoever buys this! Miniaturized 8k screen for VR would look so clear! Once the chips to power it catch up in 2030. That and still waiting on the battery revolution...

Lol, "2030" by then you will have chips powering 50k and holograms :D /one can dream at least

Technology will move faster than that. Ten years ago, the best PC possible had 2GB of RAM. Now phones have more than that. By 2030, PCs will have 1TB of RAM easy. By then our tech worries will be if our tech is plotting against us.