5 intriguing apps for Windows 10: Obliterate zombies and see how long you use your PC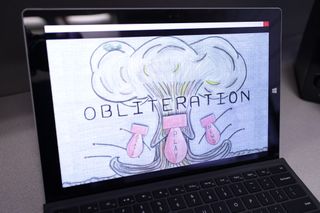 With the ever-growing number of apps and games in the Windows Store, it is becoming increasingly difficult to keep up with what's out there.
For that reason, every Friday we showcase some apps that have piqued our interest. They may have been in the news recently, they may be new to the Windows Store, or they could simply be old apps that we just stumbled upon.
They are the 5 Intriguing Apps of the Week.
Walgreens
Walgreens' app for Windows is designed to make your life a little bit easier by bringing together some of the pharmacy basics.
For one, it helps you find your nearest Walgreens with a built-in store locator. Search by city, state, or zip code, or just let the app find stores automatically by using your location.
The app also lets you refill your prescriptions, just by entering the prescription number and choosing your pick-up time and location. If you have a Walgreens account, you can fill it using your account info and even check your prescription status and history.
And since pharmacies have somehow become synonymous with printing photos, the Walgreens app gives you the ability to order prints to your local store. Not only can you choose photos from your devices, but the app lets you upload images from Instagram, Facebook, and OneDrive (still lovingly referred to as SkyDrive in the app).
The Walgreens app also lets users log into their accounts to check their Balance Rewards. Not a member of the program? Sign up right from the app.
Newsflow
Newsflow is an RSS aggregation app for PC and mobile that organizes your favorite news into a clean, easy-to-read interface. The app features a built-in website search that finds the feeds you want to track so you can add them to your list.
News items can be read within the app or opened up in your browser. Don't have time to read it now? No worries, just throw it in your Read Later list so it gets stored locally on your computer or phone. If you find something that your friends might find interesting, you can click the Share button to pass it along via email, social media, or other apps.
You can view articles in in portrait or landscape mode to accommodate your device. Newsflow also takes advantage of Windows 10 features, so you can pin a Live Tile to your Start menu for the latest news or receive notifications when new stories arrive.
Newsflow is a simple, effective news reader that is free to download.
2Day
2Day is a personal task management for Windows 10 PC and Mobile. Customize your experience by creating folders with different colors and representative icons.
Tasks can be created using the graphical interface or by using your voice. They can be assigned due dates, priorities, context, and tags for searching. You can also make them repeating, give them dues dates, with or without reminders, and track their progress.
2Day is easy to navigate with views for day and week views, as well as the ability to mark entries as favorites.
In addition, 2Day integrates nicely with your ToodleDo, Microsoft, or Microsoft Exchange accounts. And it supports GTD (Getting Things Done) contexts, tags, and start dates. If you use multiple devices, your data will sync between them, so you'll always know what you need to do.
2Day is a pretty comprehensive to-do program that can work for the average home user or in a work environment. The app will run you $3.99, but it come with a free trial, so you can test it before you commit.
Time Sense
Time Sense is an interesting app that logs how much time you spend on your phone or computer by logging when you are actively using it. But it gets more granular than that, noting when and where you unlock your screen, how long you are active each session, whether Bluetooth and Wi-Fi were connected, and even what the battery charge was at the time.
The collected data is plotted on a graph that can be calculated for daily, weekly, and monthly reports. You can set usage thresholds and get notifications when they are exceeded. There is also a Live Tile that displays the latest stats.
Time Sense is a powerful tool for analyzing how you spend your time. It's also great for monitoring your children's screen time.
Time Sense is available for all Windows 10 devices free of charge, though there is an in-app purchase of $1.49 to make if you want the full analytics.
Obliteration
Ten years after the zombies swarmed the major metropolitan areas of the planet, the last remaining humans have gathered together in Greenland to take back their world. The plan: bomb the holy hell out of the cities so the people can rebuild.
Obliteration is an incredibly easy game to play. Using a single mouse click or tap on the screen, you drop one bomb at a time from your plane. Use all four bombs to level the city below the red line on the screen.
The bomb will drift based on wind speed and direction, so you must aim and time them correctly. Though simple, Obliteration will get you hooked, if nothing else, for the phenomenal graphics. The cities, backdrop, and all the moving parts are crayon-drawn on graph paper, given the game a unique look that is alluring to play.
There aren't a ton of options or settings, but for a free game, it is certainly worth a download on your PC.
Be sure to check out our other selections from previous weeks. Have a great weekend!
Do you have an app you want us to highlight? Drop us an email at tips@windowscentral.com with "5 Intriguing Apps" in the subject line.
Get the Windows Central Newsletter
All the latest news, reviews, and guides for Windows and Xbox diehards.