5 intriguing apps for Windows 8.1: May 22, 2015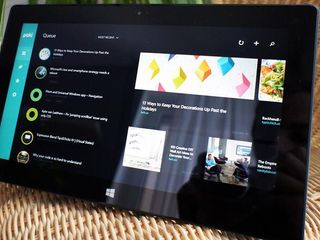 With the ever-growing number of apps and games in the Windows Store, it is becoming increasingly difficult to keep up with what's out there.
For that reason, every Friday we showcase some apps that have piqued our interest. They may have been in the news recently, they may be new to the Windows Store, or they could simply be old apps that we just stumbled upon.
They are the 5 Intriguing Apps of the Week.
Dropbox
Dropbox for Windows has been around for a while now, and has performed admirably. Earlier this week, it got even better when it was upgraded to version 2.0 as a universal app.
The upgrade didn't affect Windows user as much as Windows Phone users, but the update is significant enough to warrant attention, as the realignment brings the same functionality to whatever device you happen to be using.
Although it is a direct competitor with Microsoft's OneDrive, Dropbox is heavily used amongst consumers and business folks alike, so consistency across Microsoft's ecosystem is a necessity. The two companies have been collaborating, recently bringing Microsoft Office integration to Dropbox's platform.
Poki
Poki is a free Pocket client that has been available for Windows Phone for some time and just made its Windows debut this week. If you aren't familiar, Pocket is a service that lets you save online articles to read for later, much like Microsoft's Reading List.
Like its Windows Phone counterpart, the app takes Pocket to new heights with offline reading, article search functionality, and automatic language detection with audio playback. The beautiful layout can be skinned with four different themes and you can earn achievements for reading.
Poki automatically syncs with your Pocket account online, so your added and favorited articles get updated, along with your archived and deleted items.
There is a premium version of Poki, which offers background syncing, offline updating, multi-editing, and additional themes. This can be purchased in-app.
TSN
Sports fans to the North rejoice! TSN (what I know as Canada's ESPN) has launched their official app for Windows 8.1. "Built from the ground-up to take advantage of the screen size and tactile nature," TSN gives you a modern-style, touch-friendly way to get the latest news from the NHL, NFL, and CFL.
Get the latest headlines and photos from your favorite sports and follow along with TSN's blogs. Plus get a quick look at all the scores of the day with the real-time score ticker.
You can expand or collapse the different categories, so you only see what news, scores, stats, and bios that you want to see.
You don't have to be Canadian to appreciate the level of coverage and insight that TSN has to offer. For the sports fan on the go, check out TSN for Windows.
Download for Windows 8.1 (opens in new tab) (Free)
Victoria's Secret PINK
Victoria's secret has launched an official app for Windows and Windows Phone. The PINK app lets you browse and buy the latest lines of Victoria's Secret garb. Whether you are buying for yourself or a special friend, you can do it right from the convenience of your PC, tablet, or phone.
Victoria's Secret PINK also gives you access to the deals of the day and the latest Bra Trend Report.
See something that a friend or loved one might like? Share a link using the built-in Share Charm feature.
Ice Age Avalanche
Ice Age Avalanche is a movie-themed version of the well-known match-three puzzle games. Join your friends Sid, Manny, and Diego as they match their way through the new Prehistoric Jungle, vast Grasslands and gargantuan Glacier.
As you slide fruit left, right, up, down, and even diagonally, you complete puzzles, battle bosses, and earn coins to buy boosters and unlock goodies.
There are three kinds of challenge: Stockpile, Acorn Avalanche and Fruit Sculptor.
You can battle friends online or send them gifts to help them out. There are daily and weekly challenges, complete with leader boards, as well.
If you are a fan of Candy Crush Saga or enjoyed Ice Age Village and Ice Age Adventures, you should check out Ice Age Avalanche.
Be sure to check out our other selections from previous weeks. Have a great weekend!
Do you have an app you want us to highlight? Drop us an email at tips@windowscentral.com with "5 Intriguing Apps" in the subject line.
Windows Central Newsletter
Get the best of Windows Central in your inbox, every day!
Downloading pink for, uh, my girlfriend....

I see what u did there....

Windows 8.1 link to the that ice avalanche game is not working. Please fix.

The dropbox app looks interesting ... Too bad I closed my dropbox account before it launched.
I've been waiting for poki .

The Pink app isn't a true app. It loads the mobile site and it doesn't even do that particularly well.

Can't find Tsn. Pulled already?

Cee did a GREAT job in creating Poki for Windows, stellar job... Kudos!