5 Intriguing Apps for Windows 8.1: May 29, 2015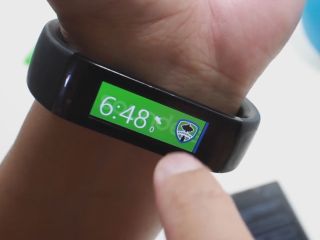 With the ever-growing number of apps and games in the Windows Store, it is becoming increasingly difficult to keep up with what's out there.
For that reason, every Friday we showcase some apps that have piqued our interest. They may have been in the news recently, they may be new to the Windows Store, or they could simply be old apps that we just stumbled upon.
They are the 5 Intriguing Apps of the Week.
fanband
Liquid Daffodil's fanband is a useful app that lets you customize your Microsoft Band with themes for your favorite sports team, TV show, or video game.
It has been a favorite Windows Phone app of ours for a while now, and joined the Windows 8.1 family a couple of weeks ago.
With fanband, you can choose from over 700 different themes to add to your Microsoft Band. The ones you favorite will sync between devices.
You will still need to have the Windows Phone version of the fanband app active in order to sync with your Band, but the Windows app will let you do just about everything else. A since fanband is a universal app, you will only have to buy it once.
Acronis Access
If there is one sector that Microsoft still dominates, it's the enterprise environment. And if they want to do so, they need to keep accommodating enterprise applications, like Acronis Access. Acronis Access is a file management platform that gives users remote access to their data that resides on servers, SharePoint, cloud applications, and NAS devices.
With the Acronis Access apps for Windows and Windows Phone, end users can open, edit, and save files over an encrypted connection. Using its built-in Active Directory integration, IT departments can manage permissions and remotely wipe business data on a lost or stolen device.
Of course, this is just a client app. In order to use any of these features, your organization must have an Acronis Access server.
Greeting Cards Studio
Why waste time at the store looking for the perfect card when you can easily create one yourself? Greeting Cards Studio is exactly what you think it would be from hearing the name. It is a greeting card design app that lets you put your feelings down in paper (or electronic) form.
The app comes with a bunch of templates that you can use, along with the ability to add images and custom text. The built-in photo editor allows you to resize, crop, and rotate pictures to fit them into the templates.
Cards can be printed, saved to your computer, converted to PDF, or shared via the Share Charm. Although the app includes a decent amount of templates free of charge, you can purchase more within the app.
Task Manager Free
Task Manager Free is a great way to stay on top of your busy life. Using the clean modern-style interface and straight-forward controls, Task Manager Free lets you create to-do lists, whether they are for urgent tasks or things you just want to get around to doing eventually.
You can make different categories, lists, tags, and due dates to keep track of whatever it is you need to do. When you start up the app, you will get a dashboard that gives you quick look and highlights anything that is important or overdue. You can drill down into each task to see a more detailed description, if you added one.
It would be more useful if it had a Windows Phone counterpart or the ability to integrate with your calendar, but for a free app, Task Manager is pretty darn good.
It is ad-supported, but you can pay to remove them if they bother you.
Dynamite Fishing World Games
When fishing with a pole has lost its allure, the thing to do is grab your dynamite and head to the boat. Dynamite Fishing World Games pits you against other players to see who can send the most fish flying with their explosives.
As you catch more fish, you will earn cash that can be used to upgrade your character and unlock new ones. There are five different characters, each with their own superpowers, as well as an arsenal of available weaponry and accessories.
Dynamite Fishing World Games is cute and sports some funny graphics. The gameplay can get a little repetitive, so it may be better suited to younger children, as long as you teach them to stay away from your dynamite shed.
Be sure to check out our other selections from previous weeks. Have a great weekend!
Do you have an app you want us to highlight? Drop us an email at tips@windowscentral.com with "5 Intriguing Apps" in the subject line.
Windows Central Newsletter
Get the best of Windows Central in your inbox, every day!
Dynamite world fishing requires 1GB. Poor 635 :/

Why greeting cards studio and file manager links are not available. I faced this problem always with this 5 intriguing post app. How to resolve? Please anybody to help me out.

Also those links are not available on 'external link' or 'views in browser' link. What to do? I can't find them on windows store as well.