5 intriguing apps for Windows 10: Watch any video, listen to any song, stay safe, and explore space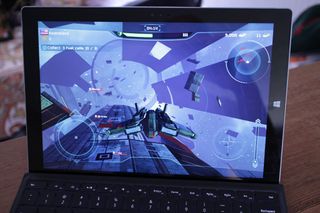 With the ever-growing number of apps and games in the Windows Store, it is becoming increasingly difficult to keep up with what's out there.
For that reason, every Friday we showcase some apps that have piqued our interest. They may have been in the news recently, they may be new to the Windows Store, or they could simply be old apps that we just stumbled upon.
They are the 5 Intriguing Apps of the Week.
Parma Video Player
Parma Video Player is a streamlined media player built for Windows 10 PCs and phones. Despite its minimalist design, Parma is quite powerful, capable of playing just about any video format out there. It also supports SRT subtitles, which can be delayed using a slider control.
Specify the folder or files you wish to play, or let the app search your entire computer for every movie file. Parma Video Player can also stream videos online by inputting a URL.
Videos can be set to play automatically, one after the other. You can also use the convenient swipe commands to fast-forward, rewind, and skip.
Parma Video Player is quick and user-friendly. It is easy to control and customizable, allowing you to change the app font's type, color, and size.
And that's just the start, as future updates promise to deliver support for even more file types and video sharing.
Parma Video Player is free to install on any Windows 10 device and is also available for Windows 10 Mobile.
Audiotica
Audiotica harnesses the power of several online music services to deliver an all-in-one streaming app for Windows 10.
Using Deezer, Last.FM, Spotify, MP3Truck, and SoundCloud, the app will find any song that you type in the search bar. From there you can play it, queue it up, or add it to your collection. You can also search by artist and explore their oeuvre and create playlists. Songs and albums can be downloaded locally as well.
Another way you can use Audiotica is as a Groove Music alternative, as it can scan your device for music files and import them. Audiotica even supports FLAC files for those with particular audio quality requirements.
All in all Audiotica is a solid music player with a familiar interface and a wide selection of musical offerings. It still has some bugs, but it's free, so why not give it a try?
Also available for Windows 10 Mobile.
Sentinelle
Sentinelle is an interesting Windows 10 Mobile app to help you and your friends stay safe when traveling by foot.
Enter your destination in the app and it will plot a route and ETA based on your current location. Then choose a contact to send the information to. Your friend will receive text message with instructions and they will be able to track your position in real time.
During your journey, you can use Sentinelle to send messages and report updates, like if you are running late or if you've changed your route. The app also tracks your battery life, network state, and speed.
You are also able to alert your friends of trouble or contact emergency services right from the app.
If you are a college student, live in the city, or just generally feel uneasy traveling by yourself, Sentinelle could be a great solution. It is only available for smartphones and is free, with some in-app purchases available.
Also available for Windows 10 Mobile.
NASA TV Live
NASA TV Live couldn't have a more fitting name. This Windows 10 app lets you watch NASA's live broadcasts from your PC, tablet, or smartphone.
There are three channels to choose from: Public, Educational, and Media. The video will stream live to your device within a window in the app, though you can expand the video to full screen mode, which can be exited by pressing ESC. You can also pause and mute the live NASA feeds.
The only other feature of NASA TV Live is a link to the organization's programming schedule, which opens in your browser.
There really isn't much to this app, but it is enough for anyone fascinated with NASA and space exploration. The channels show you everything from glimpses inside the control room to live footage of astronauts in space.
NASA TV Live is free and ad-supported with the option to pay for an ad-free experience.
Also available for Windows 10 Mobile.
Space Jet 3D
Space Jet 3D is part flight simulator and part online battle arena. Maneuver your spaceship through expansive three-dimensional maps using onscreen controls. You'll be given missions to run that will earn you in-game money to buy upgrades and new ships.
However, space is a big place, filled with other pilots from around the world, and the internet. They'll be vying to complete the same missions and blast you to pieces.
Space Jet 3D features impressive graphics and competitive gameplay. Daily challenges will ensure that you always have something to fight for.
There are twenty ships that can be unlocked, upgraded, and spruced up, as well as a ton of maps to cruise through. Form a team and get flying to see where you stack up on the leader boards.
Space Jet 3D requires an internet connection while you play. It's free to play on Windows 10 computers and phones, but you can bolster your spacecraft with in-game purchases.
Also available for Windows 10 Mobile.
Be sure to check out our other selections from previous weeks. Have a great weekend!
Do you have an app you want us to highlight? Drop us an email at tips@windowscentral.com with "5 Intriguing Apps" in the subject line.
Space jet 3d and Nasa tv arent available on Poland

You are not missing anything. Space jet is a low quality, money milking, below average game.

I can't remember the name of it, but there was an MMO space-shooter game shown off at Build that is probably 100x better than this game going off your comment.

ShootR showing off SignalR: http://shootr.signalr.net/

The game is called Age of Ascent

Corvusco, you are wrong, you just have a ****** 512mb ram phone with ****** vga screen with washed out colors if you say the game is low guality and ******, and tell me a multiplayer game without any in app purchases. Everyone, go try it yourself, the game guality is great.

Parma player or artcg can surely replace the terrible vlc player for wp abandoned since october 2015..

ACG player can even properly play HEVC on software. Not perfect, still better than nothing.

Cc player is my current favorite. Just wish they'll add continuum support

Vlc wp hasn't been abandoned, the dev is working on a uwa. Remember only one dev works onnvlc for wp and he alone has done a brilliant job with the current app

No update since oct. 2015, it's another Linkedin app...

Not really fair comparison considering the size of the respective companies and dev teams. TN has done a great job

VLC is definitely working on a UWP app. I ran into the devs at Build.

There'RE twenty ships that can BE unlocked.
Thank you for the article.

Is Audiotica even legal? I've never trusted apps that let you download and export music for free.

I just downloaded Audiotica but sometimes it crashes and when i click on those two buttons to scan for music or listen to it online, nothing happens!


I have problem with audiotica, when I press install, there is communicate that Microsoft have problem with app try again later, help me please!!

No more "5 intriguing apps" articles? :( :( :(
Windows Central Newsletter
Get the best of Windows Central in in your inbox, every day!
Thank you for signing up to Windows Central. You will receive a verification email shortly.
There was a problem. Please refresh the page and try again.