5 things I would change about the Razer Blade 14
I recently got my hands on a Razer Blade 14 (2017), and have been in awe of its beauty and power.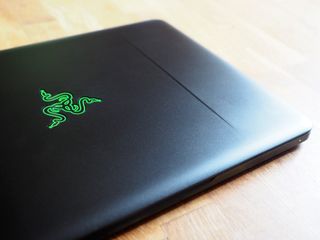 The Razer Blade is slim, sports some incredible design, and is tremendously powerful. Packing a quad-core i7 Kaby Lake chip with a GTX 1060 discrete GPU, it's difficult to find a laptop on the market that is as powerful, while remaining lightweight and compact.
Unlike our Executive Editor, Daniel Rubino, I don't have enough laptop reference material to build a small laptop fortress. I came in directly from the Surface Book, a device I truly love, but simply outgrew. There are things about the Surface Book that I really miss in the Blade, things that I hope Razer will rectify in their future iterations.
See Razer Blade at Amazon (opens in new tab)
1. No Windows Hello
Considering Razer themselves have a Windows Hello-capable webcam in the form of the Razer Stargazer, the omission of the feature on their laptops is a little odd.
Windows Hello allows you to sign in instantly to any laptop using various forms of biometrics, whether it's a fingerprint, iris scanning, or facial scanning technology. The Surface line uses face scanning primarily, and once you've gotten used to it, you really do miss it when it's gone.
Sitting down at my desk and getting instantly signed in feels futuristic, but it's not available in the current Razer devices. Hopefully that will change in the future.
2. Smudge and dust magnet
The Razer Blade is a gorgeous, unibody alluminium clamshell painted black, helping it to stand out in a sea of metallic MacBook-alikes. However, perhaps there's a reason most laptop manufacturers have shifted away from black materials.
The Razer Blade is a dust and smudge magnet. I live in a rather low-dust environment, yet every morning, I find myself having to brush the device down.
Thankfully, it's mostly easy to clean, save for the speaker grills which are on the sides of the keyboard. The holes trap flecks of dust incredibly easily, and it's nowhere near as easy to clean or brush down.
Hopefully, Razer will consider this issue in their future designs.
3. Trackpad is underwhelming
By far, I'd say the most disappointing thing about the Razer Blade is the trackpad. While decent, since it's not a Microsoft-certified Precision touchpad it has glaring disadvantages compared to the Surface Book's and other competing solutions.
Pinch to zoom doesn't work properly, gestures aren't as responsive, and scrolling, panning, and tapping tend to be temperamental. Also the palm rejection isn't as intelligent as it is on the Surface Book, leading me to accidentally move my cursor in odd directions while typing.
Since Microsoft is going to require manufacturers to use precision touchpads in the future, this issue should rectify itself, but it's something to consider if you're a trackpad junkie.
4. Battery life
This one is more of a trade off than a problem, and would probably require a leap in technology to rectify, but I've found myself a little underwhelmed with the Razer Blade's battery life.
Even using battery saver mode, and Razer Synaptics' low power mode, I've struggled to get more than 4-5 hours of battery life while doing regular tasks like browsing and word processing. Gaming would reduce that even more.
As someone who used to take my Surface Book to work without a charger, confident in getting a full work day's worth of battery life, the Razer Blade has been a bit of a disappointment. But I admit, I'm not sure how they could increase it given this laptop's slim design and high power. I suspect Razer are doing all they can on this front, but if they can increase it further to maybe 8 or 9 hours in future iterations, that would make the device near-perfect.
5. Noise
This is another issue I'm not sure Razer can simply "fix," but man, the Razer Blade gets extremely noisy. It's not a simple case of going from 0 to 10 either, it can go from 0 to 100 in an instant, for seemingly no reason.
I expect there to be fan noise when running an intensive game, particularly as it can be easily rectified with a headset for the sake of immersion, but sometimes it feels like anything can trigger the fans into high gear, whether it's Photoshop or something lightweight like the Windows 10 Twitter app.
You can set the fans to low power mode in Razer Synaptics, forcing them into a lower speed, and thus, less noise. But I've actually caused the laptop to overheat by doing this, and as such, I don't think it's safe to utilize.
Again, this is not something I expect Razer could solve easily, given the Blade's impressive thinness. It might just be down to a simple trade-off, but hopefully, the company is looking at ways to reduce this issue in future versions.
Near-perfect
The Razer Blade 2017 is damn near perfect as it is, and I found myself struggling to come up with any more than five things I'd want to change about this device. Sure, I'd enjoy slimmer bezels too, an SD card slot, and perhaps even for the logo to carry Chroma lighting support, but we can't always get what we want, huh?
See Razer Blade at Amazon (opens in new tab)
What laptop are you rocking right now? Hit us up in the comments.
Jez Corden is the Managing Editor for Windows Central, focusing primarily on all things Xbox and gaming. Jez is known for breaking exclusive news and analysis as relates to the Microsoft ecosystem while being powered by caffeine. Follow on Twitter @JezCorden and listen to his Xbox Two podcast, all about, you guessed it, Xbox!
+1 touchscreen
+2 detachable keyboard
If they would do this, I'd be all over the place 😂

There is a touch screen model

I just bought a Razor Blade Pro 2017. I am very pleased with it. The touchpad on this is really nice. It has taken some getting use to since there are no actual buttons. You can reconfigure the buttons above it to be left/right buttons. But after learning the two and three finger touches, I haven't needed the mouse buttons. I have no issues with fan noise when using it everyday. I am a programmer so I use it all day. The fans do spin up from time to time, but that is normal. My old laptop did the same thing.

So this is a "if I was" thing

I think they could significantly improve the battery if they used the same tech Microsoft uses in the Surface Book with GPU. Just have a switch that can connect and disconnect the GPU internally instead of having the screen detach.

Razer Blade laptops might be nice design-wise but as far the the cooling they suck, and that is all down to trying to cram all that power into such a small space, there is no way to 'fix' that its just a poor design if you are looking for a powerfull laptop that will last. The hotter the components run the shorter their life span.

Try uising KeyLemon software if you want to login with facial recognition. its great and i find it a lot faster then windows hello.

Interesting, will look into it

I have been using it since windows 7, it even keeps snapshots of people who try to login each day if you care for that sort of thing.

I thought about getting this one.... I am glad I opted for the Surface Book i7,16,512,NVidia instead.

Those 5 things are all deal breakers for me even though the laptop screams premium. And lastly, if only Razor would change their logo. That green 3-snake logo is just ... boring, if not fugly!!! It just doesn't have the "cool" factor that other popular brands do. Who's with me on this? Am I in the minority here?

#1: Change the tramp stamp logo.
Windows Central Newsletter
Thank you for signing up to Windows Central. You will receive a verification email shortly.
There was a problem. Please refresh the page and try again.