5 Windows 10 apps you should try: Feed your anime habit, share your news feeds, and keep your pig away from the truffles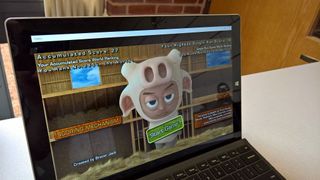 With the ever-growing number of apps and games in the Windows Store, it is becoming increasingly difficult to keep up with what's out there.
For that reason, every Friday we showcase some apps that have piqued our interest. They may have been in the news recently, they may be new to the Windows Store, or they could simply be old apps that we just stumbled upon.
They are the 5 Intriguing Apps of the Week.
MALClient
MALCLient is an open source manga and anime app built for Windows 10. It taps into both MyAnimeList and Hummingbird, two of the biggest online communities on the subject.
By logging in with your account(s), you can keep track of the titles you've viewed, see what others are watching, and browse countless others. You can also search the MyAnimeList and Hummingbird databases, find titles related to what you like and read reviews as well.
There is a built-in calendar to show you when episodes are airing, based on your preferences.
Your favorite anime series can be pinned to your Start menu as tiles that can be completely customized. Choose how it looks, what Live Tile information gets displayed, and what action it takes when you click on it.
MALClient has plenty of other options as well, like light and dark themes, menu and display customization, and notification options.
And since it is open source, you can get the code yourself and tweak it to your liking.
Available for Windows 10 PC and Mobile.
Download MALClient for Windows 10 (opens in new tab)
Tickerfeed
Tickerfeed lets you create a personalized news hub by allowing you subscribe to "tickers" from some of your favorite sites.
Much like an RSS feed, new headlines will appear in your list, and you can then click on them for more in-depth reading. Links will open in your browser by default, but there is a setting that will let you activate a beta in-app browser instead. Individual stories can be saved as favorites, letting you view them quickly and all in one place.
If you can't find a particular site in the list of available tickers, you can add one of your own as a feed.
Push and Toast notifications are customizable by feed, so you can choose which sites alert you and how they do so. There are also plenty of other options for changing the theme, tweaking text and background, and more.
What makes Tickerfeed a bit different than RSS readers is that you can also create your own feeds to broadcast to friends or the public by creating an account.
Tickerfeed is a pretty cool idea that may just take off. Give it a try.
Available for Windows 10 PC and Mobile.
Download Tickerfeed for Windows 10 (opens in new tab)
OneLocker
OneLocker is comprehensive password management app that was recently updated for Windows 10 computers, tablets, and phones.
OneLocker is chock-full of features for organization and sharing data. Each entry can have as many fields as you need for text, numbers, dates, images, and even file attachments.
Create groups and assign cards to them to stay organized. You can also mark entries as favorites and set up a quick access bar for your frequently used entries.
When it comes to security, OneLocker is top notch, protecting your data with NSA-level 256-bit AES encryption. The app also incorporates Windows Hello technology for unlocking it and lets you back up your database on OneDrive and Dropbox.
You can also set the app to time out after too many incorrect login attempts or have it automatically wipe your data if someone is trying to gain access without the proper login.
And that's just the tip of the iceberg with OneLocker. The fact is, if you are looking to keep your passwords and account information safe, this is one of the top options for Windows 10.
Available for Windows 10 PC and Mobile.
Download OneLocker for Windows 10 (opens in new tab)
Auvid Tuner
Auvid Tuner is a simple app for editing audio and video files on your Windows 10 computer or tablet.
Auvid supports just about every music and video format. Just browse for your file, or drag and drop it straight into the app.
You can then use the sliders to trim as much or as little time from the beginning and end of the play time as you desire and the level of picture or sound quality for the output file. Auvid does the rest.
There are a few in-app purchases available for Auvid that remove advertisements and add features. One feature is a Meta/ID3 tag editor for labeling your files. The other is the ability to password protect the app and use Windows Hello authentication.
Auvid Tuner is a pretty basic editing app, and it'd be good to see some more features, like the plotting the file on a timeline or the ability to play the file you are editing. But, it is still in its initial release, so there is plenty of room to grow.
In the meantime, if you need an app to shorten your media files quickly, Auvid Tuner will surely get the job done.
Available for Windows 10 PC.
Download Auvid Tuner for Windows 10 (opens in new tab)
PigBoy
PigBoy is a side-scrolling runner game where you must jump your way between walls of truffles or meet defeat.
Using the touchscreen, mouse, keyboard, or game controller, you can speed up, slow down, and perform multi-jumps to get through the truffles. Eventually, you can don the Armor of a Thousand Piggy Truths, which lets you plow right through the truffles. The downside is that you then become the target of the Ninja Piggies.
The goal of PigBoy is to see how far you make it and to beat the scores of other players on the leaderboard around the world.
PigBoy sports some high-quality graphics, especially when compared to other games of its kind. Throw in the fact that you can also play it on HoloLens, and you have a game that truly exceeds its simplicity of the concept.
Just be careful because it could frustrate you so much that you want to chuck that $3000 HoloLens across the room.
Available for Windows 10 PC and Mobile, and HoloLens.
Download PigBoy for Windows 10 (opens in new tab)
Be sure to check out our other selections from previous weeks. Have a great weekend!
Do you have an app you want us to highlight? Drop us an email at tips@windowscentral.com with "5 Intriguing Apps" in the subject line.
Windows Central Newsletter
Get the best of Windows Central in your inbox, every day!
Great. Was looking for a good anime app. Will check this one out . Thanks

This is basically an app version of myaninelist.com, if you want a true anime app, check out FUNimationNow. Posted from Windows Central App for Windows 10 on Lumia 950

Great collection of apps. Thanks

Cannot get the live tile to work on Tickerfeed

Talk about Caravelle, pls.

OneLocker is really a great app! Well, I guess I can even tell it's perfect since it has everything I could have been asking for, including a very good UI. Try it if you never did, you won't regret!

"...the myriad of apps..." lol.

I've been in MyAnimeList since 2008, and I never knew there's an app for it available on Windows Mobile. Very convenient. Love the dark theme. Thanks. :D

That Pigboy game is pretty crappy