5 Windows 10 apps you should try: auto-CAD, diaries, forests for focus, and persistent planes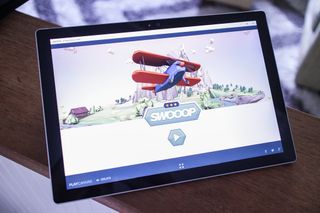 With the ever-growing number of apps and games in the Windows Store, it is becoming increasingly difficult to keep up with what's out there.
For that reason, every week we showcase some apps that have piqued our interest. They may have been in the news recently, they may be new to the Windows Store, or they could simply be old apps that we just stumbled upon.
They are the 5 Intriguing Apps of the Week.
Wedge - Lightweight CAD
Wedge - Lightweight CAD is 3D design program for Windows 10 computers and tablets that focuses mainly on mechanical drawing.
As CAD programs go, Wedge is pretty intuitive and easy to use. Despite its "lightweight" moniker, however, it still offers a wide variety of tools and options. It also supports constraints and relations, so dimensions get calculated automatically.
Not only can you use it to create intricate designs, but Wedge also gives you plenty of ways to bring those creations to life. The app lets you open, convert, and export to STEP, IGES, STL, VRML file types, which are supported by most 3D printers and CAD programs.
If you are looking to put those blueprints on paper or share your designs with others, you can export them as a PDF as well.
The best part is that Wedge is fully functional, free of charge, and ad-free. If you dabble in CAD and 3D printing, Wedge – Lightweight CAD may be an app to add to your digital toolbox.
Available for Windows 10 PC.
Download Wedge - Lightweight CAD from the Windows Store (opens in new tab)
zTwitch
zTwitch is a third-party client for the video streaming community Twitch.tv. Developed for Windows 10 PCs and phones, it sports a sleek and straight-forward user interface that gets right to the point.
Watch any live stream or previous broadcasts that the site has to offer. Switch between views by games, channels, and videos or do a custom search by keyword and filter it.
Choose from five different video quality levels for optimal performance based on your internet connection. Watch videos in the built-in player with the chat window on the side, or switch to full screen mode. You can also cast your video to your Xbox, Smart TV, or other compatible device.
If you navigate away, your current stream will shrink into a small window so you can watch as you surf.
Log in to manage your account and to follow particular games and channels. You'll also be able to chat with other Twitch users.
zTwitch is free to download, though you can choose to remove ads with an option in-app purchase.
Available for Windows 10 PC and Mobile.
Download zTwitch from the Windows Store (opens in new tab)
Journalist
Journalist is a simple, yet sophisticated, personal diary in that it is very user-friendly, while giving the user the ability to create incredibly complex journal entries.
The app uses Windows Ink and offers a toolbox of pens, pencils, rulers, and more to work with. In addition, Journalist lets you combine your writings with pictures, text, videos, and audio to turn your memories into multimedia masterpieces.
Journalist supports a multitude of file types, URLs, HTML, and plain text with cut/copy/paste and drag and drop capabilities. You can also create your entries simply by using the sound of your voice.
Individual pages or entire journals can be printed or exported HTML, image, or video file formats. They can also be pinned right to your Start Menu for quick access.
And that's just beginning. The app offers a series of video tutorials for tips on creating better journal entries and connects with ColourLovers.com, letting you import images as page backgrounds.
Journalist will add a whole new dimension to your journaling.
Available for Windows 10 PC and Mobile.
Download Journalist for Windows 10 (opens in new tab)
Forest: Stay focused, be present
It's hard to go anywhere and not see everyone around you with their eyes glued to their mobile device. Perhaps even you are one of those people who can get distracted by the constant influx of information, notifications, and other constant pulls for your attention.
Forest: Stay focused, be present is an app designed to help you form healthy and productive habits by keeping you away from the small screen for short intervals.
When you activate the app, a tree will begin to grow, and in thirty minutes it will reach full maturity. If you use your phone before the tree is fully grown, it will die. And why would you want to kill a baby tree?
Each time you take a break, you get another tree that you can add to your own personal forest. You will also earn points that you can save up to unlock new types of trees. View your history or share your forest's progress with friends.
The app will run under the lock screen and show you how many minutes remain.
Forest: Stay focused, be present is an innovative way to help you take a break from your phone so you can stay focused on work, studying, family time, or the external world in general.
Available for Windows 10 Mobile.
Download Forest: Stay focused, be present from the Windows Store (opens in new tab)
SWOOOP
SWOOOP is an endless runner (ahem…flyer) for Windows 10 computers, tablets, and smartphones where you pilot a little blue plane around a cartoon world.
Like every other games of its ilk, the object of the game is to see how long you can last and how many points you can get in that amount of time. Unlike some other runners, you not only have to avoid obstacles, but you must also keep your fuel replenished by collecting stars that occasionally appear along your path. You must also collect stars to boost your point total.
The controls, or rather control, is simply your spacebar, mouse-click, or a touch on the screen. Any one of those will pull your plane upward, while releasing it will send it toward the ground.
The idea is to navigate up and down and make loop-the-loops to dodge clouds, grab gems, and keep the fuel coming.
SWOOOP features picturesque landscapes that look like they are right out of a children's book. The peaceful aesthetics paired with the meandering motions of the plane make the game feel more like a flight of fancy than the tense challenge presented by most runners. Throw in a whimsical soundtrack and now you're walking on sunshine.
One interesting thing to note about this game is that it is essentially a web-based game turned into an app, and therefore relies on an internet connection to play.
SWOOOP isn't going to hold everyone's attention for long, but it is addictive in its own charming way. It's definitely a candidate for keeping the kids busy, though.
Be sure to check out our review of SWOOOP for more details and some clips of the gameplay.
Available for Windows 10 PC and Mobile.
Download SWOOOP from the Windows Store (opens in new tab)
Be sure to check out our other selections from previous weeks. Have a great weekend!
Do you have an app you want us to highlight? Drop us an email at tips@windowscentral.com with "5 Intriguing Apps" in the subject line.
Windows Central Newsletter
Get the best of Windows Central in in your inbox, every day!
Still looking for auto-CAD...

That said. Wedge is awesome! I have used it for a few months now and I think it is the best to-go CAD ever. I make instant brackets and fixtures/tools work it. Takes minutes. Love it.

I have it, and like it. I was trying unsuccessfully to be funny.

AutoCAD is specific product by AutoDesk. You wouldn't say "mine-Craft" if the software wasn't Minecraft. The article title is misleading and should be changed.

CAD is the short of Computer Aided Design, which is a wide concept that conclude the CATIA, Solidworks, UG, AutoCAD etc.

Next will be micro-Station?

Yes, a totally different CAD software than the real MicroStation software from Bentley.

Obvious to you. Have you heard of perspective and point of view? It turns out, that there is more than one.
Best Wishes

You can install extension for the app Journalist on phone, it's kinda interesting. Hope that Edge on phone will have extension soon. Edit: The app is very good check it out

Yeah,looking forward to an extension for Edge on phone.

Forest has an issue. It installs, runs great. But for some reason it crashes or fails to launch after you try to use it again. It seems to use it more than once, you have to uninstall, reinstall every time. Disappointing, but the premise is super awesome. Plus, if you have kids in the house, they enjoy watching your tree grow.

CAD sweat Posted via the Windows Central App for Android
Windows Central Newsletter
Thank you for signing up to Windows Central. You will receive a verification email shortly.
There was a problem. Please refresh the page and try again.