Receive a $50 gift code when you buy the 12 months Groove Music Pass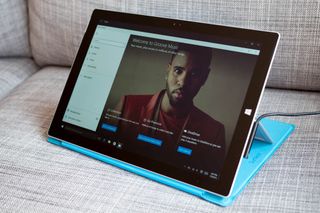 Microsoft is giving away $50 gift codes for the eleventh day of the company's festive promotion. Bundled with the 12 months Groove Music Pass, this package allows you to access millions of songs on the online music streaming service, leaving you some spending credit for other products.
The 12 months Groove pass will set you back by $99.90, but should you already be using the service and are looking to extend your membership into 2016, this may be the ideal option for you. It's worth nothing that the $50 promotional code needs to be redeemed by January 31 2016 and spent within 90 days.
Buy the 12 months Groove Music Pass (opens in new tab)
Rich Edmonds is Senior Editor of PC hardware at Windows Central, covering everything related to PC components and NAS. He's been involved in technology for more than a decade and knows a thing or two about the magic inside a PC chassis. You can follow him over on Twitter at @RichEdmonds.
This ain't even available in India but the Groove app teases me with a banner asking me to try it out. Blank screen when I tap on it, though. ;-;

Ya thats right i will go forward to purchase the music pass if its available in India :)

I always thought gaana n saavn offered better deals for India. Groove music may have the most songs of any library, but it usually takes a few weeks for me Bollywood releases to make it to the catalog. Moreover, it's severely lacking in local Indian songs like Punjabi ones. I'm subscribed to a groove music pass (EN-GB), so I know. For me it's great, though, since I don't listen to Hindi songs much, and the few I do listen to are all there.

Had another issue with this banner : tiped on it, validated my 30 trial days... About 5mins later I receive a mail "Your trial duration is now over" More like "30secondes", not "30days"

Microsoft can keep my gift card ..... As a token of gratitude

Nokia music was better, hope LINE allows downloads soon.

Yup! I'm not renewing my subscription. From my Windows 10 desktop Groove app not working with subscription and poor iOS app and slow Windows10 mobile app...aargh! Fed up.

Really? I was thinking about stopping my subscription a few months ago but my recent experience has been great. I was telling people how far it has come since the Xbox music days. Runs like a charm on the 950. The Xbox app needs improvement though....slow and not crazy about the UI.

Same here. I just renewed mine because it has improved on my 1520, SP3, and to a lesser extend XBox

How about they bring back that 10 free songs per month with an annual subscription like back in the Zune music days? That'd be nice.

I agree, but i'd settle for them bringing back all the songs and artists they have removed from the catalog. When my pass from last year runs out, i'm sad to say i'll just be retaining Spotify. I got in on Spotify for that three months for $1 (or whatever ridiculous deal it was) and have been impressed with it's selection ever since. It sucks because Groove is finally looking and acting right, but the library just isn't there.

I've been an early adopter of Microsoft's music service and I think the library has grown quite a bit.

Groove doesn't work well on Android.o guess I'm out until we see what this 820 snapdragon chip windows phone is like Posted via the Blackberry Priv

I have used it this week on android and it worked almost as well oj my moto e with lollipop as it does on my 640 with windows 10... Bo it did crash a few times, I think it had more to do with task management... I will try it on my moto g. Love that I can use my Microsoft services anywhere... But honestly, most worked best at home ;)

The ability to use it on any platform is definitely attractive. I actually didn't know that Groove was on iOS and Android, but given MS's app development direction for the past year or so, I should just assume that everything will eventually be. Now, trying to figure out if I should pull the trigger...

To be fair, though, nothing really works well on Android.

Ouch. Low Blow Posted via the Windows Central App for Android

I love Groove Music, but I'm still waiting for a Family Plan. :'( Please, help and vote for it in this link (UserVoice): http://groove.uservoice.com/forums/209733-microsoft-groove-feature-sugge...

I agree. I really love this service. I did not know that I would as I am more of a person who own and likes to own all content. I put my music on my OneDrive storage and have access to just about all music... I have found lots of new music or been able to play any song someone mentioned... Without YouTube, ads, and overall poor sound qualitity... Last years deal was better... I with I could share this with a family plan... Would be worth it then for sure... You have my vote!

With the ability to log in to different accounts in the Groove app, the pass can currently be shared. We just need Microsoft to make the app remember the last login account as it will sometimes log the main user account in.

It's sad both this & todays deal(which in Canada is digital finally & sadly like their retailers have not remitted the sales tax) both have codes you have to wait "10" business days for then have till January to spend. Guess thats 1 way of getting a free digital game out of them

I wonder how many tips are actually seen and used when they're in comments versus submitting them to the "tip line"? It would be an interesting statistic to know. OT: I might actually do this. I use the service, and this would not only save me money in the long run, but get me a nearly free Xbox One game as well.

Any idea when groove is coming to India?

Just seems so expensive for me and the fact I cant share it with my wife means no way. If it was possible to buy cheap groove music passes in the UK say from some where like cdkeys.com then I would definitely use it if it was cheap enough for the annual pass

This site does need to make clear which of these things are US ONLY. Which is most of them.


That's why they don't mention. It's US mentality.:D

Way to group everyone into the same bucket.

This offer is for US, Puerto Rico, and Canada.

Anyone know how and for what this gift card can be used? I wish they would just discount the pass itself!!

According to the front page of http://http://www.windowscentral.com/e?link=http2F%2Fclkde.tradedoub..., it's a "$50 Windows gift code" so I would guess it's for apps, games, movies, and music. But since https://www.windowscentral.com/e?link=https2F%2Fclick.linksynergy.co... now includes both the Windows 10 store and the brick-and-mortar Microsoft Store, you could probably use it for hardware (like the Band 2) and shrink-wrapped software (like Office or Xbox games) as well.

Since Groove revoked the licenses of many of my favorite songs and albums that I bought from Microsoft when I upgraded to W10M, I am skipping this. I'm going back to importing music purchased from Amazon or ripping CDs. Incidentally, most apps have that "can install on up to 10 devices" note. I wonder how many OS upgrades with full resets I have left before I start losing apps as well.

I thought you could remove any device on the list of 10 to fee up a slot for a new device. No? Also, I thought some "features" (Such as downloading songs for offline use in Grove Music) are limited to 5 devices, not 10. The need to manage that list of devices is important, if they don't already allow you to manage it.

You can manage devices connected to your Microsoft account at account.microsoft.com. Apps/games can be downloaded on up to 10 devices and you can remove as many devices as you want at any time. Groove can be associated with up to 4 devices, and you can remove one device every thirty days. Movies & TV has the same limits aas Groove.

I only have 4* devices listed in my account, so Groove shouldn't have nuked those albumns in the first place. Those albumns are gone, and the only way to get them back is for me to repurchase them. Nice. * Now 3 devices. I just removed my HD7.

Most of the Canadian deals were the same as the US deal, except this one, the only one I was interested in :(

Are you seeing a different deal? The fine print says it's supposed to be valid today for US, Puerto Rico, and Canada.

Oh god **** it! I just purchased 12 months 2 days ago.

If you bought it from the MS Store, maybe go back and see if they'll give you the $50 windows store credit anyway? They're not obligated to do so at all. But might be worth a shot.

Good idea, ill try that later today.

Just did a free 30 day trial because I read something about Curated Playlists on their site. I was expecting something Spotify like but that was not the case. I really want to go to Groove but not having those is a deal breaker for me. I'll be sticking with Spotify for the meantime but as soon as they get those or even let users make public playlists I'll be switching to Groove.

If I buy this deal for several family members, can I then put all of the gift credits toward a single purchase? Or does each gift credit have to be used individually under a single Microsoft Account? The Microsoft site seems to have almost no info on this gift credit.

You get a code, which you have to redeem by January, then you have 90 days to spend it. It's a gift card...

Does anyone know if pricing will be lower in store rather than online? I seem to remember buying at the store and saving an extra $20 or so last year.

First time ms doesn't discount during 12 days. Guess I will no longer have groove music. Way to expensive

Agreed. Always renew during 12 days when it's 50% off, but $100 is too much. Couldn't care less about the gift card this year :/

Well I guess I'll go without Groove until March when they likely do the Pi day celebration and sell it for $31.41. Or maybe they won't discount it anymore. I'm not sure it's worth $100. It's especially not worth $100 since there is no family plan; I'm not buying 2 passes at $100 each.

Same. My subscription is good through 1/1/2017. If I can't get this on sale, I'll move to a different service. I'd pay this price under a family plan, but not individually.

Pi day was likely a one time deal. March 14, 2015. Pi = 3.1415. If they round up then we might get lucky. I doubt it though. It's between this deal, hoping for a return of the work and play bundle or just giving up my groove subscription. Got to decide quickly.

Yup. I re'uped during pi day. I really wish they had a discounted xbox only plan since there are better apps for phone.

Just looked at the offer and had two questions for anyone who might know. My Groove pass renews in April, if I put this in now will it extend it a year or replace the existing subscription? Also, can the $50 card be used for Microsoft products like the new phones, or just apps and software? When I looked, they call it a Windows gift card, so it kind of seems like it's only for software.

According to the site (http://www.microsoftstore.com/store/msusa/en_US/pdp/$50-Windows-Store-Gift-Card/productID.312376500) : you can buy apps, games, music, movies, TV shows, and more on your Windows PCs, tablets, and phones. Use it to rent the latest movies and TV shows, and stream or download millions of songs.

I just reupped my subscription and now Microsoft says my subscription is good till '18. I had just renewed last month.

Sounds like it's just software and music/movies. Still not a bad deal, but defintiely would rather spend it on hardware. Thanks guys!


Is it worth nothing or noting?

miss the $28 annual pass , looks like my last year with groove....

Thank you for informing, just got my year + $50 :) Nice gift!

Sucks my subscription runs out on the 19th...I guess I'll wait for another deal or try another service. I was looking forward to 12 days of deals just for this. I think last year I got an hp stream and the groove music pass. Oh well.

Confused on how the gift card can be used...
If I want to buy three passes for me and two kids, can I buy two and use the $50 gift cards to buy the third? Is there a period I have to wait or can I do all this at the same time?

This is a pretty terrible deal compared to previous years where it was available for more than 50% off.

Bragging the bank!!! Xbox live and groove music that's almost 200 a year isn't it? I'll wait to see if another deal comes along Posted via the Windows Central App for Android

If you pay full price it would be about $160 USD a year. But it is pretty easy to find a year of Xbox Live for under $50, and I have heard you can find pretty good deals on a year of Groove on eBay.
Windows Central Newsletter
Thank you for signing up to Windows Central. You will receive a verification email shortly.
There was a problem. Please refresh the page and try again.