6sec updated for Windows Phone 8, brings NFC sharing, ability to reply to comments and more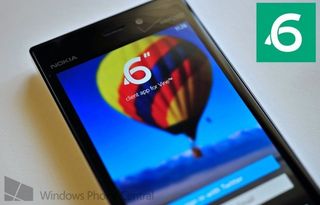 On Windows Phone we don't really have a wide selection of apps to pick from if we want to get our Vine. So in our little ecosystem, 6sec is by far the best option at the moment. Rudy Huyn is the developer behind 6sec and has just released a new update. Let's see what's new.
Head to the Windows Phone Store and you'll see 6sec sitting pretty at version 1.3. What's new in this latest update? Here's what:
New keyboard share
Share using NFC (Windows Phone, Android, and BlackBerry)
Reply to comment
Improved upload security
Enabled in-browser "open" with feature (see the FAQ)
Other small changes
The ability to reply to comments is surely welcomed by quite a few of you. Long press a comment to do this action. It's nice not having to type in the username of someone you're replying to.
When you're typing in the comment box you'll see a '@' and '#' floating above the keyboard to give you quick access to two of the most commonly used symbols. The rest of the features you might not necessarily notice day to day as you use the app, but they're in the background working hard for you.
Have the update already? Sound off below with what you think.
6sec for Windows Phone is a free app that is supported with advertisements. You can remove those advertisings with an in-app purchase ($1.29) and with another in-app purchase to enable video upload. Folks on Windows Phone 8 can go to the Store to get it, use the QR code below, or swipe to the right in our app.
Windows Central Newsletter
Get the best of Windows Central in your inbox, every day!
Tada! lol. Good night guys.

Magic!
I was like, 'what just happened?'.

What happened is tired Sam. Enjoy the update to 6sec!

"How about a magic trick?? I'm gonna make this pencil disappear"

App is great, Vine is horrible. It's like YouTube in its younger days. Glad instagram has video now, and glad Rudy made both clients.

This app made me actually like VINE a whole lot more. I tried using the official Vine app on android and i just prefer 6sec layout better. This is a good update!

My 6sec app has been dead for a while now. ie it won't update and won't delete and is just sitting there because it fails half way through the update every time. I miss vine so much... Anybody have an idea of a fix for this?! It frustrates me..

Sorry, mine works fine.
Maybe power down/up your phone, and try to uninstall/reinstall the app.

Mine was the same, I uninstall it then reset the phone (power down the phone) and then install it again and now it's working fine

There's no uninstall option.. Any other suggestions? :/

No uninstall button? Go to the app list, find the app and hold your finger on top of 6sec. Press uninstall. Shut down your phone, and restart it. Install 6sec again.

Like I said, No option to uninstall. It's grey and un-tappable. I assume because it assumes it's in the middle of a download. Even when I cancel the download. Sounds like it's stuck like that unless I do a factory reset from the advice I've been getting...

Can you go to download then tap and hold to cancel?

Even after restarting the phone?

Still sitting there dead, no matter what I've tried.

Rudy,

Now's the time for 6book....A facebook replacement.

Other than the notifications I think the app is just fine. Rudy doesn't make apps that have official offerings.

I agree.
No way Rudy alone makes a better Facebook app.

I also agree. It wouldn't be that easy to make an app as Facebook. I mean not even Microsoft has got it right yet, and I'm sure they're not just a bunch of monkeys typing keys on keyboards using bananas as fingers.... or are they?

The new FB apps is awesome....

Nah now a snapchat app, lets call it 6chat, 6snap, or ..... (unless the reason they pulled swapchat and that other snapchat app ate the reason he can't make it)

Snapchat removes all third party apps. Official one "coming soon"

"coming soon" was supposed to be like the end if last month, fast forward one month later.........no app

How can i block people in that app?

Open the profile, long press the profile picture and press block :)

So how do you use the NFC feature for this app?

I still can't see whatever post someone @'s me in from the notifications. Anyone else having this problem?

sure to have the last version (with NFC) ?
If it's the case, write me to rudyhuyn@gmail.com, we will chat together to see what is the problem


Rudy

Looking forward to a fb app... 6fac... Sikfuk

Need an app 5sec. Just saying, it be a little faster

I never used Vine until I got 6sec on my Lumia 920. On my old iPhone 4 I hated when the videos played automatically. This update just makes it even better.

Is anyone have the problem where 6tag logs you out itself?