6snap updated with option to automatically download all snaps and much more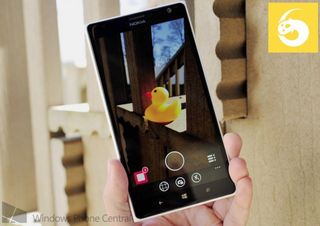 6snap is getting its first update today in the Windows Phone Store. The app is a fully functioning Snapchat client for Windows Phone and comes to us from Rudy Huyn. Let's check out what's new inside the latest version of 6snap.
6snap first came out last week and was met with positive feedback from the community. It was a fully functioning Snapchat client that worked well and gave users all the features you'd want. But you know Rudy, he doesn't rest until the app is perfect. Head to the Windows Phone Store and you'll see version 1.1.0.0 sitting there. Here's what's new with it:
Automatically downloads snaps on Wi-Fi (option under settings)
View snaps in progress without needing to tap and hold (just click it)
Last camera used (front/back) is saved in the memory
Mirror effect is permanent now with the front facing camera
Option to send snaps to everyone
Search for friends without needing their phone number
Minor bug fixes
The option to send a mass snap to all your friends will certainly be appealing to a majority of you who use Snapchat on a regular basis. Just make sure you don't click that when you're trying to send something to just one person (if you know what I mean). The option to automatically download received snaps over Wi-Fi is also a very welcomed addition to the app. We'll be using that right away.
You can get 6snap for free from the Windows Phone Store. It's ad-supported, but you can remove them for $1.29 with an in-app purchase.
Normal Snaps (not just video) have started to flip when I take them now, didnt happen on the last version

I removed ads, just to support Rudy and his dedication. His apps are always better than the official ones. :D

I bought it as well. My only minor complaint is not having push notifications but I understand that's a Snapchat limitation that does not support Windows Phone so there's nothing the dev can do.

It does have toast notifications? I get them....

But I didn't say toast, I said push. :) As it is right now it checks every half hour. A push notification would be "as items arrive",

Oh oops, sorry, got mixed up :/ ah, the only app I've come across with instant notifications is the official twitter. I haven't come across any other :/

YES. why is this so? Every Dev that writes on their apps' description mentions the same 30 minute limitation. Yet there is Twitter with instant notifications, is this something to do with backend/server side? or Twitter Devs know something other Devs have not figured out on windows phone SDK? any Dev here have an insight on this topic??

In short: yes, it's something Twitter does. Here's an explanation of how it works. Push notifications for Windows Phone

To be honest, 6snap is not better than the official Snapchat app. I saw my friends use theirs on iPhone, and it's much more fluid, etc. It might get better with time, but right now, it's not better, it's less good actually.

With the requirement to hold while viewing a snap removed, will this still comply with the 'no screenshot' policy?

This is what I want to know as well. I received a special snap that I could have saved forever :P

Well - it will send a message when screenshot is taken. but it doesnt work for me anyways. still have to hold and it takes 2 seconds to load the snap

It won't send a message, because as far as I know Windows Phone doesn't have an API to detect when a screenshot is taken.

You can't save the screen shot with this can you?

Dont know. You would have to release the Screentab to make a screenshot. try to scoll the lockscreen half way and make a screenshot. doesnt work either unless you release it

I'll have to receive a message to try it, but if you no longer have to hold your finger on the screen to view the image then that frees up the digitiser for you to take a screenshot.

Nice update. Suggestion:
Can there be an option to open app to notifications/messages list rather than camera? Thanks!

That would be a nice option. 90% of the time I'm always going to the notifications/messages page first.

Might also be an option to directly pin that to the start screen. Not sure but i think Swapchat does have that option

You could download all snaps on the last version.

Yeah,you could... But not automatically...

Slightly off topic but when it says full name in the sign up sheet it really means account name right not full name.

Bah. I hate how the front facing pics are backwards now. I get it, snapchat does this but its wrong. Bugs me. Ha

It annoys the crap out of me as well. I dislike that very much. Well, I usually just take the pics outside of Snapchat and then share them.

Oh i hardly use the front camera anyway but when i do i want it to be the right way round. Guess ill just do what you do :P

Just go to settings and change the mirror option :)

where in the settings? i cannot find it

Not able to install 6snap.
when downloading is finish it start installing the app but it always ends up in saying attention required tap here how to solve this issue.
tried on WiFi to still same issue.

Sometimes the Store acts up and your phone doesn't authenticate the way it's supposed to. I would say restart your phone, if that doesn't work you just have to give it some time and try again later.

I would like the automatically download without WiFi as well.

I mean, I understand this would not be appealing to everyone but an option would be nice. :D

I cant see this new fangled option to send snaps to all my friends...am i missing something??

I want to try it, but my 820 screen is broke :'(!!!!!

RUDY! RUDY! RUDY!!! Single handidly bringing WP8 up to par with the otehr guys (iOS/Android)

Doesn't the ability to download snaps kind of defeat the purpose of snapchat?

Not save them, just download them so you can view them for the certain amount of seconds. With the previous version, you had to click on the photos first to download them AND THEN press and hold view.

I'm assuming the abilitly to "View snaps in progress without needing to tap and hold (just click it)" is so that it's possible to take a screenshot? Correct me if I'm wrong but if touching the screen then the Windows button is disabled? Anyways I'm not seeing this option to just tap and hold in settings and it isn't working that way for me in the update. Anybody else getting this function to work?

No, I continue to make all my possible to prevent screenshot, This Is the only way to be compliant with snapchat. This new feature Is :
- before when you started to view a Snap, to view It again (during the countdown), you needed to press and hold again, take 1 second, too long
- now when you started to view a Snap and release, to view It again, just put your finger on It, no need to wait, you gain 1 second, but you need to keep your finger on the screen. to be clear, snapchat hâtes screenshot, if they had the possibility, they fully disable It, but they can't on some phone, sp they added a screenshot callback, but it's a workaround, not a feature. To respect snapchat, I do the same, do all my possible to disable screenshot, it's the only way to not be removed from store

Rudy, thank you for the prompt and thorough reply. That clarifies a lot and I certainly respect it. What you've brought the WP community is quite spectacular. To all those hating on others for wanting to take a screenshot, please realize that Snapchat is not used solely for sending dirty pictures. It's a great way to send pictures to friends that you don't want clogging up your camera role and skydrive. There's obviously a lot more possibilties but just because somebody wants to take a screenshot doesn't mean it's dirty pics.

Then ask them to send it as a regular picture after you're done viewing.

Thank you. Snapchat is a great idea, and circumventing the entire foundation of its existence would be incredibly disrespectful.

For all those who want to be able to screenshot snaps... you suck. If people wanted you to keep these pictures, they wouldn't send them with snapchat. Show some respect.

My HTC 8X has no problem logging into 6snap but my wifes Nokia 521 says "failed to connect!" Clock settings and date are correct. My wife already had a snapchat account for her iPod touch so I'm not sure that would keep her from logging in with her Windows phone. She has tried logging out with her iPod but still fails to connect on her phone. Any ideas?

Figured out I can connect with my username on my wifes phone so it must be a corrupt setting within her offical snapchat account.

is there anyway I can get this on my surface rt?

since I updated 6snap on my phone my rear camera won't work with the app, any way to fix this?

hey.. after i made a new account i CAN log in.. but i cant send OR get snaps! the list is white even if i reinstall it, restart the phone, disconnect and connect internet... HELP QUICK!!....

Hi is it just me or why can't a screenshot the pics i get?

In my windows phone 720 i try to sing in or sign up but it says: failed to connect, any tips?
Windows Central Newsletter
Thank you for signing up to Windows Central. You will receive a verification email shortly.
There was a problem. Please refresh the page and try again.