Like or Not? 6tag adds new image discovery service for Instagram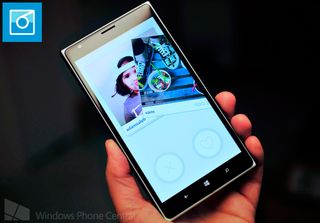 We like official apps and all, but sometimes the efforts from developers with their third-party apps are incredible. For example, Instagram client 6tag has been getting updates and updates that make it better than the official apps on major platforms like Android and iOS. 6tag has things like multiple account support, regrams, and much more. The latest version, v3.2, adds a new feature that makes it even cooler – "like or not".
The last big update for 6tag we covered was in late December. That update was notable for saving videos from Instagram to your SkyDrive account. That was version 3.1, but today we're looking at version 3.2 in the Windows Phone Store that brings:
Like or not
Performance improvements
Security / bug fixes
Performance improvements and bug fixes are typical with most updates and version 3.2 of 6tag brings those as normal. It's the "like or not" feature that we're pretty excited about. This is another feature that the official Instagram clients on all platforms don't even have. After you update to the latest version of 6tag you'll see a "like or not" item in the menu. Click this and you'll see an interface that is reminiscent of 6tindr.
Like or not is a section where you can fly through popular images on Instagram and select whether or not you like them. This is just the initial version of a feature in 6tag that Rudy is working on and he has big plans for it. He'll measure feedback on the use and implement features based on user feedback. In the future it might show photos from friends of friends or images based on tags that 6tag learns you like. Check the video below to see it in action.
Right now version 3.2 of 6tag is live in the Windows Phone Store, but version 3.2.1 is coming out in a few hours (so don't tip us). That quick update will fix a bug with the "not" button in the like or not section. Gestures (swiping) works, the like button works, but the not button has a bug in it that will be fixed very soon.
Want to try out 6tag? Grab it from the Windows Phone Store or scan the QR code below.
Get the Windows Central Newsletter
All the latest news, reviews, and guides for Windows and Xbox diehards.
Why can't I upload videos from my phone?
Lumia 1020...

You can't... you can only just record videos using the app itself. Isn't that the case with every instagram app even the official ones on Android and iOS?

The WP SDK doesn't allow access to a user's videos.

because 6tag have the uploadvideo you have to buy or no the cost 1.49$

I can't believe how much has this guy made for us, WP users :) thanks Rudy!

Using the same idea as tinder, smart and hard working man.
Speaking of tinder, WP only service that does the same thing?

Sorry but pass. That's just as creepy as an apple user dating site.

Creepy? Like minded individuals do better. As weird as it sounds, phone isn't just a phone. Compatible ecosystems for compatible people, lol.

So basically Rudy took charge of the 6tindr dilemma and channeled his creative expressions into 6tag...I appreciate the effort but I don't really see the allure to this "new" feature

Really? I do. It's a great way to discover new people to follow who post similar things. It's always a way for people on Instagram to have their photos randomly viewed, thereby increasing hits (Likes). Plus read how Rudy wants to improve it e.g. based on tags of photos you like, etc. It's a great discovery feature that gets you out of your own timeline aka bubble. I think it's a brilliant idea, one that Instagram should have thought of.

+929... I mean +ICON hahaa (I'll see myself out now)

lol, go home, you're drunk!

That's all fine and dandy, but as awesome as the app is and as much as I appreciate Rudy's work (and I very much do), I'm afraid that 6Tag may be complicating Instagram more than it should be (the service, I mean). I use Instagram to share with friends, nothing more. Being dependent of "likes" isn't my cup of tea and I'm not that crazy about having people I don't know following me. That being said, this isn't a feature I'll be using apart from trying it out. But if people like it, power to them.

Now if we all could develop half as good as this fella, there would be no app gap...i have 99% of every app I need ;)

+1 yes I agree. Sometimes we just need to get out from our timeline's bubble. So this feature is really welcomed. Thanks Rudy !

Someone is going to pick up this guy. They should, he's incredibly talented and extremely good at envisioning features, etc. Not to mention his apps always look so damn good. He's a great asset to the WP community.

He doesn't need to subject himself to another's will. Right now he can do what he pleases without having constraints from some company that generally owns whatever you create

Its an update. Updates are good.

+920 Agreed. Sure great work trying to think of new ways to improve the app and all great effort. But theres a reason the folks at instagram havn't implemented this idea. not because they didnt think of it. I personally dont ever go on the popular section in the app to see random photos from ppl im not following, so really not interested in liking their pics either. Again good initiative and effort Rudy (y) But not somehting i see myself using. ever.

Although it's not something I intend to use, I think it was pretty smart from Rudy to not let the work from 6tindr go to waste and integrate the code into 6tag.

*girl with a tattoo on her butt* Mark: "yeah I like that one" haha!!

Such a genius! Thanks, Rudy!

very cool feature for looking at pics though! would be interesting if you could sort categories by hashtags or something and then go through those pictures. but hey, Rudy updates his apps faster than anyone else, so I can't complain.

6tag is crushing instagram. Why is the Beta stage taking so long? My mother actually prefers 6tags to instagram on her 810. I use both.

Another excellent initiative from Rudy. Also, I hear he got an invitation to talk from tinder do maybe there is still hope for 6tindr or even an official tinder app developed and maintained by Rudy. Fingers crossed :)

I have Instagram installed, but I use 6tag... because it's the one that works.
Maybe one day the official will officially work.

While official Instagram is still sitting duck in it beta state. I wonder if the developer team at Instagram really working? Hm..

I say we get Rudy's DNA and clone like a hundred of him and have them work at Microsoft. Should make WP the #1 mobile platform with a year

I think this feature is a great idea. However, I would like to see a Flipagram like feature come to 6tag.

Settings -> Application Design -> drop down -> Polaroid

I wasn't referring to the set up of 6tag. Flipagram is an app that creates slideshows with music for instagram.

Very nice idea, but there is a bug. Any picture presented to you, whether you Like or Not, is Liked and added to the "your likes" section.

Yep, I see photos that I didn't actually like, in my likes section. This isn't a 'discovery' feature either like people are saying. It's literally just scrolling through the 'popular' photos page. Photos that shouldn't even be popular in the first place.

Like or not, this guy is awesome. May be some people find this update useless but there r others who ll find it awsome. Appreciate the hard work of rudy..keep it up man..

Nice new feature, this reminds me of Zuckerberg's FaceMash project. By the way Sam, it's 'guage' rather than 'gage' ;)

By the way Nik, its 'gauge' rather than 'guage' :D I don't see where he writes 'gage' in the first place though...

Haha, thanks ... Autocorrect told me I was right, odd :)

Danger Will Robinson, danger: swiping away a pic in "like or not" automatically likes the picture...

I think Instagram needs to hire this dude. The official app is still in BETA and has just brought 1 update since its existance.

6tag is the most awesome Intagram client in the earth!!! Thx Rudy!!

Ever heard of mango, Rudy? Tired of app interrupting my tune in broadcast!!! Fix.

Will the uploaders know if their posts are disliked? Btw, the dislike button, or whatever it is, should be something like a broken heart, shouldn't it? The X just looks so weird and out of place.

It keeps those at the top.....at the top, why not do this for abstract and/or unliked photos?

I wish Rudy would make a Facebook app because the user experience available to us currently is brutal.

Excellent Rudy you are awesome WP Rocks

Rudy. Thank You! You're amazing bro! You're a WP Legend.

upload to skydrive is still not working

This function just automatically liked every photo I went through, weird.

"Strategist" Zbigniew Brzezinski man who stands directly behind Obama and steel behind the backs of other presidents CFR member committee pushed for social app to have greater control in databases of personal information about people. It is not tied to any news, mentioned it at a meeting of the CFR.

Cluttering up a great app. Just keep it simple IMO. If there's anything he should try is doing push notifications instead of 30 minute polling. That's the one thing keeping me with the official beta.

Like it or not?. I like it. Really appreciate it.