Third-party Tinder app 6tin gets a big 3.0 rewrite to support Windows 10 PC and Mobile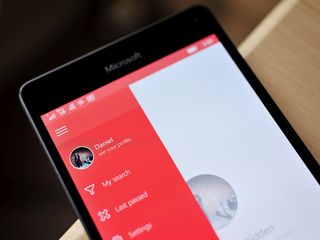 Developer Rudy Huyn has released version 3.0 of his popular third-party Tinder app 6tin. The update has been rewritten to fully support Windows 10 Mobile. It also supports Windows 10 on the PC, making it a universal app.
6tin 3.0 changes
UWP app with adaptive design
interactive toast, answer to messages directly from the toast
advanced support of continuum
dark theme
roaming of your accounts between devices
create and use pick-up lines
Overall, the app is looking fast and fresh. The PC version of the app should be live in the Store shortly, but for now you can grab it on your Windows Phone.
Download 6tin for Windows 10 Mobile & PC (when available) (opens in new tab)
Windows Central Newsletter
Get the best of Windows Central in in your inbox, every day!
Hope support for PC is planned as well

Um, "It also supports Windows 10 on the PC, making it a universal app.", first paragraph.

Can't be bothered to read! Gotta be FIRST POST! :)

To his defense, the article originally stated just for Windows 10 mobile until Rudy corrected Daniel to update the article.

Wasn't Rudy also working on the official Tinder app for Windows? What's the status on that? (News post about that here:) http://www.windowscentral.com/tinder-officially-coming-windows-phone

There isn't an offical one. Or not that I know of.

There was an announcement about it: http://www.windowscentral.com/tinder-officially-coming-windows-phone

Must have missed that one. Thanks for the link.

There wasn't any article related Tinder from last few months.
He has written link himself.
Just think, why would Tinder work for an official WP app, when every developer wants to work for W10M?
Such a lame.
Edit: This link of the article is 2 years old i.e., Jan 2014. & article was written by Sam Sabri.

So what ever came of the official Windows 10 app that he said would be released this week?

Was wondering if this was it?

He said official which I thought would have been Dropbox but everyone already knew about that. He made it seem sort of secretive. Posted via the Windows Central App for Android because I am unfortunately with Sprint

I've been waiting all week to find out what kind of app it is also.... the days are running out and I havent really seen anything new :/

1- Read this comment. 2 - Scroll to the top of the page. 3 - There you go

It clearly says third party. Am I missing something. Posted via the Windows Central App for Android because I am unfortunately with Sprint

He said it's coming AFTER 6tin this week, and 6tin was just released soooooooo...
Plus, it's pretty sure it's gonna be dropbox. He wasn't being secretive, he just said he's not allowed to say

Now for the secret app he was gonna release

What's secretive about that?

He should make another version that connects to Grindr's APIs

Would definitely be hilarious in India. Must happen though.

It would have been more thrilling if 6tag would have been the first one to be ported over to Windows 10 universal platform.

6tag uses some controls from 6tin, so let do it step by step

<3 Thank you for your dedication and commitment.

Glad you replied, awaiting 6tag down the line.

Remember over a year ago when you promised "video filters next" on 6tag? ... Yep still waiting for that.

How about crearing 6grind for grindr?!?!

Thanks, Rudy!
If you ever visit Indonesia, please let me know.. I'd be happy to treat you Indonesian food.

Yesssss Posted via Galaxy Note 4

He mentioned 6tag would be second after 6tin :D this gon be good

This is so much quicker than the wp8 one. Shows the power of the Win10 platform.

Would love 6tag too :) encouraging the developer of tumbling to go universal too :)

Rudy getting some luck with the ladies :D

Funniest thing: I gave my Lumia 521 to a friend of mine (running 10586.29). He didn't have a smartphone, just a slide out keyboard phone with a 2 inch screen. A week later he came with a Samsung galaxy phone. He said the phone was a (boo boo) phone, and he decided to get android. He said he was going to give it back to me

Lol Posted via the Windows Central App for Nexus 5x

I find it hilarious he knew it was bad having only a burner phone just moments before Posted via the Windows Central App for Android

Would it be the same if it had been a 950?

After a weeks use, I'd say "yes".

Probably... I'm too broke to get the 950 but I want one so bad

Awesome, now about that secret app...

Tinder has become this Like everyone and see who matches u and say something first. ITs a loophole. no one gives a **** who othey match with. they only unmatch if they dont like the person.

this is exactly why there is a limit of 100 likes by days ;)

Thank u for making these apps. How about a Grindr and call it 69Grind loll. Or Surge

Cool but ah what about 6tag??????

He mentioned that would be the next one after 6tin

Thanks, Rudy... For everything!!

Its not working on my 1320 W10M.

It says that no one is around you. Change criteria blah blah blah. I already changed the settings but still the same. *Philippines

Nothing happen. It started last June 2015.

Feelin the love...literally.

Not interested in Tinder, but excited because this clears the way for 6tag to get updated. :D

6tag for sure. 9gag as well Rudy :) Lets image fit horizontally and scroll vertically...or do some mindblowing magic :)

Rejoice!!! all single, unmarried & without partner friends!

...who own a Windows Phone! :D

Awesome in landscape mode!

So these apps work with the official apps or just for those using this app?

If only Rudy would do something about the 9 gag app,or make 9chat or 9gagvideo

Until then try 9gager app there are some login issues but scrolling is perfect and 9gag video is also available in the same app

Timber>6tin. I get random crashes everytime with 6tin, that doesnt happen with timber

Make it a habit devs,bring interactive notifications to all apps as possible its unique

Now just work on 6tag and I'll be a happy camper
Windows Central Newsletter
Thank you for signing up to Windows Central. You will receive a verification email shortly.
There was a problem. Please refresh the page and try again.