6tin will be Rudy Huyn's first universal Windows 10 app, 6tag may be next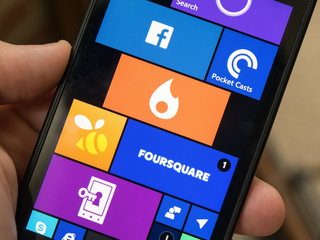 6tin, the third-party Windows Phone Tinder app from developer Rudy Huyn, will be the first of his apps that will be adapted for Windows 10 and Windows 10 Mobile under its universal app model.
Huyn posted up the news on his Twitter feed:
So far, Huyn has not offered any more details about the Windows 10 version of 6tin. However, he hinted that his third-party Instagram app 6tag would be next in line for a version made for Windows 10:
Download 6tin for Windows Phone (free)
Source: Rudy Huyn (Twitter)
Get the Windows Central Newsletter
All the latest news, reviews, and guides for Windows and Xbox diehards.
Good news. Timber on my laptop is rubbish. 6Tin on the other hand works brilliantly on my phone...so it'll be good for it to go universal!
(Does this mean we'll have to pay again for ad-free if we've already paid?)

If purchase is associated with the same account, then I don't think so. Again, its just conjecture.

I'd rather have 6tag because instapic is broken because it keeps sending a notification that doesn't exist.

When your next fake notification comes in, just right click it and turn off notifications for Instapic.

Ah didn't know you could do that. Thanks! Still no video upload

Uninstalled Instapic as soon as I saw that they stole codes from 6tag.

Instapic keeps sending me a message that I've been tagged in some random picture. Can't wait to have 6Tag on my laptop.

Don't u just love this guy??? He needs to be head of Microsoft app development asap!!

Too bad he's already working for Dropbox... =p

6tag universal app would be the real deal. I bet on it

What about his top app Wikipedia

Hos wikipedia works great. Now its his wish if he makes an update to it.

www.wikipedia.org
works wonderfully on any browser. Which makes an "app" for desktop of it completely pointless.

Would help if you could spell it properly.

Well, this is what happens when I use a Windows Phone to comment instead of my normal Android. The autocorrect is awesome on WP /s Posted via the Windows Central App for Android

That's not a hint in the second line , it's a confirmation

Yay yay, 6tag on my pc would be fantastic. All hail Rudy :)

Am I the only one who thinks this guy needs more recognition? He does more good to the ecosystem than microsoft will ever do. A single developer carrying the whole ecosystem on his shoulders. He is not the hero we deserve but the hero we need. Its true that some heroes dont wear capes and Rudy is a living example. ALL HAIL OUR LORD RUDY !!!

Really? The whole WP ecosystem? Ok

Kinda unrelated, but can anyone give me a full explanation for why there is no snapchat app on Windows Phone? I am 17 so I feel as if it is reasonable for me to complain given my age group lol.

Snapchat's CEO hates Microsoft.

ask THE snapchat's CEO !!! Posted via the Windows Central App for Android

There's not really much to it. Snapchat are idiots, not only they don't want to release a WP app, they prohibited Rudy Huyn from making his own. Apparently there's "security issues".

Snaptchat didnt see the need to provide an application for windows phone and third party applications have been restricted from accessing the Snapchat API due to account hacks and leaks. easy to understand really

Snapchat is a mobile-only platform. So forget a "universal app" of it. Then, Windows Phone only has 2.5% marketshare. Therefore it's a waste of money (which Snapchat isn't really swimming in) and time to produce a WP app. And no, this is not because of the infantile delusions some people have of a personal vendetta from Snapchat's CEO against Microsoft. Even if the CEO hates Microsoft, if there was money to be made from a WP app, they would do it. Exactly like Google. The simple reality is that you don't make money on WP to justify the costs of developing an app.

Instagram is also a mobile-only platform, yet Rudy is working on a universal app of 6tag. ;)

And what will Facebook say about that, remains to be seen. Although they're not as strict as Snapchat, Rudy is not endorsed by them and 6tag, awesome as it may be, is still a non-official app that reverse engineers non-public APIs which isn't exactly legal. So if Facebook doesn't really like the idea of 6tag going Universal (which I wouldn't be surprised if they didn't), they can legally shut it down. I wouldn't stretch my luck if I was Rudy but he's a grown man, he'll do whatever he wants.

A lot of Instagram's features are already available on instagam.com, so Instagram on the desktop may not be as unimaginable.

As well as they hate Microsoft

Use Cyber dust instead
-Mark Cuban

Microsoft shoukd make an army of rudy ! God bless u man !! Posted via the Windows Central App for Android

Looking forward to 6tag :D

Microsoft should hire Rudy and pay him heaps of cash! He deserves it!

Shame MS didnt secure his services, hes going fulltime to Dropbox end of the month. His Apps wont suffer as he made them part time anyway.

Awesome! I can't wait for 6snap to become a univers... Oh, wait. :/

he should better change the names of his apps, the names suck

The apps are named in such a way that they provide enough legal protection from causing "confusion" with consumers. This way, it's crystal clear that these are not official apps, but rather third party apps.

Actually, his naming strategy is inspired.
All his apps are clumped at the very top of the alphabetical app list...!! V.smart.

Man, I've been waiting on Universal 6Tag for a long time. Guess it's not coming to RT after all. :/ Posted via the Windows Central App for Android

MICROSOFT is big name for IT company but why Microsoft is like to move backward.. Coz no True revolution in expanding their app store.. Microsoft cant rely 100% on windows product for PC,but they need to transform Mobile market.. Microsoft is huge company but move like a small community..

What is an "UWP" app? Appending phone to the end kinda makes it NOT a 'universal' app??

UWP stands for Universal Windows Platform app, eg one that would work on phone, tablet, PC and Xbox (and HoloLens).

Would have expected it the other way round but obviously more people must be using 6tin as much as I don't want to believe that.

What's more important for the human condition...
-striking up a friendship/relationship etc
-sharing photos.
Not sure why you prefer to think Instagram is more important than Tinder.

Yes!! Waiting for 6tag :)

Is this 6tin supposed to work in w10m? I can't seem to log in with work my fb account :/

This is great news for 6tin fans. Would love to see a universal 6tag app as well, but the app I'd love to see updated the most is the nearly abandoned FUSE app. It's far better than the Pulse "app" which is a horrible web wrapper, but is still badly in need of an update to remember sources/setup among different devices, bug fixes, added sources (some of us like reading android sites as well), and a cleaner ribbon interface. Making it universal would make it even better so that I can use it on my Dell Venue 8 Pro. This is the #1 app that I would love to purchase (little to no chance of it being shut down for being a clone app) if it was regularly updated. It really reminds me of the old Pulse, when it was still great. Am I alone in wanting FUSE updated with these features?

@Rudy: Please write a decent IMDb app with ratings and login and an Instagram app! That would be so awesome!!

6tag is his instagram app...

You're right, I meant Pinterest :)

So cool! From now on I can swipe and see cute girls from my laptop, lol