8 Zip file archiver is now available for Windows 10 in free and paid versions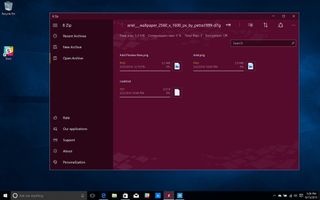 One of the most popular file archiver apps for Windows Phone and Windows 8.1 is 8 Zip from developer Finebits. Now 8 Zip is available for Windows 10 as well, in both its free and paid versions, in the Windows Store.
8 Zip should be something to look into for Windows 10 users who want to extract or compress files with options for a number of formats. Here's a list of the app's features:
Create archive file in a variety of formats that include ZIP, 7z, TAR, GZIP, BZIP2 and XZ
Open archived files in RAR, ZIP, 7z, ZipX, ISO, BZIP2, GZIP, TAR, ARJ, CAB and other formats
Strong AES-256 encryption in 7z and ZIP formats
Multi-volume archives extraction support
Extract files from archives
Add and delete files from archives
Open files in archives
8 Zip Lite is the free version, with ads, that allows users to work with ZIP-based archives, along with opening and viewing files in other format. The full version of 8 Zip costs $7.99 and eliminates the ads, along with access to all of its features.
Download 8 Zip Lite from the Windows Store for Windows 10 (opens in new tab) (Free)
Download 8 Zip from the Windows Store for Windows 10 (opens in new tab) ($7.99)
Thanks to "m.i.m.o." for the tip!
Windows Central Newsletter
Get the best of Windows Central in in your inbox, every day!
Is this any better than winrar? More so that winrar is free

Yeah, gonna be tough to beat WinRAR on the desktop, I guess it's useful for very small screens where it might be a bit uncomfortable to use WinRAR

WinRAR isn't free, it's share/nagware. 7-zip is actually free, and it's what everyone should be using these days.

I bet you haven't heard of 7-zip yet. 7-zip is better than anything else.

$8 for a un/zip program? 7zip is free and does everything, mind you it isn't available for mobile but who unzip stuff on the mobile platform?


Even then we already have at minimum zip support. But we cant make zip files on the phone though

This was free for a while not long ago. Picked it up then. Glad I can use it on my PC now.

I had bought a paid version for free through myappfree. Time to use it now.

I believe everything from that company is Universal.

One of most popular? I've been using computer for a long time and never heard of this. WinRar and 7z (or 7zip - I used it only once) were the only ones I knew

I've the full version on my win 8, will I get the pro for free on 10??

Pro. It's the same app updated to Win10.

Too bad it stops operation when minimized.

The niche this application fills is tiny. And its naming ​is ​highly questionable. It's trying to deceive people who know 7zip.​ 7zip is free and open source, unlike this crap, with the only difference being it's a Win32 application.

Well... I have two old WinRAR licenses and I intend to use it for a long time. I don't think freeware the most important criterion to choose an application, although there are bad paid programs. But WinRAR isn't one of these.

They should call it 10zip

I and most of peoples use Winrar for compressed files and Daemon Tool/lite to open ISO's and other complex compressed files. It'll be tough to compete them and convince peoples to use this application as an alternative.

Is it better than 7zip for laptop/
8zip is a charm on Windows phone!
Windows Central Newsletter
Thank you for signing up to Windows Central. You will receive a verification email shortly.
There was a problem. Please refresh the page and try again.