ABC's Rising Star lets Windows Phone users vote in the media madness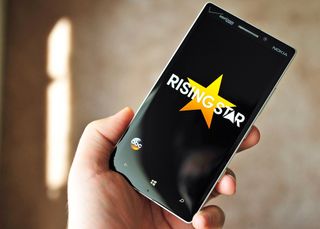 Starting tomorrow night on ABC in the US, a new show looks to bring live voting to the masses via their connected devices. The show Rising Star, which premieres Sunday, June 22 at 9PM ET, is similar to American Idol, but it lets the audience be the judge through a first-time ever technique of live voting. The process works through various apps on iOS, Android and yes, Windows Phone.
During the show, when a performer takes the stage, a 90-foot wide interactive wall separates them from the audience that way you only hear their voice. Users then decide whether they love or hate a performance by swiping to the right (for yes) or left (for no) on their smartphone or tablet. As a bonus? Your face may appear on that interactive wall during the broadcast.
Gimmicky? Perhaps. But we're glad to see Windows Phone users will be able to take part in this somewhat groundbreaking form of entertainment. How well it all works, of course, remains to be seen. And too bad there's no Windows 8 app.
Watch the above how-to video for an idea of how it will all work, or download the app below to get started!
Will you be watching tomorrow night?
Thanks, everyone, for the tips!
Daniel Rubino is the Executive Editor of Windows Central, head reviewer, podcast co-host, and analyst. He has been covering Microsoft here since 2007, back when this site was called WMExperts (and later Windows Phone Central). His interests include Windows, Microsoft Surface, laptops, next-gen computing, and arguing with people on the internet.
Same time release? :O
+720

Surprising indeed... I would like a look at the main sponsors for the show... $20 places Microsoft at the intermission. Any takers?

You were spot on. First commercial during the show was for the Microsoft Surface! ;P

It's been a near megalomaniacal obsession for this company to create interactivity on the TV front.For the life of me, i can't figure it out. Google has self driving cars and we're talking about a fucking voting application on the phone. The end game for MS is full home/space ship automation and robotry.And IMHO, an interactive show and coinciding application seems worth zero effort. Considering the show bombed, yeah. Just yeah.

Does everything Microsoft does have to be earth shattering for you? Interactivity IS the future of TV. And even if this show doesn't become the next huge thing, you can bet the idea of real-time viewer participation will be used increasingly in the future. Microsoft is being smart by getting behind it while they can.

I could be wrong about their end game. It just seems that the push back into the consumer market is failing. It's seems they adhere to an unpublished equation, Consumer = TV. Sponsoring a TV show for app parity upon release is an inaccurate measure of equality which demonstrates a continued incompetence from their PR / Media Strategy firm. I'm in the US, errr.. Florida, errr... Miami so perhaps the situation is different in Europe, India, Russia and South America etc. The marketing strategy here is atrocious and they seem to be unable to correct themselves. They have such deep pockets yet their logo is absent around any of the World Cup stadiums. WHY? So these dimwits can have app parity for a flopped show because "you can bet the idea of real-time viewer participation will be used increasingly in the future". In no uncertain terms, unacceptable. Their marketing strategy needs a complete reassessment. Not earth-shattering, very simple.

+925 right!!! WP is gaining momentum

Also available for Portugal: http://www.windowsphone.com/s?appid=51ae2883-3be7-47ca-a24c-034ae6d5a62c. (TVI channel)

I'm shocked they've made this available for Windows Phone. Huge step in the right direction, can only hope that means a Watch ABC app might not be too far in our future.

Im shocked they are allowing Canadians to download it since ctv manages the feed in Canada instead of abc. To bad i detest Facebook & twitter(in that order)

We have the Brazilian version of this show, Super Star, and we also have a WP app for the show. :)

Daniel you wrote the previous article just 12 seconds ago..Such a fast typing speed..Maybe you have mastered Flow!!

Much article. So fast. Very flow

That or they are set to publish at certain times.

Maybe first he would have written both and then published/posted(copy-paste) both..Together!! Nevermind..But Oh Danny boy the pipes are singing singing....

great to see US official apps! we need more US official apps!

Now if only we can get our adds on tv together with Apple and Android, because people never know that WP has the same appd as they do.

Here in Brazil at the premiere of the show the app didn't work.

I was actually kind of surprises to see them do this. I'm glad they did though. I'm going to give the show a watch.

I can't get past the permission to use photo portion, it won't go anywhere even though I am visibly pressing the button. Eventually the app crashes. Rebooting phone didn't help. Sigh.

Love music, love live events, love Windows Phone apps, and love ABC. Let's get this show on the road!

Nice outlook.com screenshot. Guess Microsoft put a lot of money into this show for on set sponsorship. Posted via Windows Phone Central App

I figured I would give it a shot since they put the effort into making a Windows phone app. So far, not too bad! Glad to see more Windows Phone apps released with Android and iPhone!

More people need to download this to represent. You can just imagine that ABC is using this to test waters and I think couple share the stats south others to see if our platform is viable. Need to show we're more than just 3%.

If you notice in some ABC shows the phones everyone uses are WP:-). For example...The Neighbors (which has been canceled) and Modern Family the characters are sporting Nokia Lumias I believe. I'm just glad the WP and Windows platform is getting more notice...means more goodies for us:-)
Windows Central Newsletter
Get the best of Windows Central in in your inbox, every day!
Thank you for signing up to Windows Central. You will receive a verification email shortly.
There was a problem. Please refresh the page and try again.