The Turtle Beach Stealth Pro is a truly impressive product, with a near-flawless feature set, impeccable sound reproduction, and unmatched compatibility. Turtle Beach has cleaned up its apps and software, without compromising customizability. Superhuman sound returns to give you a crucial edge in competitive play, and active noise cancellation coupled with Bluetooth 5.1 makes this a great lifestyle headset too. After a few years of succeeding in the mid-range, finally, Turtle Beach has delivered a premium headset experience that calls on competitors to up their game in various ways.
Pros
+

Absolutely phenomenal sound quality, with high customizability.

+

Turtle Beach's most comfortable headset yet.

+

Premium feel with dense, reassuring construction.

+

Weighty transmitter puck with swappable battery charging.

+

High-quality on-ear controls destroy the competition.

+

The first dual Bluetooth-wireless headset I've used that doesn't introduce interference.
Cons
-

Premium luxury means premium price.
Why you can trust Windows Central Our expert reviewers spend hours testing and comparing products and services so you can choose the best for you. Find out more about how we test.
Welcome to our Turtle Beach Stealth Pro review! Turtle Beach has stayed away from the high-end premium headset market for a while, and perhaps for good reason. The firm's last $300+ headset was the Elite 800, which delivered on sound but fumbled with its internal microphones. Fast forward a few years, and Turtle Beach is back with a vengeance.
Say hi to our Stealth Pro review. The Stealth Pro encompasses all of the firm's learnings in recent years, replete with design sensibilities that showcase a capacity to listen. I feel as though the Turtle Beach Stealth Pro has absorbed all of my negative feedback on the firm's products over the years, addressing them with confidence while over-delivering in many, many ways. As a long-time fan of the Turtle Beach brand, it's frankly exciting to see them nail a premium product this hard right out of the box, with minor complaints doing little to sully its near-perfect delivery.
The Stealth Pro is quite arguably the best Xbox headset and best PC gaming headset on the market right now.
Turtle Beach Stealth Pro review: Specs
No Turtle Beach Stealth Pro review would be complete without a run down of the spec sheet. Turtle Beach impresses with a no-compromises set up here, with impressive ANC sound suppression, solid battery life, and an impressive array of features.
Swipe to scroll horizontally
| Feature | Spec | Header Cell - Column 2 |
| --- | --- | --- |
| Compatibility | Xbox, PlayStation, PC, Mac, phones, and Nintendo Switch | Row 0 - Cell 2 |
| Headphones | 50mm "Nanoclear" neodymium | Row 1 - Cell 2 |
| Frequency Response | 10Hz - 22kHz | Row 2 - Cell 2 |
| Active Noise Cancellation | >25dB Noise Reduction @ 100Hz | Row 3 - Cell 2 |
| Microphone | Unidirectional noise cancelling, 100Hz – 8kHz | Row 4 - Cell 2 |
| Features | Simultaneous 2.4Ghz & 5.1 Bluetooth, variable mic monitoring, 15m range | Row 5 - Cell 2 |
| Battery | 12+ hour battery life, hot-swappable battery charge dock | Row 6 - Cell 2 |
| Earcups | Over ear, leatherette with noise isolating design | Row 7 - Cell 2 |
| Price | $329.99 | Row 8 - Cell 2 |
Turtle Beach Stealth Pro review: Design and comfort
For our Turtle Beach Stealth Pro review, I decided to drop our typical "pros and cons" review format so I could gush into an entire section about how much I simply adore this design. The design of the Stealth Pro is just sublime. It feels like it borrows aspects from all of the firm's best headsets over the years while absorbing positive angles of other competing products.
The large ovular cushions easily encapsulate your ears, isolating audio in the soundscape expertly. Listening to heavy metal on maximum volume, I was stunned to discover just how isolating the headset really is. This headset is incredibly air-tight, with minimal sound leaks even at the headiest volume levels. As someone who is pretty self-conscious about how much I might be annoying those around me with loud audio, this represents some truly great design on the part of the 'Beach.
Indeed, it may seem odd to be concerned about how leaky a gaming headset is, but therein lies one of the greatest aspects of this headset: its versatility. To the untrained eye, the design of this headset is so subtle and understated that it could easily pass for everyday lifestyle headphones. There are no gaudy neon colors, no silly RGB lights, and no glossy cheap-looking plastic accents. It's all metal, all matte, with authentic-looking leatherette cups that look as good as they feel. The chamfered edges on the headband coupled with soft-touch plastic are absolutely exquisite, and really showcase Turtle Beach's design principles. That's part of the headset you're most likely to grip while holding it, and they designed it to feel good while doing so. Absolutely unnecessary, but utterly luxurious — and that's exactly how it feels to wear, too. Generous cushioning across the board, lightweight, and high degrees of adjustability culminate in something your skull will thank you for.
As elegant as the headset looks and feels, it's not without a sense of hard-wearing industrial density. The headband has a steel interior with strong flex, and metal connectors. It feels as though this headset will take a lot of abuse, even from your saltiest overreactions.
The flip-to-mute microphone is detachable and comes with a small cover puck for situations where you don't need it. Sadly there's nowhere to store the cover, which is a shame, but it's a minor gripe ultimately. The mic itself is of a high quality too, with a flexible, but rigid positioning arm.
The on-ear controls are also some of the best I've ever used. Three buttons with very different textures line one cup, making it easy to learn what each button does without looking. They have strong action too, requiring some force to avoid accidental presses. There's an on-ear multi-function button too which can be configured in Turtle Beach's new Audio Hub software, which is leaps and bounds more polished and powerful than the last time I used it. You can set it to act as a toggle for the active noise cancellation, and change EQ presets, among other things. Finally, Turtle Beach borrowed the circumferential volume dial from the LS50X and Xbox Wireless Headset, although it has much more satisfying action than those. It alerts you with a tone when it's hit maximum volume or minimum volume.
On the other earcup, a magnetic battery door cleverly hides a swappable 12+ hour battery, which can be recharged with the bundled wireless signal dock. You'll never have to go scrambling for a cable to keep the thing charged, although it does still have a USB-C port for charging if that's your bag.
Speaking of charging, the wireless transmitter comes with two long USB-C to USB-A cables. Why two, you may ask? Well, it's because it also has a pass-through charging port, so you don't need to sacrifice one of your USB ports on your Xbox or PC to accommodate it. Sadly it doesn't pass through data, but passing through power for charging controllers or other accessories is a useful and welcome addition. It also sports a switch to flip between Xbox and PC modes. While on either Xbox or PC, you can simultaneously connect a mobile device via Bluetooth 5.1 as well. The Bluetooth key also functions like regular lifestyle headphones often do, with a variety of configurable actions for controlling media playback.
In terms of feature breadth, design sensibilities, and attention to detail: this is quite easily the best, and most professional-looking Turtle Beach headset yet. But how about that sound experience?
Turtle Beach Stealth Pro review: Audio and features
You could have Louis Vuitton design a headset for you, but it doesn't mean much if the sound quality isn't up to scratch. It's thankful then, that I believe this is Turtle Beach's best-sounding headset ever. I've tested more Turtle Beach headsets than most, and the Stealth Pro continues the high-end audio work Turtle Beach began with its Elite series, finally incorporating it into a headset that nails every other feature without caveats or compromises.
The Turtle Beach Stealth Pro app gives you an immense amount of control over the soundscape in this headset. Standard EQ customization comes along, with bass boost, treble emphasis, and so on, depending on your preferences. Additionally, though, is the latest version of Turtle Beach's Superhuman hearing algorithm. This sound profile emphasizes and isolates tactical cues in video games, like the crunch of a footstep or the ping of a reload, for example. Games with specifically-tuned tactical surround experiences like Call of Duty, Battlefield, and Overwatch 2 really shine on this headset. I was able to pinpoint an encroaching Reaper while playing Overwatch with a level of awareness that simply isn't available to me with other headsets.
The soundscape is also immensely impressive for detailing, balance, and separation. You will sacrifice a sense of "realism" while using Superhuman hearing for a tactical slant, but you can quite easily toggle it off for a more cinematic experience in single-player games. In this mode, immersive and atmospheric games absolutely shine. Playing The Long Dark was utterly spine-chilling with this headset, stalking the bowels of an abandoned factory, as lethal machinery short-circuited and fizzled around me.
The headset is also immense for music, too. This is among the only headsets I've used with dual Xbox/PC and Bluetooth 5.1 connectivity that doesn't somehow introduce interference or performance degradation in wireless transmission in use. While playing Overwatch 2 on Xbox, I connected my headset up to my phone and streamed in Spotify while earning my all-important skins.
Amazing separation showcases each instrument even in busy sound profiles like the 9-man band Slipknot and other metal acts. I discovered that Overwatch 2's intro music has layers of subtle ambiance like tweeting birds and wind that I simply had no idea was there playing on my TV or with a lower-grade headset. I spent an inordinate amount of time procrastinating on this review listening to Interstellar's soundtrack and other post-rock anthems, owing to this headset's cavernous, cinematic soundscape.
Okay, the audio is great on your ears, but what about on your voice?
The microphone experience is what I would describe as solid, but perhaps not incredible. You likely won't be creating content using this microphone, but it's not exactly designed for that. The comms experience of the Stealth Pro is all about sharpness and clarity, rather than warmth and realism. As you can hear in the above clip, it definitively has a "radio"-style quality about it, even if it is immensely clear, buoyed by active noise canceling. Indeed, I had the window open to a noisy street while recording that clip above, and the Stealth Pro deftly eliminated it from the sound profile.
The microphone has a large amount of customizability via the impressive Audio Hub app, giving you the ability to include noise gates and the like to prevent loud keystrokes on those clicky keys from irritating your comrades. The Audio Hub also lets you configure the Stealth Pro's active noise-canceling (ANC) experience, which is incredibly impressive. As I noted, I had the window open to traffic while using this headset, and the ANC here reduced it from the equation almost completely. This makes it, yet again, another great option for those who want to use it outside of the gaming lair. The ANC, coupled with the detachable mic, makes it a great option for taking it on planes or trains. It even comes bundled with a microfiber carry pouch for that express purpose.
There's very little negative to say here, frankly speaking. I am nothing short of amazed that Turtle Beach was able to return to the high-end so confidently, with little to no compromises on design quality, and audio reproduction, even down to the most delicate usability minutiae, wrapped in a neat software UX. Perhaps the only downside is that all-important question of price. Read on, friends.
Turtle Beach Stealth Pro review: Competition
Perhaps the biggest and most obvious competitors to the Stealth Pro include the Arctis Nova Pro, and the Astro A50. Both of these headsets are in the $300 range, and come with similar feature sets.
The Astro A50 has a base station to keep the headset charged, rather than the swappable battery dock the Arctis Nova Pro and Stealth Pro both have. The convenience of the Astro A50 is hard to deny, and the SPDIF-optical in is useful when you want to mix audio from a TV or secondary source with audio from your PC. As a content creator, having the signals separate is useful for streaming and podcasting, since I can still get audio from my Xbox while using the headphones on my PC for comms. For the Arctis Nova Pro and Stealth Pro, you'd need to use Bluetooth to get the same usability, and depending on the quality of your Bluetooth receiver, that can lead to performance degradation. My Razer laptop, for example, has a truly awful Bluetooth receiver, making the Astro A50 wired solution more viable for me in some situations.
However, you can't really use the Astro A50 outside, since it has no Bluetooth, and has a very "gamer" design profile. The Arctis Nova Pro and Stealth Pro both have active noise canceling and Bluetooth pairing, making them great for taking out and about. The Arctis Nova Pro's digital display digital audio controller is also really great and lets you easily switch between a wired Xbox source and a PC source on the fly. To get the same functionality on the Stealth Pro, you'd need to buy a USB switch from Amazon, which isn't a huge inconvenience, but it's worth noting.
While the digital audio controller with the Arctis Nova Pro is excellent (and the retractable mic is far more convenient than the Stealth Pro's detachable mic), I think the Stealth Pro wins on audio quality, comfort, and overall design. Having used the Arctis Nova Pro as my main headset for the longest time, as someone with a big head, I think the Stealth Pro is a little more accommodating and comfortable. I also prefer the design, (which sure, is subjective). It's a difficult toss-up between the Nova Pro and the Stealth Pro, as they come extremely close in quality. I feel like neither headset will disappoint you, but the Stealth Pro edges it out ever so slightly for me.
The Astro A50 is less comfortable than both of them, however, and I'm not a huge fan of the audio profile or separation either. I use the A50 for the SPDIF-optical audio input, which is incredibly convenient and beats Bluetooth for multi-platform audio thanks to my laptop's poor Bluetooth signal. Ultimately, it depends on your personal needs. All three $300+ headsets are great, and won't disappoint.
Turtle Beach Stealth Pro review: Should you buy?
While writing reviews, we generally hunt down pros and cons, and there's simply very little to speak of here. The lighting on the dock can be a bit inconsistent at times, flashing even when there's nothing connected. And, the detachable mic cover might be a little easy to lose in some scenarios ... but these are hardly complaints worth mentioning. The positives vastly outweigh what little negatives I can scrape together, although that price point will remain a question mark for some.
In the United States, the Stealth Pro is $330 dollars. Some competitors in the $300+ price range offer differentiators like charge docks, or multi-platform sound mixing, but they often come with caveats and downsides of their own. As a pure and focused gaming-meets-lifestyle headset, I think the Turtle Beach Stealth Pro is without a doubt the best money can buy right now. I've got all the similar $300-ish dollar Xbox / PC combo headsets on hand (on ear?) right now for direct comparisons, and I quite honestly prefer the Stealth Pro above all others. This headset is pricey, but man, you can feel and hear exactly why it's priced as it is.
You should buy this if...
You absolutely want the best, no compromises luxury Xbox / PC gaming headset experience.
You will make frequent use of the Stealth Pro's Bluetooth 5.1 connectivity for music, mobile games, and so on.
You want a headset with active noise cancellation for commutes and public use.
You should not buy this if...
You don't feel the need to go hyper-premium.
You will rarely use the Stealth Pro's Bluetooth connectivity or active noise-canceling features.
You need SPDIF optical audio inputs (since it isn't available here).
The price will be tough to justify for most, but it's hard to deny its price in view of its impeccably luxurious execution, coupled with high-quality materials and expertly tuned sound. Worse headsets than this have launched at a higher price, making it difficult to suggest that it's anything other than fair.
It will give you an edge in competitive play, and it will elevate and reveal new angles to your favorite anthems while commuting to (or avoiding) work. It won't, however, repair your car or grab your groceries. For the vast majority out there, there are cheaper headsets on the best Xbox headsets list that will satisfy your gaming needs. But if you want a headset that can truly elevate your experience both across gaming and in day-to-day music use — honestly — I don't really want to use any of my other headsets anymore, and I have mountains of them here in the office.
Simply put, Turtle Beach has confidently usurped the best Xbox headset crown with the Stealth Pro. Bravo.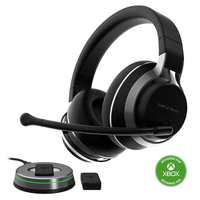 Turtle Beach Stealth Pro ($329.99)
The Turtle Beach Stealth Pro is the culmination of several years of listening and learning from the veteran headset firm, absorbing every shred of positive and negative feedback like a sponge. The result is the Stealth Pro, whose broad feature set and versatility make it one of the best Xbox headsets on the market right now.
Buy at: Amazon
Jez Corden a Managing Editor at Windows Central, focusing primarily on all things Xbox and gaming. Jez is known for breaking exclusive news and analysis as relates to the Microsoft ecosystem while being powered by caffeine. Follow on Twitter @JezCorden and listen to his Xbox Two podcast, all about, you guessed it, Xbox!