According to Elon Musk, AMD's Tesla-integrated GPU and APU are PS5-tier
Forget your gaming PC; you need AMD GPUs and APUs for your car.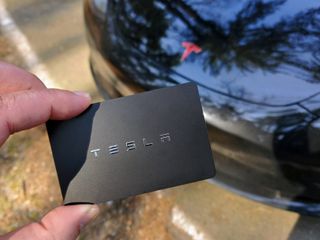 (Image credit: Daniel Rubino/Windows Central)
What you need to know
AMD announced a lot of news at Computex 2021.
Among said news was the reveal that its GPUs and APUs are in two Tesla cars' infotainment systems.
Elon Musk says the cars' entertainment computing power will be on par with the PS5.
AMD keeps on smashing through ceilings. First, it came back from the brink to challenge Intel for PC gaming market share. Then it began reclaiming ground in the server market in big ways. Recently, it's been cropping up in more high-profile machines than ever, like the Alienware m15 Ryzen Edition R5. And even those sectors aren't enough — now AMD wants to take over the car market with its hardware.
At Computex 2021, AMD had a big announcement to make. AMD Lisa Su revealed that AMD hardware is in the Tesla Model S and X. AMD's press release reiterates that info, stating the following: "the newly designed infotainment systems in the Tesla Model S and Model X are powered by an AMD Ryzen Embedded APU and an AMD RDNA 2 architecture-based GPU that enables AAA gaming."
But that's not all. Elon Musk, the man and meme magnet himself, hopped on Twitter to talk up just how powerful the two cars' infotainment systems are.
Yeah, new Model S & X have PS5 level entertainment computing powerYeah, new Model S & X have PS5 level entertainment computing power— Elon Musk (@elonmusk) June 1, 2021June 1, 2021
"Yeah, new Model S & X have PS5 level entertainment computing power," Musk said. Imagine that: A car with a built-in, high-power gaming console capable of providing AAA gaming for those who aren't busy driving. Now we just need a car with Xbox Series X levels of power. After all, Model S and X? Xbox Series S and X? It's such an easy match! C'mon, Elon.
Robert Carnevale is the News Editor for Windows Central. He's a big fan of Kinect (it lives on in his heart), Sonic the Hedgehog, and the legendary intersection of those two titans, Sonic Free Riders. He is the author of Cold War 2395. Have a useful tip? Send it to robert.carnevale@futurenet.com.
Heh, because at only 10TF, that's a couple trillion flops short of what he'd need to be able to say "Xbox level entertainment computing power" :-) Still, pretty cool to have this in a Tesla. Nice.

Agreed. As far as gaming console cars go, this one's pretty neat.

He should probably focus more on making cars that don't explode but who am I to tell someone what to do with the billions of dollars they made off an apartheid emerald mine.

Tesla cars are fine machines. The emerald mine story appears to be an Internet rumor, maybe partly based on truth, but not in any way that benefited Musk, who left South Africa when he was 17, put himself through college, and graduated owing tens of thousands of dollars in student loans.

Maybe just focus on making cars that the roof doesn't fly off. @Colin The Model S might be a fine machine, but there have been many stories about the QC on the Model 3. Hell, they can't even handle billing correctly as some people are getting charged twice and the company isn't quick to resolve it. I thought for a long while that this would be my next vehicle, but between his constant need for internet attention and stories of real drivers having real problems with the vehicles (and Tesla's solutions to them), I am finding it harder and harder to justify. Especially when all the tax incentives on Teslas are over and I can get up to 10K back on other brands.

That would be great if you could replace upgrade it like you could your station in a few years. No way would I spend 100+k on a piece of tech that is going to start feeling sluggish after just a few years. Cars are not PC's in that they need to be designed to used for more than 30 years.
Ford's ceo was talking about their plan to have their 'brains'/tech modules easily swappable for future models which is the right way to go. Hopefully they actually do it.
Meanwhile I'm all about cars supporting Android auto and Carplay so your car's interface is upgraded whenever your phone is.

@You hey, you do realise chips in cars is not new or fairly recent. There have been chips in cars for along time such as the ECU lol...

Would be interested in specific specs, does it have infinite cache? How much VRAM and at what speed? Etc. If it's similar to the PS5 (and XSX), then that would be really good, it would be better if you could upgrade it though, cars are kept for way longer then consoles, a PS5/XSX level APU will be slow when the PS6 eventually launches.

Guess that's good news for the Valve SteamPal and Linux gaming in general, as IIRC, the Infotainment System is built on Linux, which potentially could lead to more native Linux PC ports / less anti-cheat issues with Steam Proton.

To be honest, Anti Cheat mechanisms and DRM only really hamper legit gamers. If someone really wants to cheat - they will find away to do it. Besides no anti cheat mechanism will ever circumvent real time code injection in RAM on PCs. No sane publisher or game studio will kick out PC gamers because of this impossibility.
Windows Central Newsletter
Get the best of Windows Central in in your inbox, every day!
Thank you for signing up to Windows Central. You will receive a verification email shortly.
There was a problem. Please refresh the page and try again.