According to Nokia you don't need the gym with the Lumia 625 (video)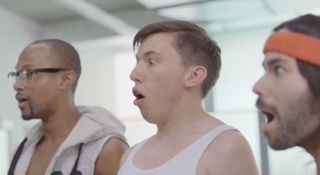 There isn't a month that goes by without Nokia releasing a new handset. Just kidding, they do it every other month. The Lumia 625 from Nokia was announced just a little over a month ago. It packs a 4.7-inch display with 4G connectivity in a relatively affordable package. Here's a pretty funny video from Nokia promoting the device.
The video above is pretty funny. While no device will ever give you as good a workout as the Lumia 920 that clocked in at 185g, the Lumia 625 certainly might make a few mainstream tech journalists weak in the wrist at 159g. Basically pick up the Lumia 625 and you'll be swoll in no time.
Thinking of picking up the Lumia 625? Check out our unboxing and hands on. Full review coming soon. Spoiler alert - it's Bigger. Better. Faster.
Source: YouTube, Via: MyNokiaBlog
Windows Central Newsletter
Get the best of Windows Central in in your inbox, every day!
Hadn't looked at heavier phones from this perspective!

Not so,sure the intended message got through but enjoyed the music as always in Nokia ads

That was a really bad commercial

"Your logic is undeniable"

In India, this phone has been priced higher than the current price of both 720 and 820. What is Nokia smoking?

Blame that to your government for charging Nokia with a 30 Billion rupees income tax bill
Nokia may just be adjusting its phones' prices based on what your government requires foreign companies to pay...

Looks like a great phone.

Such a damn goofy commercial.

stop making videos, gimme GDR2 damnit :'(

TMo should really capitalize on them releasing GDR2 before the others. Of course, next time around they will be the ones lagging behind.
Meanwhile, this is a perfect example of why carriers should do as little customization as possible to phones. Much less testing required.

I don't care who u r, that's funny right there... (Larry the Cable Guy). Git'R'Done Nokia! jejeje

Found this one http://www.youtube.com/watch?v=Fa1bpdhXqXQ

That is a funny one there!!

Funny ad. Almost expected Oliva Newton John to be belting out Physical

look at those men! I wanna check this out... is it good??

So the 625 is to geeks what HGH is to baseball players....

After having used a Lumia 920 for some time, I can confirm my biceps have tripled in size.

Would have been better with a male instructor at a women's gym: BIGGER. BETTER. FASTER.

That moustache is awesome!



I'll buy the 625 and stop going to the gym! A goofy and light heart commercial. Love it!

While no device will ever give you as good a workout as the Lumia 920 that clocked in at 185g - Correction Sony Xperia Z Ultra overcomes that with 212gms

If its not a brick, its not a Nokia!

*in the world of Windows Phone

Lol I like the commercial

These are likely designed to be viral Internet ads to simply generate name recognition and some buzz. The bigdogs such as the carrier sponsored Wedding and Reception ads are another sdtory.

But I would not call this a great ad if this were there approach to television ads.
Windows Central Newsletter
Thank you for signing up to Windows Central. You will receive a verification email shortly.
There was a problem. Please refresh the page and try again.