Account Tracker headed to the Windows Phone Store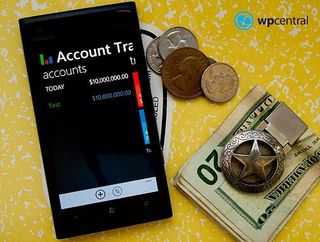 Account Tracker from Graham Haley (opens in new tab) and Response Ltd. is a personal finance app that has experienced a respectable amount of success over on the iPhone (opens in new tab) and iOS. Account Tracker was recently submitted for certification in the Windows Phone Store. The developers are hoping that Account Tracker will have similar success in the Windows Phone Store.
We were given a sneak peak at the app and based on our first impressions, we don't see why Account Tracker won't be a popular choice for tracking your personal finances from your Windows Phone.
Account Tracker is laid out nicely taking advantage of the panorama and tile design of the Modern UI. The main pages will show an account summary of all your financial accounts, a transaction entry screen with tiles to add spending, income, refund and transfer activities, a budgets page and pages that will chart cash flow and spending.
Key features of Account Tracker include:
Group accounts into one or more account groups, for example to separate personal accounts from your business ones
Set up alerts, if an account is likely to go overdrawn, or hit its overdraft limit
Set up bill reminders for non-automatic transactions
Add payee/payer details and categories to each transaction to track where you are spending your money and on what
Split a transaction across multiple categories
Reconcile your account data with your statements, either manually or automatically (based on transaction date)
Set spending and income budgets to track your cash flow over time
View detailed and powerful reports showing account balances, and cash flow, as well as a breakdown of spending, income and transfers by category
Account data can be secured using a PIN code
Account Tracker will also allow for your data to be backed up on your Skydrive account and Live Tile support is available to make it easier to monitor individual accounts or add transactions. There is an online help section that will walk you through all aspects of Account Tracker including setting up accounts, transaction entry and tweaking the settings.
Account Tracker is a nicely laid out, feature rich financial app for your Windows Phone. There is a free trial version available that is limited to 25 transactions. Which is plenty to give you a feel for things. Just don't be surprised if after a few minutes you're buying the full version.
The full version of Account Tracker is slated to run $2.99 and it should be live in the Windows Phone Store shortly. We'll keep an eye on things and let you know when it goes live.
Windows Central Newsletter
Get the best of Windows Central in in your inbox, every day!
George is the Reviews Editor at Windows Central, concentrating on Windows 10 PC and Mobile apps. He's been a supporter of the platform since the days of Windows CE and uses his current Windows 10 Mobile phone daily to keep up with life and enjoy a game during down time.
I still think this is mobudget's category in the store to lose. I love seeing competition and big apps coming to WinPhone, but JDB has done a fantastic job on mobudget. I'll definitely be checking this out though.

I just started using mobudget, its a little hard to get used to but once you do, it's great.

Didn't see any info on encryption? That's an essential security feature to have when dealing with personal financial information.

And without an app or good control for houses that share resources. I closed my account till they get these two things.

Can u imagine adding every transaction manually... I have a job allready....... make it automatic. Give me a reason to use it!

I can imagine it. There's no way I'm putting my bank login info into a mobile app and letting it access my accounts. I use PocketMoney for Android and iOS. It's not so bad entering transactions if you do it on a regular basis.

The developer is very quick in respoding to questions. I had the same question about transactions and he replied back within 15 minutes. I asked if he supports any soft of importing of transactions and he replied by saying:

"Yes, I support import from a CSV file. Windows Phone seems on the slow side though, so I wouldn't go importing 10,000 transactions!"

So it is possible to import and not have to add each transaction manually.


Nice. Always happy to see a developer resonds to inquiries about their application.


I use Toshl, and upgraded to the Pro account. Its one of the few apps on windows phone that almost matches the polish of iOS apps. Plus it's cross platform and has a nice website too. I'm surprised it doesn't get mentioned more often.

There is already an app called "Account Tracker" and its not this app lol ... Is that normal ?

I'm currently using Spending Money Lite to keep track of what I actually have available to spend after the bills. It works for my needs but may be interested in this app once available.

I'll just stick to Pageonce.

It's actually live now, but searched via WP7applist.... (sorry if the "plug" is inappropriate)

moBudget is just great, so powerful


Sorry it's so late, but here are this week's WP sales rankings on bestbuy.com. I know how much everyone looks forward to these ;) AT&T (84 phones offered)
30. Samsung Focus 2 (43. a week ago, 40. a month ago)
33. Nokia Lumia 900 Black (32. a week ago, 30. a month ago)
36. Samsung Focus Flash (40. a week ago, 29. a month ago)
62. Nokia Lumia 900 White (54. a week ago, 61. a month ago)
63. Nokia Lumia 900 Cyan (61. a week ago, 62. a month ago)
71. HTC Titan (67. a week ago, 67. a month ago)
72. Samsung Focus S (68. a week ago, 68. a month ago)
79. HTC HD7S (73. a week ago, 74. a month ago)
HTC Titan II is not offered
Nokia Lumia 900 Pink is not offered T-Mobile (25 phones offered)
16. Nokia Lumia 710 Black (16. a week ago, 14. a month ago)
17. HTC Radar (25. a week ago, 24. a month ago)
25. Nokia Lumia 710 White (19. a week ago, 19. a month ago) Verizon (66 phones offered)
64. HTC Trophy (57. a week ago, 55. a month ago) Sprint (43 phones offered)
None offered

Do we really need trolls here?

Account Tracker is a great app on iOS and I hope it will be just as good on WP!
Great to see more developers going cross-platform.

I'll check it out but my needs are simple. I've tried about every available "personal finance" app there is and for me, nothing beats Checkbook Metro.

Doesn't look to have the ability to integrate with Quicken. I'll wait
Windows Central Newsletter
Thank you for signing up to Windows Central. You will receive a verification email shortly.
There was a problem. Please refresh the page and try again.