Hands-on: The Acer Switch 7 Black Edition takes a swipe at the Surface Pro
By Jez Corden last updated
At IFA 2017, Acer revealed the new Switch 7 Black Edition, with sights firmly set at Microsoft's Surface Pro.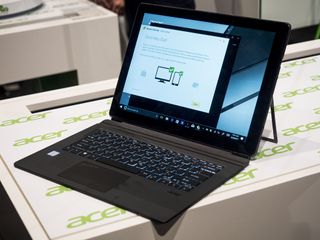 Acer revealed a slew of new products at their IFA 2017 keynote, including an all-in-one with a nearly invisible bezel, and an insane 4xGPU capable desktop gaming PC. But it wasn't all about big and bulky PCs.
Acer also announced the Switch 7 Black Edition, which the company touts as the world's first fanless 2-in-1 notebook, packing a discrete GPU. A Surface Pro-like with a d-GPU sounds pretty awesome to me.
The Switch 7 Black comes with a 13.5-inch IPS2 display with a 2256 x 1504 resolution, which Acer says offers a crisp viewing experience from wide angles.
The Switch 7 Black is a convertible with a detachable keyboard for maximum mobility. It weighs just 2.5 lbs with the keyboard detached and comes with Acer's signature brushed aluminum exterior that seems to typify the company's products nowadays.
What use would a Surface Pro-like device be without a kickstand? Acer has you covered, but this just isn't any old kickstand. Using what Acer describes as their patented "AutoStand" method, the kickstand actually deploys and retracts automatically depending on how you place or remove the tablet portion in relation to a flat surface like a table. It's certainly a unique take on the feature, but this isn't the most innovative aspect of the Switch 7.
Acer has managed to cram 8th generation Intel Kaby Lake i5/i7 processors into the Switch 7, in addition to a NVIDIA GeForce MX150 d-GPU. If that wasn't enough, the whole thing is fanless. Owing to Acer's Dual "LiquidLoop" technology, the company leverages loops of liquid cooling pipes that remove heat from the components. The LiquidLoop functions entirely using heat generated by the device and doesn't impede the battery life in any way (the volume of which, by the way, wasn't listed in any of the press information we've received today).
The Acer Switch 7 also comes with a stylus that can be hidden in the body of the device itself, featuring Wacom EMR technology with 4096 levels of pressure sensitivity and tilt support for angle and width, making it identical to the Surface Pro (2017) pen, at least on paper. The stylus is also now battery free, too.
The Acer Switch 7 comes with a fingerprint sensor on the side of the bezel as well, allowing you to not only log in with Windows Hello but also power on the device simultaneously.
The Acer Switch 7 looks like a promising device for those who enjoy the Surface Pro form factor. The Acer Switch 7 Black Edition is aiming to be available in North America in this December starting at $1,699, and in Europe in December starting at €1,999.
Jez Corden is a Senior Editor for Windows Central, focusing primarily on all things Xbox and gaming. Jez is known for breaking exclusive news and analysis as relates to the Microsoft ecosystem while being powered by caffeine. Follow on Twitter @JezCorden and listen to his Xbox Two podcast, all about, you guessed it, Xbox!
I would think this would particularly interest artists with the Wacom EMR with tilt support and discrete graphics.

Hi, I am an artist and I can honestly tell you that the announcement of this device has me crazy with excitement :D Descrete graphics are a must for good photoshop performance, and a quad core processor is great for being able to record the screen while drawing (I'm also an art youtuber) and both things are great for rendering video. Wacom EMR is the undisputed best of the best, and the horse power of a device like this means I can plug a hub to the USB-C port where I can have a 4K monitor, external drive, mouse and webcam. And when I want to go I can just take the tablet and go. It's amazing. There's a question about RGB coverage/calibration and battery life that remains to be answered though. Also, I can't help but wonder what microsoft will do with the Surface Pro in the future if Acer can do this now. Still, the extra inch of screen size still has me leaning on the acer side, it can really make a difference when drawing.

Valid points about battery and screen quality, I've had the Switch Alpha since last year and the screen is good and one would hope Acer would make the extra effort to make this one suitable for artists. The Wacom EMR is going to be hard to beat but I think tech snobbery is going to be their chief hurdle to attract buyers.

Companies that aim their products at professional artists need to understand that quality is better than price when your work is involved. A 13" wacom Mobile studio pro is $2400, it has the same pen technology, but the rest is worse than the specs of the Swift 7 show. I don't mind paying a few hunderd dollars more if they can guarantee a good screen, good build quality and good battery. This is what the switch alpha screen was reviewed like:

However, more in-depth testing with a colorimeter revealed a few issues with the display that will put off some buyers. The 456.7nits max brightness is very bright, but the 0.56 black level gives it a distinctly average 795:1 contrast ratio. The 8,712k colour temperature is also well above the 6,500k ideal. The screen's 81.3% coverage of the sRGB colour gamut is OK for regular use, but its 57.8% coverage of the Adobe RGB is disappointing.

For artists, this is unacceptable. Still, the switch alpha is half the price of the Switch 7, so hopefully they invested some money on the screen.

Wow.... old designs coming back into style.... lol.... it reminds me of the Compaq Concerto that I had circa 1993. It had a pen, detachable keyboard, and the fold out stand. Came with Windows 3.1.1 and was upgradeable to Win95.

Ugh, $1700 starting. I'm balking at the Surface price of below $1000 because I'm cheap (and have kids in daycare using up all of my income). I wonder how that pen feels. It looks small and thinner than the Surface pen which I think would be uncomfortable to hold. I do like the fingerprint reader on the tablet and the pen being stored inside, those are nice features.

Expensive, but very interesting. I especially like the dGPU.

Looks interesting. But some questions... size compared to the Surface Pro? 13.5" screen and relatively big bezel --> somewhat bigger? (My Surface Pro 4 barely fits in one of my bags...; I like the 13.5" size, though). "kick stand" doesn't let the screen get as flat as the Surface Pro, it seems. Pen seems somewhat thin/short?? ... but I like that it fits inside tablet. I assume a 3:2 screen ratio. Battery life? Always on? 4G connectivity? Max amount of RAM? Is the discrete graphics faster than the built-in from Intel?

Details needed: (1) Thunderbolt 3?; (2) how many USB-C ports; (3) USB-C power supply; (4) weight with keyboard; (5) Ram?; (6) SSD (size; PCIe or SATA, etc.)...inquiring minds want to know...

I was super excited until I saw the price, haha! Hopefully they refresh the Switch 7 too so they keep their more affordable options available.

I don't know why Microsoft takes long to launch their products in India. For example, the new Surface Pro is available in many markets but not in India. Microsoft should not be too late before it is too late
Windows Central Newsletter
Get the best of Windows Central in in your inbox, every day!
Thank you for signing up to Windows Central. You will receive a verification email shortly.
There was a problem. Please refresh the page and try again.