Acer Aspire R7 transforming Windows 8 laptop: A quick look at one of the most innovative designs today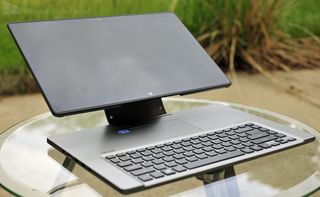 When it comes to laptops, Windows 8 machines are giving OEMs a lot to chew on and explore. Of all the companies to most impress me so far, it's been Acer. Traditionally, Acer has been associated with more mid-range devices but their S7 Ultrabook (see here) and now their R7 transformer are quite remarkable designs, setting a new bar, in my opinion, for the company.
I picked up the R7 yesterday simply because I forgot it's now available "exclusively" at Best Buy for $999 (not even Microsoft Stores have it, which is where I would have preferred to buy it). I checked out a few hands on reviews and decided to take the plunge (Best Buy does have a 15-day return policy, after all).
While this is far from a proper, full review, I'll give you my quick impressions of the Acer's latest and greatest creation after spending the last 24 hours with it.
Let's get the specs out of the way since most of you will want to know that before reading on. Also, if you're mobile make sure you watch Acer's intro video for the device to see it action.
15.6" IPC LCD display; 1920x1080 with 141 PPI
Intel Ivy Bridge 1.8GHz i5 CPU
6GB DDR3 RAM
524GB HDD (with SSD for booting)
3 USB (2x 3.0, 1x 2.0)
SD card reader
Wi-Fi b/g/n; Bluetooth 4.0
Dolby Home Theater v4 speaker (x4)
Windows 8 64-bit
Weight: 5.1 lbs.
The Design
Acer obviously has taken a big risk with the R7. Its big selling point is the hinge that allows the 15.6" display to move back and forth or flip around. This enables it to quickly be used in presentation mode (flipping it upside down), laying it down to be used as a tablet-like device, normal laptop mode and basically any other configuration you can think of to use.
And that's the point: it's malleable to your needs, while making the most of Windows 8.
The biggest "whoa" that people have with the R7 was the decision to put the trackpad behind the keyboard. Certainly this is a radical change but how you react to it depends on how you much you like Windows 8 (and its RT apps).
If you're a traditionalist then the relocation of the trackpad will bug you to no end. If, however, you are very much okay with the Windows 8 UI and new Start Menu, then the decision makes sense. When the display is scooted up to the keyboard, the R7 very much feels like a 15.6" tablet with a really nice keyboard attached. Seriously, the keyboard is solid as a rock and a joy to type on. This mode allows you to type and touch the display with ease and it feels very natural.
If you do a lot of photo editing though, or tasks that require the precision of the trackpad, than the R7 may not be for you. Of course, you could just add on a Bluetooth mouse and use the R7 that way, especially if you plan on using it on a desk most of the time.
The trackpad itself is a bit odd to use since you have to reach over the keyboard, but since I haven't had to use that often it has not been a big deal. Having said that, when using Windows 8 Desktop, the trackpad (or a mouse) become a little bit more necessary than when using the RT mode.
The hinge itself is sturdy as can be. It's very stiff and the quality is outstanding. Indeed the whole device feels a bit like Lenovo's Yoga with a slightly rubberized feel to it, except for the hinge, which is brushed metal.
The other really nice design aspect is just how clean the device is—almost no stickers, the FCC info is well hidden behind the display and very little in the way of screws or holes. It's the exact opposite of what a lot of non-Apple laptops are like these days and it's refreshing while being, dare I say, elegant?
Usage
So far the R7 has performed without a hitch. The Core i5 CPU and 6GB of RAM allow a fast and fluid Windows 8 experience. The device rarely gets warm and ventilation, aided by two fin vent areas in the back like jets, are barely audible. I'm a big proponent of the Core i5 series for Windows 8 devices as it offers solid performance for everyday tasks with decent battery life. Speaking of, the R7 will get you between 4 and 5 hours of actual usage. Not amazing, but not bad for a 15" beast.
As mentioned earlier, the keyboard is very solid: no trampoline effect or flexing when pushing down on the backlit, chicklet keys.
The 1080P display is also one of the best I've seen—even better than my Acer S7's. Colors are bright, sharp and contrasty with accurate white balance. The screen can be a little tacky and not as smooth as I'd prefer, but it's not a hindrance either.
Who's the geared for?
If you need a combo laptop/desktop, the flexibility that the R7 offers is certainly enticing. At 5.1 lbs, it's not super light but for a 15.6" laptop it actually feels ideal for travel. And I do plan to travel with it on occasion i.e. when I don't have to carry it around all day in a backpack for events
The 6GB of RAM and 500GB of storage give it plenty of leeway for everyday tasks, much more so than a standard Ultrabook, which while typically fast come in with just 128GB or 256GB of SSD storage and 2 or 4GB of RAM.
The Core i5 will allow you to play a lot of PC games but obviously since it has Intel's embedded graphics, your ability to play top-end titles will be limited.
But this laptop is designed for those who want to surf the web, work on Office, view media or take advantage of Windows RT apps. The 1080P display and super loud (in a good way) speakers make it an awesome movie or video machine. And with the display's ability to move all around, it's great to find the ideal spot.
Am I keeping it?
Yup. At this point it'd take a pretty big flaw to get me to not want to keep this bad boy around. In fact, I plan on putting my S7 aside for Microsoft events and use the R7 as my daily driver (just as soon as I finish setting up my software). I'm not even joking when I say I'm smitten with the Acer Aspire R7, it's really caught my eye.
The quality of the device's build here is just really top notch. It really makes Windows 8 shine and while it is certainly not for everyone (and yes, there is always something better coming down the road, like those new Intel chipsets), for $999 the R7 is one of a kind.
More info can be found on Acer's website: http://www.acer.com/aspirer7/en_US/
Have questions? Of course you do! Ask away and I'll try to answer.
Daniel Rubino is the Executive Editor of Windows Central, head reviewer, podcast co-host, and analyst. He has been covering Microsoft here since 2007, back when this site was called WMExperts (and later Windows Phone Central). His interests include Windows, Microsoft Surface, laptops, next-gen computing, and arguing with people on the internet.
I really want this thing, but I'm waiting for i7 version.

waiting?

http://www.amazon.de/gp/product/B00CO0XVHS/ref=noref?ie=UTF8&psc=1&s=computers

Thx, but its not for sale in US yet.

Now,thats a good reason to visit DL ;)

Yup, give me an i7 and nVidia graphics and I'm sold. My only concern is if I'll get the Surface Pro for the wacom pen besides the Acer R7.

The second this thing gets a stand alone gfx card i'm throwing my money at acer.... i7 would be nice but i'd take an i5 with ati or nvidia..... 2gb plz... even tho i know it'll be one.....

I agree, but would love to see a AMD FX 8350 beast CPU!

I'm just waiting for Haswell.

I hope they update this with haswell and not just discontinue it....

Wow work of art is coming from Acer?

I know right? Will be a step forward for the company if they can continue putting this much effort into their products. Acer's keyboard used to bend more than those flexible rulers...

Wow. I'm surprised how futuristic it looks.

I would love to see a portable + Lighter 11.6" version of this! Plus a full SSD.

Oh that would be beautiful.

I suspect, from Acer's point of view, such a thing wouldn't be different enough from the W700 to justify producing it.

Just what I am not able to understand is in which mode I will use touchpad...

Same here.. Why did they include a touchpad?

Sometimes I just get tired of using touch screen so I like using touchpad

Touch is great for navigating around apps and web pages. It is not grea (basically useless) for positioning anything. If you have to use a program that requires you to drag anything to a position within <5 pixels you need a cursor. It isn't even that touch is impercise, after all a track pad is impercise also. You need a mouse cursor so that you can make corrections to the mouse position. Same goes for hitting small buttons in traditional desktop aplications.

it's on laptop mode, just slide it and you can use the touchpad there.

Aww! That laptop is awesome!

The touchpad is used when you put the display at the back like a normal laptop or the display is lifted up a bit like an all-in-one desktop computer. When the display is placed right behind the keyboard, it will cover the touchpad and you will use just the touchscreen.

haswell or the new amd's but its tempting as I have to have 1080p for my music software

I actually really like that design. I wouldn't mind the weight and battery life if it had some beefier graphics. Then I could justify it to myself as a replacement for my gameing laptop. Speaking of which, when will someone finally make a nice hybrid touch design that has dedicated graphics???

Like this https://www.windowscentral.com/e?link=https2F2Flink... laptop&cp=1&lp=5

You can get this model with an nvidia card, core i7 and more ram if you'd like.

Ok, that's hawt. Seriously I would buy that. And that's the first time I've ever said I'd ever buy something from Acer. Great video. Literally changed my opinion of the company.

Looks awesome but imo Acer thing always "look" awesome. Quality is their problem id like to hold this and play around with it before I'd even consider it

Saw this in stores at Best Buy. Got mixed reactions from associates. Most LOVED the bigger screen but some object the design. Customers seem to dig it as well. But it seems many would prefer the Dell XPS 12 that was also on display over this guy just simply because it's sleeker and going into tablet mode is smoother and not as "akward" per say... My personal take on it is I love it and the screen is absolutely gorgeous!!

on yea as far as trac pad goes i use a mouse even on my laptop wthat has a trac pad

Hmmm... I Might be interested if it had an i7 processor. Do you think it could handle something like zbrush or blender with the current i5?

It looks gorgeous, but I think a tad too big for most of my personal use cases. Still, you've very much piqued my interest Dan

Is your Start Screen background an Acer pre-install or Decor8?

I think I say this with a lot of Windows 8 convertibles, but if it had a Wacom pen I'd seriously consider it . At some point in the next 9-12 months I'll need a new "main" machine and for a while I was thinking it would be the Helix but it's just too small, a hiDPI screen of 15" is about right and a decent keyboard works. Throw in a stylus so I can still sketch and make notes on it and it's near winner.

I've never liked trackpads, they have always felt too constricting to me compared to a mouse, so I don't think I'd mind it being at the back, it's not like I'd ever take it anywhere without packing a mouse too.

I'm hopeful that this will spark more design innovation to be shown off at Computex in the next few weeks, or at the very least they'll refresh it later in the year with Haswell i7 options and, of course, a Wacom pen too!

I was going to ask about the pen thing. I was wondering if it had palm rejection. The big seller for the Surface Pro (for me) is the pen input and palm rejection. If I can draw directly on the R7 like I could with the Surface Pro, I would definitely need to re-think the purchase I'm about to make.

@prettyconfused Correct, I use Decor8 for the background. Love that app. Wacom pen DOES NOT work with the Acer R7, despite them showing so in that video. Just tried with the one from my ATIV Tablet, sorry.

Note that there are several Wacom pen technologies, all of which are not interchangeable.
The first generation Samsung pen products are based upon the most common Wacom technology which was used in almost all Windows tablets since 2002. I know this because my wife and I can borrow pens across her Galaxy Note 10.1 and my various Fujitsu and Motion Computing systems.
As I remember though, the second generation Samsung pen systems are based upon a non-compatible variation. I don't know if the ATIV falls into this later category.

+1! Sounds perfect for the artists using this kind of notebook, right?

Honestly, I hate touchpads regardless and would use a mouse when not touching it.

I think someone should try a detachable trackpad. That would have been a better option than mocving it up north, in my opinion. I'm wondering how likely it is you will accidentally hit keys while trying to use it.

Really like the adjustable height/angle of the display. Hoping for an AMD A10 version =)

Would you say the touchpad's location makes it essentially useless?

Not, it's useable and necessary sometimes. I'd rather have it than not.

I have to tell you I love where the touch pad is located. I have big hands and whenever I type the palms of my hands moves the curser any and every where. Thats why I had to get a mouse for my laptops. But the placement of the touchpad solves that problem. I love it! I purchased an ACER Windows 8 laptop in January this would have been an excellent replacement for my previous laptop. But that's ok still love the one I purchased.

The ocd in me wants it to lay flat when it's in tablet mode. I like it.. but I'd rather see an adjustable angle Surface with the better keyboard.

Im liking it buuuut one thing that will always bug me is no cd drive unless im mistaken i have a ton of cds but other then that it rocks!

No optical drive, correct. They're being phased out, sorry! :P

Cant see cd drives fading completely they still have purposes but yes i know they will go in due time i mean for example for my music i use the Nokia jbl speaker so much easier so it doesn't surprise me tbh

Optical drives are already all but dead on many new computers.
Just rip your CDs to the computer. They should easily fit in a 500GB drive unless you have a crazy amount of CDs. Much more convenient anyway.
I can't even remember the last time I used a CD. They're obsolete.

Buy a external USB drive?

What? No 5.5" Floppy? No LPT1 printer out? Serial 2 Mouse/Keyborad? No Monochrome monitor? I´m not getting one...

Create iso files and put all your cds on a thumb drive. Windows 8 handles iso natively now. So, it will be easy to use. You can also just save the iso right on the hard drive.

Acer is getting really serious with W8 as it feels currently. I always buy Dell, no exceptions, but Acer have got me smitten.

Rather than wasting spaces on both sides of KB, they could easily slip the numpad into it. I have AS5738PG (1 of the first touchscreen laptop back in the day), same size & with numpad KB. That would be ideal for me to replace!

I'm looking at that picture and there isn't enough space to add a numpad even if they moved the keyboard over.

I love this design. Very useful and beautiful.

i did read some where microsoft helped acer designing this laptop i like it a lot and it deserve a lot ads and sales numbers

when is this suppose to come on sale in Canada, or hell the US?

Available now in the US at any Best Buy. Not sure about RoW.

Can't find it in Canada :(

This actually hot lol, Windows 8 has no limit.

Daniel, I'm really interested in this laptop but I do type in my lap all the time. I'm wondering how well this will work without the wristrest. Is it doable with the keys at the end of the computer? Thank you.

I been using in my lap the whole time. No problems typing, it's well balanced.

Yes. And with the large heavy screen, moving it forward towards the keyboard will change the center of gravity making it very stable.

I usually prefer desktops but this thing is awesome and making me reconsider

Hey Daniel, how did you get the clock on your start screen? Is that with the decor8 app too?

I have an Acer desktop, tablet, and may want to get this laptop. Who would have thought?

Great design... You're a lucky Guy ;)
Ms show the way with surface, and now, it's spring Tablet time...

Same here. Intel needs to hurry up! Lol

This would be perfect on those tiny airplane trays. Finally a laptop that will survive if the guy in front of you slams his seat back.

Don't know how often you fly but I found 15" is still too large to fit on tray and work comfortably. Then again I'm 6'4" so I tend to be cramped regardless. I'm currently using Lenovo X220T which works/travels nicely.

What I meant is that because you can move the screen closer to the keyboard on this machine, it may be out of reach for the guy in front of you. It may still be too large, but it should be a lot better than a laptop with the hinge in the back.

What I meant is that because you can move the screen closer to the keyboard on this machine, it may be out of reach for the guy in front of you. It may still be too large, but it should be a lot better than a laptop with the hinge in the back.

I actually like this. But I've owned Acer once and never again. Horrible experience. My next laptop will be a Lenovo or if I want to save a little money I may go HP or Sony.

Companies are scared to try new things. That only stifles progress. Good work Acer.

Acer has wowed me. Putting the mouse behind is a genius idea since its pretty much useless now that it's a touch screen laptop. Fucking amazing.

I tried one at the store. It was hard to use the touchpad without hitting buttons on the keyboard. The keyboard was annoying to use without a palmrest. There's a palmrest for a reason. And unless you're using this only in Modern UI mode, you need a mouse.

my same experiance! I can't believe that nobody else has this very same problems... maybe nobody has actually tried it in a store!


G declared this device ROCKS! My only beef is it doesn't have a nub mouse controller on the keyboard. Its actually a dealbreaker for me.

Am I the only one that hates these 5400 rpm drives? What is user upgradable in this laptop?

I think there is a configuration with a 256 SSD. What would REALLY be cool is to have both. This thing is much larger than an Ultrabook, maybe they could fit both an SSD AND a hard drive in there?

How many computers do you own Daniel?

Too many :P Surface RT 32GB Samsung ATIV Tablet Acer S7 Acer R7 Have an older Lenovo kicking around and a MacBook Air too.

This is the first product I have ever really wanted from Acer. It's beautiful.

Finaly The Sims 3 come to real life!
http://www.rockpapershotgun.com/images/09/mar/sims3drm.jpg

What a beautiful device. So innovative. The specifications are wonderful also. What would the price of an Apple Macbook Air equivilant be?

Well thought design...I like the versatilty of the hinge. I bet it would be even perfect if the screen still can detach from the hinge. So we can have option - for work (with keyboard) and for play (without keyboard).

Didn't expect a WOW moment with a laptop, especially from Acer. Hats off that is brilliant.

Not being arrogant or anything but i know all this stuff already plus i have a couple laptops even have a new hp windows 8 computer with 1tb of space i squish my music down to the smallest i can get and as for silly amount of cds emmn yyyyeah 200-300 cds i realy like my music! Lol

I wonder if acer is gonna make an i5, nvidia included version of r7.

R7 design definitely beats Lenovo Yoga, Twist and all the rest offerings so far. With the touch pad on top of the keyboard actually works better for me. It feels more comfortable for typing with the track pad out of way. This design also makes the Asus Taichi less attractive since the display can be flipped over easily for the persons sitting across you. I would like to see that Acer offers a Haswell version which should have lighter weight and longer battery life.

How "flat" is it in tablet mode?
Judging by the curvature of the hinge it looks like there might be a good 1cm gap between the back of the keyboard and the screen.


It'd be actually great to use it with track pad hidden underneath the screen & having a wireless mouse next to it. Whereas if there was no track pad to Acer R7 then it'd look more handsome but the awkward placement of the track pad may give others a point to laugh about it. Here I'm not being traditionalist like Daniel Rubino said but I'll have to make my hands reach out for that track pad more like a Zombie over the Keyboard keys & mistakenly hit 1 or 2 keys with my forearms. And I agree with Daniel that it's nice but they could've done the design much sleeker in same style, as it seems to be 2 hefty monitors, when folded inside out. Nice review, like always.

Daniel - Wonderful review. Acer has taken a big leap moving the touchpad. In fact, if they were going to move it back there, where, let's admit, it is pretty useless, I would have preferred a design where they used that real estate for something else. What? I don't know. But a touchpad that's not usable doesn't make a lot of sense. I would say that a companion mouse would be a must for this device.

On a different note, be careful coining new terms like "RT Mode." The market is already confused regarding the difference between Windows 8 and Windows 8 RT. Surface Pro and Surface RT. It just makes things more confusing referring to the Modern interface as "RT Mode" in my opinion. I get why you call it that, but it's just not consistent with the branding (which, trust me, needs some serious help).

Anyway, as always, great review. Keep up the good work.

I tried this last night at best buy, and the location of the trackpad is not odd. Rather than moving your hand back to the track pad, you just move it forward. I thought it was awkward wheni saw the pictures. But when I have used it in the store, it was fine. I am waiting for Haswell, otherwise would have bought. Screen is amazing and so many form factors. The only thing lacking is the complete 180 degree folding. It stops at about 5degree up when you fold it back. Keyboard is okay. But the screen!! Gorgeous..

Does the R7 come with a precision stylus?

No and AFAIK, there is no Wacom detection (I tried)

I was at a pc expo today to check out r7 and I requested to see the demo unit packaging and saw a stylus in it. I didn't test it though, stupid me.

WOW ! ..with No doubt the most Innovative design, It's simply Stunning.. Can't wait to get me one

Great, if I had an extra $1000 laying around I would get one

what about the keyad, why this guy in the video did not show us how to use it XD it is the main drawback in this nice desgine

I need this because of reasons.

On a serious note: Acer, release that as a 12" version! Preferably with a detachable screen :D

I've never taken Acer seriously until now. I'll be replacing my Lenovo W530 with this the day the i7 model becomes available without a plane ticket. We bought this i5 model for my wife and she loves it.

what the f? SAMGUNG X1 did that 7 years ago LMAO!!

I am sorry, but when I bing or google for the Samsung X1, all I can see is a picture of a Laptop with the keyboard on the front and optical drives behind that, nothing like the hinge in the acer.

Wow thats beautiful.

Too bad I have endless bills to pay...

I played with one last night at best buy and LOVED it.

So I actually don't have a question about the device, it looks pretty snazzy though. I want to know how you got a digital clock on your Start screen? In two of the pictures that show the Start screen there is a little digital clock under the webcam, I want that, how did you get it?

That's just a 3rd party app called Decor8 by Stardock software. Any Win 8 (non RT) device can run it.

Damn big set for that piece! Nicely done.

nice, but i:
1. dont want windows 8
2. dont want any tablets

i think it looks awesome though

I don't think there is any point to buying a laptop until Haswell chips and above are in them.

This is super awesome...!!! I absolutely love the design, and this looks to be a serious contender for the job of my next laptop-tablet hybrid. I just would like to see this run some power and graphics hungry games, I.e. Would like to see some boosted specs. Hope its possible to configure our own. Then I am definitely buying one. :)

Imagine adding Leap Motion to this mix...
since the track pad is way out there taping Leap Motion's usb stick would not be impossible even putting it there would make this device a crazy out of the world device.

God helps me i love windows 8 , the fact that windows defender is my only antivirus now is the biggest bless i've got , MS should have not allowed 3rd party antiviruses to exist.

Looks cool, but really, the main thing to keep in mind is that now is a horrible time to buy a computer, particularly a laptop.
All the new systems will ship this summer packing Intel's new Haswell chip, so anything you buy today will be decidedly last-gen instantly.

Does anyone know when the I7 Haswell verison will be available in US? I needed a computer about three weeks ago and don't think I can't wait much longer.

How hard is it to get to the hdd on it?

To be honest, I'm ultimately way too demanding when it comes to technology these days. BUT For once, I finally find a computer that suits my needs and It has ultimatly been struck down by It's lack of palm rejection/wacom digitalizer penliness. Why do I care about this so much? Not sure why, most likely because I toy'd around with a surface pro that had the OneNote feature. Loved the accuracy of the write-to-text.
Windows Central Newsletter
Get the best of Windows Central in in your inbox, every day!
Thank you for signing up to Windows Central. You will receive a verification email shortly.
There was a problem. Please refresh the page and try again.