Acer is back in the Windows Phone fold with the Liquid M220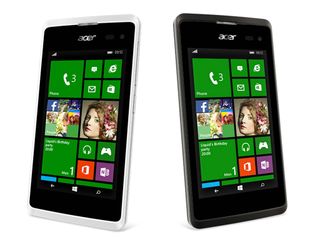 Acer is officially back in the Windows Phone game. Announced this morning at Mobile World Congress in Barcelona, Spain, the Liquid M220 is the Taiwanese manufacturers very first Windows Phone 8.1 device. Better still, alongside introducing the device, Acer is announcing it's commitment to upgrading it to Windows 10 down the line.
The phone is announced alongside the Liquid Leap+ smartband which is fully compatible with Windows Phone 8.1. The phone is targeted at the budget end of the market, and will be available in April in the EMEA region for just €79.
So, it's a return at the low-end, but a return nevertheless and a welcome one at that. Acer hasn't made a Windows Phone for many a year now, going right back to the Windows Phone 7 days for its last effort. So, what about the new one. Here's what we're looking at spec wise:
4-inch, 480x800 resolution display
1.2Ghz dual-core CPU
5MP rear camera with auto focus and flash
2MP front facing camera
4GB on board storage with microSD card expansion
512MB RAM
1300mAh battery
Dual SIM options
So it seems like a safe, testing the waters out kind of launch, but that's not totally unexpected. A commitment to Windows 10 from Acer for this phone at least gives us hope for the future, as well. We'll be going hands on with it very soon so stay tuned for that, but in the meantime check out the full press release and some more images below.
First Acer Windows 8.1 Phone Launched at Mobile World Congress
Liquid M220 designed for those who look for a simply smart life
BARCELONA, March 1st, 2015 – Acer today unveils the Liquid M220 smartphone, first ever Liquid smartphone to run on the Windows Phone 8.1 operating system. "We are proudly introducing our first Windows Phone 8.1 and simultaneously announcing its future upgradability to Windows Phone 10," said ST Liew, Smartphone Business Group President at Acer. "It is the right moment for Acer to join the Windows Phone eco-system with its growing popularity and consistency across phone and PC devices." The Liquid M220 will be on display at Acer's booth (Hall 1, stand G50) during MWC2015 in Barcelona.
For those who are looking for a perfectly balanced Windows mobile experience, Acer developed the Liquid M220; putting simplicity and essential features for people on the move at the center. With a 4-inch 233 pixels per inch (PPI) display, the compact Liquid M220 enables a vivid multimedia experience and its dual cameras are perfect for taking photos and recording videos on-the-go. Featuring Windows Phone 8.1, the Liquid M220 is easy to use and customize and fully supports Microsoft applications and services such as OneDrive, Skype, Office and of course Cortana .
"With the addition of a Windows-based smartphone, Acer now offers the broadest Windows portfolio in the industry," Liew added. "With the launch of the Liquid M220, it's great to see Acer expanding its portfolio of Windows devices to include smartphones," said Peter Han, Vice President of Worldwide Marketing, OEM Division, Microsoft. "Together we are providing an integrated, cross-device Windows experience to our joint customers."
Aesthetics of Living Style
The Liquid M220 features a design that is as functional as it is beautiful. The sophisticated surface texture design on the cover sports a Thai Silk inspired pattern, while the silver middle frame features a distinct square pyramid design, adding grip and elegance. The volume and power keys are positioned along the path of the silver middle frame making them easy to find and providing a comfortable single hand experience.
Great cameras
While the voice and video calling features allow users to always stay connected, the 5MP auto-focus main and 2MP front cameras will capture beautiful moments. The main camera sports an 89-degree wide-angle lens, which lets users fit more of the scene into their photos. With the Liquid M220, every owner can easily save and share their memories!
Easy operation
Windows Phone 8.1 offers a productive alternative to other operating systems; it is extremely intuitive and easy to personalize, because Windows powers most of the PCs and laptops in the world, the phone has a familiarity and provides seamless integration across devices. A clean interface and a host of customization options means, you can customize the live tiles, colours and layout of the screen to really make the device your own. Plus, staying in touch with friends and family is easier than ever.
Accessories and connected devices for more fun
Both the Liquid Leap and Liquid Leap+ smart activebands are compatible with Windows Phone 8.1, becoming the ideal companions of the Liquid M220 for health conscious users with fitness tracking or anyone looking for a smarter way to stay in touch with deported notifications and music-control. The Liquid M220 will also have optional accessories ranging from matching colour flip covers to matching colour protective cases.
Availability and Pricing
The Liquid M220 will become available in April through selected EMEA retailers in Mystic Black & Pure White with a starting price of €79.-.
Windows Central Newsletter
Get the best of Windows Central in in your inbox, every day!
Managing Editor - Tech, Reviews
Richard Devine is a Managing Editor at Windows Central with over a decade of experience. A former Project Manager and long-term tech addict, he joined Mobile Nations in 2011 and has been found on Android Central and iMore as well as Windows Central. Currently, you'll find him steering the site's coverage of all manner of PC hardware and reviews. Find him on Mastodon at mstdn.social/@richdevine
Won't the 4gb storage restrict updates like it did on some HTC devices

Yeah, I think it may be a problem for updates cuz you get only like 1.2 GB of free storage.

Don't you guys know that Windows Phone supports downloading updates to the SD card, through a recent update?

What recent update? Denim? Denim is not available for non-Lumia devices.

I think it's a Denim feature not a universal WP now because even some of the Lumias with micro SD don't support it.

No, it was a simple WP8.1 Update 1 feature, not a Denim feature. ;)

You can move updates to your SD Card with 8.1 afaik

What if I remove sd card to put it in card reader for some movies on my t.v.........what happen then.... Just curious to know

It only uses SD card for migration during update process. OS is still installed on internal storage. To make update secure and avoid bricking your device it makes a backup of the older OS and there is no space to do so on 4 GB storage but when you have at least 4 GB additional external storage then it's fine. Though we have no clue how long 4 GB will be enough for the OS. 10.0 will be fine. Will 10.1 be though?

But what does the 'EMEA' means? Europe, Murica, East Asia?

European Medicines Agency

Europe, Middle East, Asia

Europe, Middle East and Africa, I think.

Europe, Middle East and Africa

512Mb RAM? Really Acer? -_-;;

Microsoft should stop letting manufacturers make 512mb devices, this is just embarassingly ridiculous.

Microsoft keeps doing it themselves..

Battery should hv bn at least 1500mah, 1300 is not much!

True, but with low RAM, weak CPU and (possibly) bad display it might last a day.

Nope
Microsoft hasn't manufactured any 512MB phones
Standard is 1GB Upwards even for lowest spec Microsoft phone Nokia Lumia was the one doing those

No, they don't each device presented under the MS ownership has 1GB RAM and 8GB of storage.

Whoa there why don't you try and get the PC hardware right first THEN move on to other, smaller hardware.

You say that as if this is their first phone.

Wish they will stop making on screen home keys :\ love the hardware ones

Maybe there's a reason behind that. I think Microsoft will change the home key UI at the windows 10 update..

Yeah, for a 4" screen, that's really going to eat into available space. Seems like a very entry-level device though. If it's competing with legacy flip-phones it should do well.

You can just swipe up and it will disappear stop complaining.

He's talking about the buttons at the bottom, not the info bar at the top.

The buttons at the bottom can be hidden by swiping up from the bottom edge of the screen.

That's what I thought as well but that is only for the one m8. That doesn't work on any of the other phones with on screen buttons like my backup Lumia 635.

It actually depends on the screen size

Not dependent on screen size.

Please check your facts, it indeed depends on screen size/resolution

Not up to the OEM. This is a stock OS function.

No it's not only on m8 I do this everyday on my 735

Nope. This is an OS capability in WP8.1.1/Denim. Lumia Cyan update (WP8.1) doesn't have this (which is installed on your 635).

I've Denim/8.1.1 on 630 and it's not there...

It's in the settings. Your setting is probably set to 'always show'. I know you can on the Lumia 535 for sure.

It's entirely dependent on the model. The 630 and 635 don't have the feature (even denim-ed up), whereas other models (730/5, 535 etc) do. Somewhat annoying, as I'd like to hide the navbar most of the time -- but no can do. The only setting is for background.

Beautiful phone. Love the back textures especially the black one..

Yes very good looking phone. I like that silver stripe around it.

I think is beautiful too :3

Then you keep busy with King..... Lumia is Nexus of Windowsphone. And other brands can manufacture devices which can compete with nexus .... All we need is more and more Windowsphone models

Ya, I'm really glad that there is one more manufacturer willing to join the window phone, isn't it great to have one more option when purchasing a window phone? :)
Btw, the phone should have at least 1GB RAm
The design of nice, just wish it have a 4.5 inches screen
Bravo accer , glad that it produce windows phone

I agree. More support is better in this case, and upgradeable to Windows 10 is a plus point.

No, Lumia is not the Nexus of WP for two reasons.
1) they form the bulk of WP. (unlike nexus in android )
2) they offer more experience than Just a pure WP.
As I have had Nokia since I was 13, I can say the Lumia team is operating like they would if they were under Nokia (kudos for Ms for keeping them like that). Ms Mobile is just like any OEM on WP. The difference is it has a special position @ Ms and sometimes some parts of WP r specifically written for Lumia models. Well, again, that was the same case way before the Nokia D&S acquisition like WP7.5 tango for Lumia 610 or WP8 GDR2 for Lumia 1020 and WP8 GDR3 for Lumia 1520. So nothing has changed except that exNokia/Lumia team has more money to pour on their R&D and the change of "Nokia" to "Microsoft".

I live on Espoo, Finland.
One night they changed the name neon sign on the roof.

So Acer after talking shit about about the platform releases a "meh" device with 512 mb RAM ... i am gonna guess that it won't sell . Even the lowest of the low lumias 435 and 532 are better than this There is a high end gap that needs to be filled damn it

When did Acer talk shit about WP?

That was Huawai but I think I also remember the Acer CEO doing the same thing. Edit: No, Acer simply stated they weren't releasing any WP8 devices.

Its Huawei, not Acer who said bad about wp

well .. i was indeed wrong http://www.windowscentral.com/acer-wont-commit-windows-phone-return-until-marketshare-rises-more

I seriously don't get why Acer waste their money on soo much shit! They shouldn't even be in this game, there's no money or customers for them to have. Them and their incredibly shoddy plastic patterned backs. Peee-euw!

Yeah great idea. Lets have companies not make Windows Phones

Great idea Indeed!Let Microsoft be incharge of Software & hardware like Apple. Anyways Microsoft now knows how to make good phones as of now.

I'm all for it. It's not like these OEMs are doing much to help the success of windows phones as it is. It's held up by Lumia.

Arghh we need more OEM because not everyone likes the Lumia line. The more choices, the better

Are u jokin...Microsoft obviously has a good customer base and all
..but who wouldn't like a cherry on cake and the profits earned can be reinvested for the development of windows os.

There are plenty of customers out there, And the user base is growing not as fast as it should be but this should change this week after Microsoft's announcements + I will be getting one for my Dad....I have no plans to be changing platform, Looking foward to the announcements between 2-5 march.

Stop crying and grow up child we need any phone maker we can get out there.

Plus we need another flagship phone from HTC. Maybe they will launch a WP version of the M9.

Fingers crossed on M9 for Windows.

Yeah, good luck trying to sell it.

512MB RAM? get out of here!

The coitus is this? This is like a phone from yesteryear!!

"yeasteryear"???!? Do you mean "last-year"?

So much hard in the comments. The specs are lack lustre, but it does have a front facing camera and a flash on the rear. It looks alright too.

Design is nice but reaaally wish they went with at least 1Gb of ram for the app store

Well, my mum has a 630 and hasn't run in to any issues with the 512mb RAM. I think the people this product is aimed at won't be too bothered. They will just want a reliable phone with useful features.

Another hspa phone guessing no lte in the pipeline

Inboard 4GB is not worthy

1.2GHz with 512MB RAM. A dream come true. :P :D

After a while Acer will say that they don't support Windows anymore because their 512mb Windows phone didn't sell...

This is definitely sure to happen, and after that, Acer will behave like hwawei

Yeah..that crap phone won't be bought by any one and blame will fall on MS..lets keep fingers crossed for that matter.

Anyone would prefer a 535 instead of this one, dual core and 512 mb RAM is something people wouldn't care for much.

Not everyone goes for the specs of a phone the Acer brand is a well known brand at retail so should attract attention in the shops, but I hope they add some marketing might to this as well.

535 is more expensive. edit: not to mention the display-problems

You didn't get the latest update?
It's fixed now.

SWell, let's count. In Lithuania (Eastern Europe) Lumia 535 costs 139€ and this one would cost 79€(if it will cost as stated in the article), the difference is roughly 100$ so it will sell. :) At this price range it even beats Lumia 520 !

Lumia 520 can be eadily upgraded because of 8 GB Flash.
Lum8a 520 is great gor chilly mornings, you can answer with gloves on. because of the super sensitive display!

The more the merrier :).
Why do some people think OEMs are going to go straight for the high end without testing the market?
Honestly some are so darn naive it is just unbelievable.

what does " testing the market" even mean ? a device must be compelling in order to sell . There is nothing here , not even the price The low end windows phone market is full of Lumias way better than this while the high end WP market is empty

It has like 15% screen to body ratio

Real shame. I wouldn't even buy this phone for my children the specs are so poor. I consider Acer to be a decent brand with the kind of lappies and monitors they produce so would have expected something cooler.

It's a entry level device.
Though it should have been 1GB RAM instead of 512MB.

Announced this morning at Mobile World Congress in Barcelona, Spain ?????? you have a time machine ? it doesnt start until tomorrow ??? :)

So what am I doing this morning then?

this morning is sunday morning tomorrow its monday . it just sounded like you said it was already anounced eh anyway hope you have a good mwc

Summoning the devil to tell you the future?

With this pathetic phone they'll complain nobody wants to buy Windows phone. Release better hardware and people might think about buying your crap, Acer. This device is sad in so many levels. Even if it was an Android phone, and I was poor, I would skip this device.

Wonder if they'll cross promote it with their laptops. Or have some universal apps designed to integrate them? Now we're just waiting for Lenovo and Asus, as far as PC OEMs who make phones too.

I would love to see Lenovo put a phone out for US markets.

Great to see more...win phones..but spec looks too low as compared to 3 years old L520..btw nice device on 79€..•_•

This is what 530 should have been

4GB? 512MB RAM? 1300mAh battery? Hell naw..

They release 512mb devices and then will complain that the sales is poor...

Kinda agree with that, even those new low end Lumia come with 1GB RAM
Anyway, still glad that accer join in windows phone

No wonder manufacturers say they don't make any money off Windows Phones if they release such devices...
That said, Acer came up with an original design.

I'm bored with low end phones

Lol it s a poor bad phone without any futur xd

Is this a joke? 4gb and 512 ram , are they serious?

A flafship phone with windows, please!!!!

Hmmm...a new term:
"flafship"
that might stick! ;-)

I agree it would have been nice if it had 1gb ram and 8gb onboard storage but I expect this handset is designed to hit new low price points which is pretty cool. Anyway its also great to see Acer return now where's the mid range and high end come on Acer.

The key of failure here is 512MB. They priced it right, it's 79, it's cheap, but with 512Mb c'mon..

I'm in Africa and I tell you there are some people who hate Lumia line because of its bright colors, chunky and sharp edges. It's easy for someone coming from huwaei (android) to opt for Acer than Lumia, some people here still feel like all lumias are windows phone 7. And before you start complaining please forgive us its Africa.

That's pathetic to say
This specs is crappy

Always great to see more brands releasing Windows Phones

would also be a good idea to offer a discount voucher for the phone and fitness band when purchasing an Acer laptop.

How many middle range devices do we need lol

This could be sucessful if they bundle it with laptops, or even offer discounts. I still would prefer the Lumia 532 to this, but for some people the LED flash could be more important.

That doesn't look half bad. I hope they will also release some midrange models this year.

Yes Acer but Just 4gb rom

Not very impressive but its nice to see more windows phone support

Acer baaaaah, acer is crap

1300mAh? are you serious.......

Good to see another major brand, but design like a Galaxy and low-end specs?

Desain is good but the specs is no....

Wow look at those price point

Looks pretty good, but this is strictly low-end. The memory (RAM) and battery are ridiculously low for any phone being made today. Will definitely interest users on a budget looking for their first Windows Phone.

Way to go....No flagship but a submarine. Anyway nice to know that there are other oems entering the market.

What a piece of trash. I know some of ya'll will say but it is another phone in the arsenal. No it is another trashy phone when it does not sell. They will do a Huawei and say WP does not sell. Not we released a piece of crap phone and nobody wanted that junk.

Nice to see a completely different hadwaredesign.
Anyway I'd be really curious to see what Acer is able to do with a high end win10 phone maybe next year or so ;)

Not worth it, the specs are too low for my liking. Soo ancient.

It would be good if Acer can make padfone x with windows 10 OS so that it can seamlessly switch between diff screen sizes.

Well I just updated a Lumia 530 with denim update it was a struggle but it did it. It needed 1.5gb for the update

Spec wise... This is a near-complete copy of L625... One and a half years down the road.

It's more close to Lumia 620.
Actually a little below it.

I want an asus zenfone 2 running windows.

At the same price. But this is Acer not Asus. Asus should change their name or something. Too many people confuse it with the terrible Acer brand. Asus = Good
Acer = Bad

The specs are similar to the Lumia 620 except for the 4GB storage and the dual SIM option.
4GB storage is ridiculous.

Its a nice looking device. Not too hip on the 4 Gb storage though, but nothing an SD card can't fix.

I'm really happy to see more OEMs joining wp. More choices for people and maybe more manufactures will join as well. This is what we need.

And more cring about low end phones. smdh Anyway, nice to have another OEM on board.

Are you kidding me? Sorry, but that's an ugly device. While most hardware companies are decreasing the size of the bezel, it's sad to know Acer is still living in the past. There's more frame than there is phone.

Nice looking beginner phone. I'm just not sure about the 4GB of internal storage. Seems very limiting.

Don't really get Euros, but apparently the price is about £57.50 in proper money :-). Call it sixty quid. Now, three months or so ago, I was pig-ignorant about phones in general (the target market, I suspect), and didn't know the Windows phone was an endangered species. Also v. poor (don't ask, oh you didn't). So, I would have been very tempted by this, possibly over the L630 I got in the end (at thirty quid more). And I do look at specs; consider the people who don't (and aren't prejudiced in some way against Windows phones). These low-enders with 1GB RAM are a very recent phenomenon -- I didn't find any affordable ones last November. All that said, there is a bewildering proliferation of low-end phones recently. But this might sell -- just not to 1520 or 930 owners ;-) Rob

Yay! Great way to reintroduce their product line into the toughest market segment against better specced and markedly more aesthetically appealing lumias! I'm sure they will meet with HUGE success and continue to support the platform! /s

I am little sad that Microsoft did not tell it's OEM partners that1 gig of ram should be the lowest amountof ram a Windows smart phone should have.take notice no microsoft brand Windows smart ha 521 MB of ram. the Microsoft lumia 435 a super cheap windows smart even has 1 gig of ram so it can run all the apps that are in the windows smart phone's store this ACER can no do this and that's not good

That's a shit phone Acer... I hope you don't go crying WP sucks when nobody wants to buy it.

I know Microsoft is trying to get w10 on all w8.1 phones but does this confirm w10 for 512?

I'm not their target market and would never buy this low end phone, but they made a appealing looking phone that would probably feel great in the hand.

I think first MS should improve OS

Sweet.... More low-end Windows Phones...

But half a gig of ram and such a puny battery for 79 euros? This won't catch on.

Since they've already waited this long, they might as well wait until the Fall and just release it with Windows 10 for Phones.
Windows Central Newsletter
Thank you for signing up to Windows Central. You will receive a verification email shortly.
There was a problem. Please refresh the page and try again.