Acer launches Predator gaming notebooks, desktops, and more in India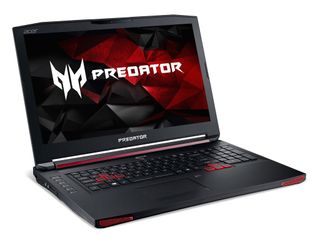 Acer has launched its Predator 15 and Predator 17 gaming notebooks in India as well as the Predator G6 and G3 desktops, and the Z35 and X34 gaming monitors.
The Predator 15 and Predator 17 feature sixth-gen Intel Core i7 CPUs, NVIDIA's GeForce GTX980M video cards, 128GB PCIe SSDs, 1TB 2.5-inch HDDs running at 5400 RPM, Killer DoubleShot Pro (Wireless-AC 1535) Ethernet cards, and three fans designed to ensure that the notebooks don't overheat during intense gaming sessions. There's also the option of adding a Cooler Master fan module that can be inserted into the notebooks' optical drive bay.
The Predator 15 offers a 15.6-inch 4K display, while the larger Predator 17 comes with a 17.3-inch Full HD display. Both notebooks come with Windows 10 Home out of the box, and you also get Acer's gaming mouse and headphones bundled. Prices start at ₹1,79,000.
The Predator G6 and G3 offer high-end hardware in the form of an NVIDIA GTX 980, up to 64GB DDR4 RAM, and Core i7-6700K processors.
The Z35 is a 35-inch QHD curved ultra-widescreen G-Sync display with a VA panel. It has a 144Hz refresh rate, which can be raised to 200Hz, and offers four USB 3.0 ports. Meanwhile, the X34 is a 21:9 ultra-wide WQHD (3440 x 1440) curved monitor with NVIDIA's G-Sync technology.
Why does ACER think that people will spend 1.79 lakhs on an ACER PC? you are popular for affordable series, just keep that up! No need for premium PC when there is a good service provider like DELL with quick and customer friendly service policies.

Because its a gaming laptop with quality internals that all laptops at this price point share.

Competition is always good

Because it worth every dollar it costs (and it s not so expensive for me).

Hey you have develop app Movie maker for wp8 right...

looking forwardto buy Z35 & X34 but they didn't mentioned the price of it

Will the monitor be a problem for console gaming?

It was stupid to "launch" the g6 when it's already been available for a few months with the same specs. Should have waited until Nvidia released Pascal cards around June or so to refresh it. GTX980 won't be enough soon, 1080 or whatever the top of the line Pascal card will be would be the way to go, especially in a machine that only accepts 1 card.

why doesnt any company (like asus, acer) have a 17 inch & 1080P display ??

Why do the bigger screens on both laptop and monitor have lower resolutions than the smaller screens? That just seems goofy. Is there some marketing or manufacturing reason I'm missing?
Windows Central Newsletter
Thank you for signing up to Windows Central. You will receive a verification email shortly.
There was a problem. Please refresh the page and try again.